Lack of Capital – The fatal weakness of China's semiconductor industry is slowly unfolding
At an idle construction site west of Wuhan, all that is currently visible could prove the hard road China has to overcome to achieve semiconductor independence.
The partially built factory, owned by Wuhan Hongxin Semiconductor Manufacturing Company (HSMC), is seen as a key part of a $ 20 billion investment to turn the province into a chip manufacturing hub. of the country.
But it's been two years since it started, construction has stalled, with little evidence of progress other than a few cranes, worker dormitories and steel frames jutting into the air.
In July, Dongxihu district local government said the project was stalled due to lack of funds, the latest example of a Chinese chip factory collapsed due to poor planning or lack of funds. capital.
Earlier this year, a $ 100 million manufacturing plant set up by US chip giant GlobalFoundries in a partnership with the Chengdu city government was shut down after being unable to go into operation. working for almost two years. In the eastern part of the country, a $ 3 billion government-backed chip factory built by Tacoma Nanjing Semiconductor Technology also went bankrupt in July after failing to attract investors.
Complete design of HSMC if completed.
Increasingly cut off from US semiconductor supplies due to the fierce technology war, China is embarking on double efforts to develop its native chip industry and eliminate reliance on Western technology.
At the end of July, Beijing introduced a 10-year corporate tax cut to established companies that can produce chips 28 nanometers or smaller. It also extends tax incentives to the entire semiconductor supply chain, from design to packaging.
However, China's attempts to reduce the gap in the provision of key technologies and components to China have largely been unsuccessful.
HSMC's phase one plant, which includes the main production facility and a research and development building covering more than 390,000 square meters, has been partially completed but needs additional capital to continue, according to the report. Dongxihu district government – now removed from the online system. Phase 2 facility construction has not yet started and due to insufficient preparation, the company cannot apply for central government funding.
The project is seen by the local government as an effective way to attract the necessary investment capital for Wuhan, the city that was the first site of the Covid-19 outbreak earlier this year. But its slow progress has put pressure on local authorities, which are struggling to recover from the impact of the pandemic.
Funding tensions also surfaced last year when a Wuhan court ordered HSMC to use the 220,000 square meters of land designated for a three-year second phase project. It followed a complaint by a construction contractor that the company and its main contractor owed them millions of yuan for the first phase of construction.
Another major contractor, L&K Engineering, which helped build the dust-free rooms and mechanical systems for the manufacturing facility, halted work because HSMC was late for payments.
The semiconductor game needs a lot, a lot of money, and China doesn't have it.
The Dongxihu district government has supported an investment of 200 million yuan (about $ 29 million) in HSMC, but the owner of the company, a Beijing-based technology company, has yet to fulfill its commitment to pouring. capital 1.8 billion yuan (about $ 261 million) is invested in the project, according to the company's filing.
HSMC held a huge event last December to commemorate the purchase of its first high-end chip manufacturing equipment from Dutch company ASML. But the company quickly pledged the brand-new machine as collateral to borrow more than 500 million yuan from a local bank.
During the phase 1 site visit on Tuesday last week, dozens of licensed vehicles from different provinces were parked outside and a few commuters appeared. But a doorman said there were no new construction works this year. The owner of a convenience store nearby said contractors have yet to be paid for some of the engineering work completed last year.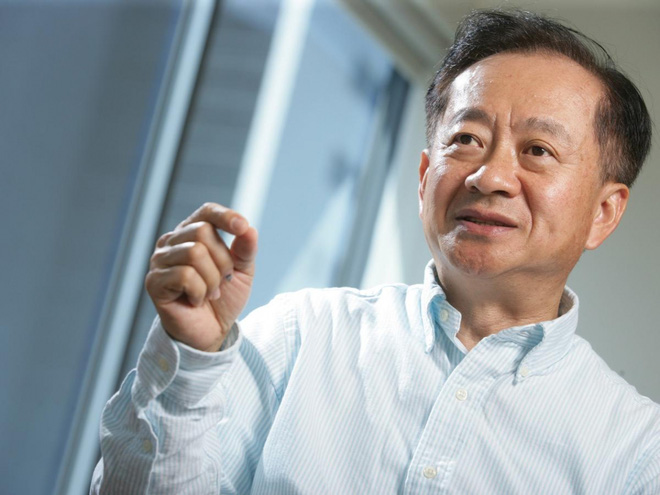 The HSMC CEO said the responsibility rests with … someone else, in this case.
When approached for comment, HSMC's chief executive, Chiang Shang-yi, said he was unaware of the company's financial problems.
"Financial responsibility rests with the chairman, in this case," he said. "I read the [government] report. In fact, many of the details in the report were very new to me as well . "
Chiang is the face of HSMC's investment campaign and is part of a trend to recruit veteran engineers abroad to promote domestic research and development by Chinese semiconductor companies. .
After quitting his job at Taiwan Semiconductor Manufacturing Company (TSMC) – the leading chip maker in Taiwan – Chiang became an independent director at Semiconductor Manufacturing International Corporation – China's largest semiconductor maker. National. He assumed his managerial role at HSMC in 2019.
In an interview last year, he said HSMC would not compete with TSMC because they have different business models, but did not specify why.
A cached version of the company's website – which is currently inactive – says it plans to build both 14- and 7-nanometer chip production lines to be able to produce 30,000 chips per month.
Refer to SCMP
Source : Genk