Journey to find a parking space for a plane worth 375 million USD: You can not just lock the door and leave it
Craig Barton may be in the history of the toughest "parking" job.
As airlines around the world are shutting down a significant number of their aircraft due to the impact of the Covid-19 pandemic, American Airlines' head of engineering operations spent two months. through to trying to figure out where to park hundreds of planes. We are talking about aircraft like the Boeing 777-300, worth $ 375 million, with a body length of 73.7 meters and a wingspan of 61 meters.
An Alaska Airlines Boeing 737 is parked at Oakland International Airport.
"It's not like putting your car in the garage and going away somewhere for a month," Barton said. "There is no place in the world where we can park several hundred planes like this at the same time."
Since January, when the Covid-19 pandemic spread globally and governments have ordered "social isolation", people have stopped flying and the reservation has also disappeared. In the second week of May, the US Federal Aviation Administration reported that the number of commercial flights operating in the US, both domestically and internationally, was down 71% from the same period last year. Airlines, many of which have been buying airplanes for years, suddenly find themselves having more planes than necessary. That leaves them with only one option: Keep them all on the ground until the demand for air travel returns.
According to Cirium, a data and analytics company focused on the tourism industry, about 17,000 aircraft are currently parked worldwide, accounting for about two-thirds of all commercial aircraft.
It's not just a terrible financial problem for an airline – a passenger plane is a depreciating asset – it's also the number of billions of dollars worth of planes, and they all need passing scores.
"And it's not just looking for a place to wait for the pandemic to pass," said Barton, who oversees the fleet of 950 American Airlines aircraft. Every aircraft also needs constant attention so it is always ready to return to the sky. "We have enough daily tasks that need to be done one by one," he said.
Find a place to park
What does a plane parking lot look like? You can see it for yourself if you go to Oakland International Airport, across the San Francisco Bay.
Far from the airport, away from the stations, about a dozen Alaska Airlines Boeing 737s have been lying silent since March. The sunset makes the fuselage a shiny white and warm. The planes were close together near an unused brothel, with a typical Eskimo face on each tail wing, smiling. Further along the bay, dozens of other 737s also feature the bright green, red and yellow colors of Southwest Airlines, which also shimmer in the afternoon sun.
Clearly none of these aircraft will soon take off. The wheels on the landing gear are protected by bright yellow wedges, while the engine intakes are covered with what looks like a plastic wrap. Above the head, where normally an airplane will take off every few minutes, is an incredibly quiet sky. If a man with a fur hat and a face that symbolized Alaska Airlines really knew what was happening, the wide smile on his face would surely fade.
The Oakland scene is only a small slice of a new reality taking place around the world because of Covid-19. At major aviation centers like Dallas-Fort Worth (DFW) and Hong Kong, or at airports specifically designed to store planes that stretch in the southwestern desert of the United States, a crowd of Commercial aircraft are "wearing aprons" and line up on the runways. Sometimes they even overflow closed runways, because of their enormous size. In some places, they are neatly lined up. Elsewhere, they are arranged in complex squads that look like they'll need an army to troubleshoot.
American Airlines, the world's largest airline, is parking the aircraft not only at its DFW base, but also at airports in Tulsa, Oklahoma and Pittsburgh, where it operates major aircraft maintenance facilities, or at establishments in Mobile, Alabama; San Antonio; Greensboro, North Carolina. Other airlines also park their aircraft at multiple locations, but with carriers the main goal is to use whatever space is available. Teruel, Spain, is a popular choice for many European airlines. Singapore Airlines also chooses to park their giant Airbus A380 aircraft in Alice Springs, Australia instead of on their small island nation.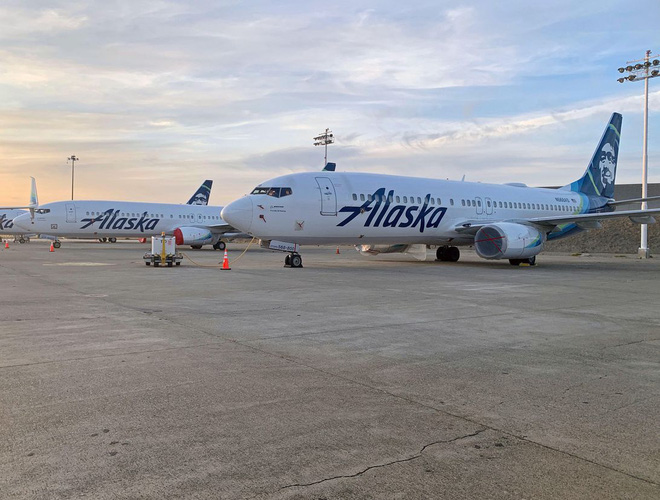 The input of the engine of the parked aircraft is protected, and many other measures are used to prevent birds or animals from nesting inside.
American Airlines has been monitoring the possible coronavirus effects since the first reports of the pathogen began to surface, but the airline's efforts to find aircraft parking spaces have not started properly. seriously until the second week of March.
"It is clear that our flight operations will be much smaller than the number of aircraft we have," Barton said in an interview via the Zoom app from its headquarters in DFW. "Things have changed very quickly, even within a week."
Using a team in its operating network, American Airlines has reduced schedules from more than 3,300 flights a day in late February to less than 1,000 in May. The airline currently has 460 aircraft, accounting for nearly half of its fleet. And for some aircraft that are still in operation, they are also in "lazy flight" condition, that is, only make 1 or 2 flights per day, instead of 4 or 5 flights as usual.
"This level of aircraft storage is unprecedented," Barton said. The last time American Airlines had to park many planes was after September 11, 2011, when US airspace was closed for two days and reopened slowly after that. Last year, the airline also had to find a parking spot for a fleet of 24 Boeing 737 Max aircraft, after two accidents that killed 346 people, which was a valuable experience.
"We have had some experience over the past year about what is needed to keep the aircraft out of service for a long time , " he said. " And that really helped us a lot."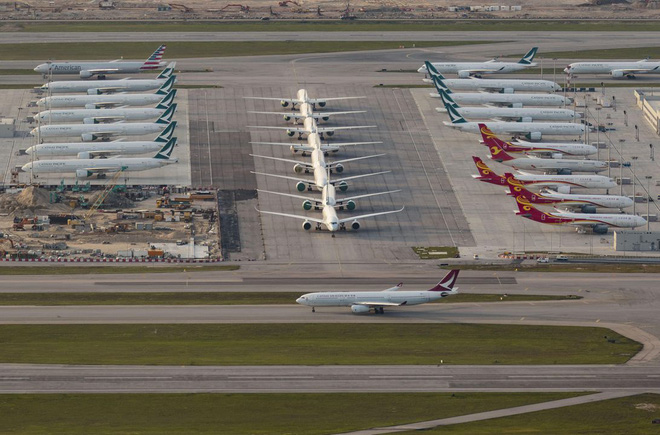 Aircraft of Cathay Pacific and Hong Kong Airlines are parked at Hong Kong International Airport.
Ready to return to the sky
Most American Airlines parked aircraft are in "active state," which means that airlines can call them back to service at any time. Barton explained: "We know we won't fly for a few days, but we still have to take care of them."
These are usually new aircraft, such as the Boeing 777 and 737 or Airbus A319, A320 and A321. No matter how active the state of parking, from a few days to a few months, a process will begin when a crew member takes the aircraft to the parking location. For two to three days after it arrives, mechanics will walk around to check everything inside, remove any food storage compartments, flush and seal the engine, pitot tube (a small tube placed near nose to measure air speed) and anything else to prevent animals or something from getting inside.
After this preparatory work was completed, the aircraft entered a short-term archival program where maintenance personnel had to perform established tasks every 10 days. This list includes engine test runs, tire rotation, running ancillary parts (where power is supplied to the aircraft's electrical system when the engine is not running), turning on air conditioning, testing test systems. hydraulic power and keep the batteries charged or removed completely. With the Boeing 787, it is necessary to keep some of the batteries onboard from being exhausted and this is quite an expensive job.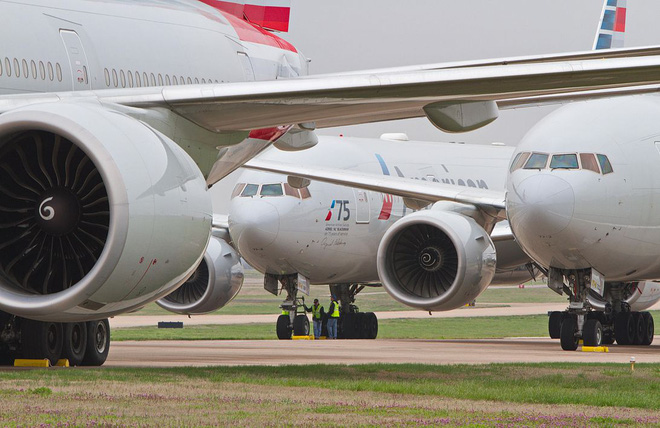 The Boeing 777 series parked at Tusla airport.
And during this time, the aircraft's current maintenance schedule is not stopped, even if it is on the ground. Like taking care of your vehicle, these regular checks keep an aircraft operational for decades.
Every 30 days, a plane needs a little more care, but the schedule essentially repeats every 10 days. That involves a lot of work, but Barton says the main goal is to protect the millions of dollars in investments by making sure the aircraft is operating normally.
"Touching an airplane every 10 days – it takes you about eight hours of work," he said. "Therefore, more or less will need one person every day working on a parked plane."
And reactivating a plane also takes about three days, essentially reversing the storage reception. Check takeoff system; restore and clean water systems; check fuel tanks and chains; as well as completing any other scheduled maintenance checks.
"If you have stored it properly, you have confirmed that the entire system of the aircraft is still operational," Barton said. "So it's not like you've been away for a long time and hopefully returning to the plane will work normally."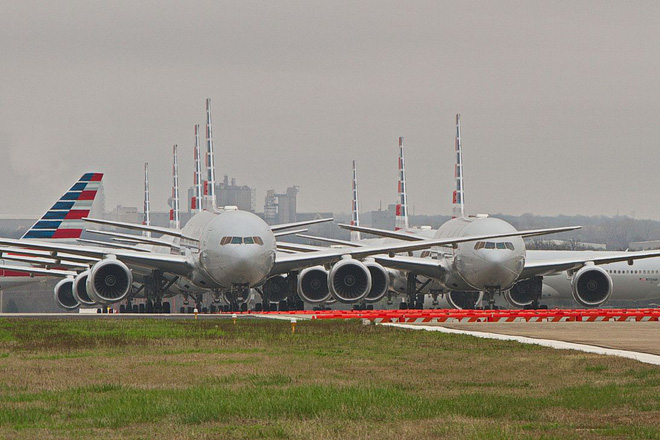 The long line of aircraft parked in Tulsa along the runway.
Where plane retired
If an aircraft is to be parked for a year or longer, airlines will prefer to store it in a location near the desert, where dry air makes the equipment less likely to corrode. According to Barton, keeping the aircraft's cabin free of moisture is the key to the problem, which is also what he is most worried about.
Long-term storage locations in the US include Pinal Airpark in Marana, Arizona; Southern California Logistics Airport in Victorville, California; and Roswell International Aviation Center in New Mexico. These are also aviation "boneyards," where out-of-service planes will sunbathe under the hot sun. All conditions here are guaranteed, from arid climates to the place to accommodate hundreds of aircraft, from Boeing 747 models to small jets.
Mark Bleth, manager and deputy director at the Roswell Center, said the demand for parking space from the airline increased rapidly in March. "We can see that the planes can't help coming here," he said. "We do not know the scale of it, no one knows."
By the first week of May, Roswell had received about 300 aircraft and over 160 were there. The airport has room for about 300 more aircraft, but if new aircraft continue to arrive at the current rate of about five a day, Roswell will "run out of space" by the end of June.
In Pittsburgh, a long line of jets lining up like one another is waiting to take off.
Daily parking fee ranges from USD 10 to USD 14, depending on the size of the aircraft. This figure is even cheaper than parking in downtown San Francisco. The associated extra costs will be higher, coming from maintenance. It includes on-site maintenance, repair and overhaul duties. Bleth estimates it takes about 200 hours to get an aircraft into long-term storage, plus that much time is needed to handle any routine inspection tasks afterwards. The missions here are similar to those for bringing an active aircraft into storage, but adding the installation of window covers to protect the cockpit and passenger cabin from the sun, or uncle extra attention to the engine so they do not corrode.
Bleth is standing on the edge of the secondary runway. Behind him, a row of United Airlines Boeing 757 aircraft stretched far away. But Bleth said it still had to temporarily close a runway to catch new planes or move the planes that had arrived there to more remote places.
Most of the aircraft delivered to facilities like Roswell are those that airlines have no plans to reuse. For American Airlines, it includes Boeing 767 and 757 and Embraer E190 or Airbus A330 models inherited from the acquisition of USAirways in 2014. These aircraft have been on the books to "retire" for the next few years, but Covid-19 has accelerated the schedule.
For the planes about to retire, there are a few future options for them. For example, they can be sold to other airlines, converted to freight, operating in a crowded market. Or they can also be decayed parts completely. American Airlines McDonnell Douglas MD-80s, which implemented a "retirement" mode at Roswell last year, are likely to follow the second option. But if air travel can recover early, maybe things will change.
Old planes set for retirement will be sent to aviation "boneyards" in the southwest desert region. Pictured is Pinal Airport in Marana, Arizona.
Back to the sky
Barton doesn't know when air travel will return to "normal", though he hopes July may show some signs of improvement. When and if that time comes, American Airlines, like most other airlines, will have a cleaner fleet. And Barton's job is now to keep all the parked planes in the air as if they've never stopped flying. As he said, "the entire process is designed to ensure that when the aircraft is operational, it is as safe and reliable as it was before it was put into the storage program."
Barton also said that the airline is currently doing everything it believes is the safest way to run an airline, amid a pandemic. Like all major airlines in the US, it is reducing onboard services, frequent spraying of disinfectant between flights, limiting the number of seats sold and requiring the crew and the entire operator. Guests must wear a mask.
And like all other airlines, American Airlines aircraft also use highly efficient air filters to help completely circulate the cabin air every 2 minutes, with the ability to filter out 99% of the virus. and bacteria.
Of course, the biggest question is not only when the passengers will feel safe to travel. It also depends on how long large events like conferences, festivals and sports tournaments are paused for the rest of the year. According to Ryan Ewing, an aviation journalist, the industry's return will depend on when business and entertainment opportunities open again.
"That is very bizarre and it will be bleak for long-term prospects," he said. "But it's hard to predict these things, because you never know when people might want to fly back. People may have been very tired of being forced to stay indoors, and they would want to go out. to travel."
Refer to Cnet
Source : Genk