Japan has successfully invented a inflatable electric car that can be folded into a backpack when not in use
Recently, scientists in Japan have announced the Poimo electric car with a unique mechanism of operation, can be folded into a backpack when not in use and quickly inflated when users want to vi vi walking. In an easy-to-understand way, its usage is similar to the capsule capsule in the manga Dragon Ball: The appearance is small, but when needed, it can instantly transform. into a compact car that still runs deliciously and smoothly.
Electric cars can be folded into a backpack when not in use, and easily inflated to take users on the street in a flash.
Poimo, which stands for Portable and Inflatable Mobility, is a new electric vehicle that has been successfully researched by the University of Tokyo with the aim of bringing simplicity in the user's travel style. In addition, Poimo also helps to limit the likelihood of serious accidents and collisions during traffic. With just one small pump, users can quickly inflate it for easy use. Thanks to the special structure, Poimo is both soft and light but still extremely strong, providing very effective anti-shock on the road.
The main component of the body is the TPU (a thermoplastic), combined with some soft robot technology that makes it lighter, safer and helps users carry it right in their backpack. Besides, they only need about 1 minute to pump and add accessories such as wheels, batteries, handles or controllers that can be used immediately. In particular, the Poimo wheel set is equipped with specialized engines to support the implementation of basic tasks such as moving, changing direction or stopping.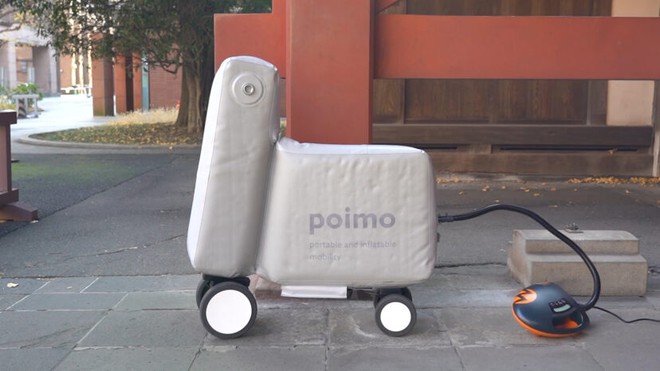 Just a mini automatic pump and takes about 1 minute, Poimo is ready to serve users.
Currently, the weight of Poimo is about 5.5 kilograms (nearly 8 kilograms if including accessories attached to the body), much lighter than other electric bikes on the market today. However, the researchers say they are still conducting many trials and promise to launch many more lightweight products in the future.
Sharing with IEEE Spectrum, researcher Ryuma Niiyama of Tokyo University said: " Our vehicles are really different from the current transportation systems, bringing a new experience to everyone. people. We believe that Poimo will soon become an effective tool to serve the needs of people moving in short distances in the future cities ".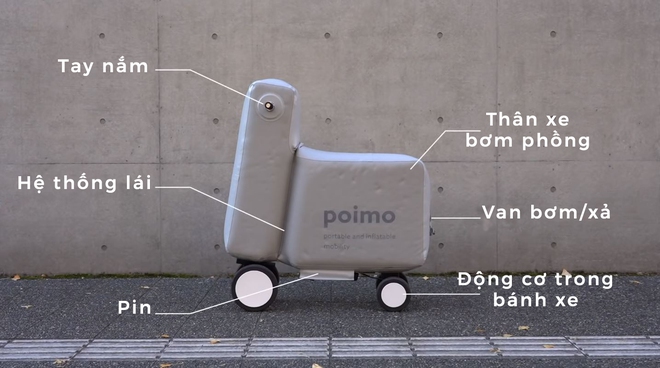 Simple structure of the Poimo car but still full of parts to meet the moving needs of users.
Thanks to its special design, Poimo's ability to customize is also very diverse, not limited to a single shape. Scientists have also applied this technology to create some unique vehicle models such as mobile sofas, helping users to lean back to relax even while on the road. Some volunteers who have the opportunity to experience Poimo also have a positive review of this model and find it much more comfortable than having to control a bike or scooter.
A number of other inflatable media models that researchers have successfully tested are based on Poimo technology.
According to Unilad
Source : Genk