It has the same backup and restore features, but Android is far inferior to the iPhone
The backup system built into the Android operating system has improved significantly over the years, but unfortunately hasn't met some important user requirements. Its shortages become even more apparent when compared to Apple's iCloud backup system for the iPhone – a system that is imperfect, but still better at copying app data so users don't have to. It takes hours to set up a new device.
Most people don't want to use backups too often, perhaps every few years when they upgrade to a new device. But life has unexpected turns, and that's when this service really works. If you damage or lose your phone, the latest and most complete copy of everything in your device ready to be retrieved from Google Drive will be an invaluable resource to help you recover and continue. Work without worrying too much. Unfortunately, things are not as simple as that.
The inadequacies of the backup system on Android
For an experienced operating system like Android, its backup process at the present time still has a lot of room for improvement. In the past few years, there have been a number of documented errors that could cause a backup failure completely. For example, there was an error that existed for 9 months before being discovered, affecting devices running Android 9 and 10 from many different manufacturers, causing the Google Drive sync process to be stuck forever. in "pending backup" status. Solutions such as temporarily turning off the security lock screen feature may solve the problem in a short time, enough to complete a backup, but not an acceptable long-term solution. . Even if Android backups were successful, and you were able to restore a device, random errors could be retransmitted during the backup process, causing new hardware to experience problems with old hardware. you do not encounter.
Another basic point is that Google Drive only maintains a single backup of a phone or tablet. So if something goes wrong while you're backing up to an account, like a hardware failure or a network drop, there's a high chance that your device backup will be lost, accidentally causing the original purpose. of this feature is that data backup becomes meaningless. Assuming you use another phone for a short time (such as an iPhone) and return to Android, you most likely won't have any backups to restore. Backups will expire after 2 months, and Google will not notify you before they delete your data.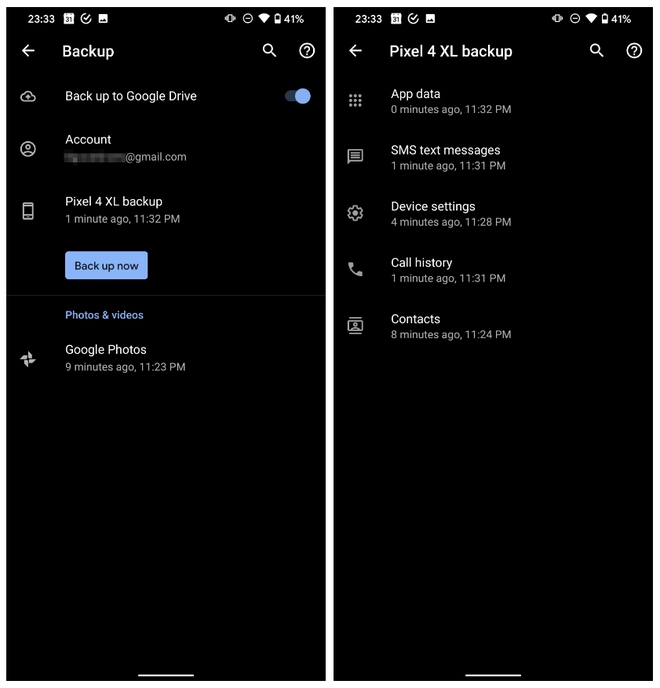 The biggest problem so far is that Android doesn't back up and restore app data like iOS does. There are many third-party apps claiming to do what Google can't do, allowing you to copy app data across devices, but they're often too complex for the average user, and the results are also Depends heavily on hardware and operating system version. These solutions also likely won't work anymore every time a new Android version is released. Backing up sensitive data on a device shouldn't be delegated to third-party apps in the first place – Google must provide users with a reliable mechanism for this.
Some of the complaints regarding Android's backup feature are in fact unreasonable due to legitimate technical limitations. For example, you cannot use a backup from a newer version of Android to restore a phone running an older version. Why? Because outdated software sometimes doesn't know how to handle new data, and many compatibility issues can appear. ICloud backups also have similar limitations. Not being able to recover application data is understandable, but why not recover data such as device settings and Wi-Fi passwords? If moving from one version of Android to another gets a lot of trouble, so does switching from one company to another – recovering any data can fail without a specific reason. To make matters worse, some manufacturers try to convince you to use their proprietary backup services, making it even harder for you to switch to another manufacturer's device. .
Apple simply does better
While backups on your iPhone have some of the same issues, they're still superior to Android in many important ways. When you are entering a new iPhone, your iMessage chat content will automatically reappear, because it backs up itself, separate from iCloud backup. SMS messages on Android must be restored during device setup – if you decide not to restore any data on your old device, your messages will be permanently lost. MMS messages are also not backed up unless you subscribe to the Google One package. Of course, there are many third-party services that can do this better, but Google should be the one to do it. Google certainly knows how best to sync the cloud, just look at Gmail, Google Calendar, Google Photos, and contacts saved to your Google account – it's a shame that they can't do the same thing with SMS. .
That's just an example of how iCloud makes it easier to restore an application's state, but the same is true for the entire iOS operating system. Both operating systems claim to fully back up all applications and their data, but in reality, Apple's approach is much better. After restoring an iPhone from a backup, you won't need to log back into most apps and games, and any settings and options you've made will also be available on your new device, just like just the last time you used them on your old device. As a result, moving from one iPhone to another is smoother and easier, something that Android users dream of not having.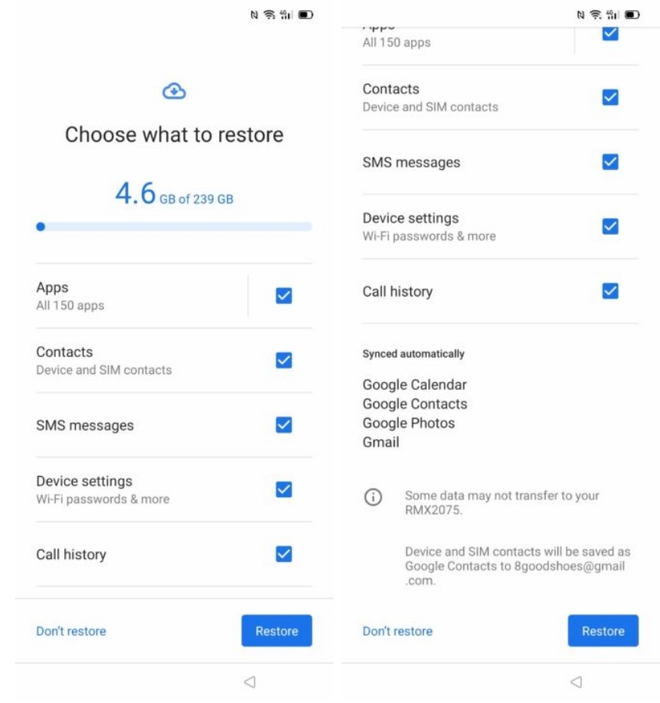 The above setup screen will certainly lead us to believe that app data will be backed up to Google Drive on Android, but in fact, you can't be sure which apps support backing up all data. , and which applications do not. One thing that is not so good is that many application developers do not want to integrate this feature because it is very difficult to do that and the possibility of making a very high error. In addition, each application is only granted 25MB of storage – this capacity may be ample with some applications, but not enough for some others. So, to save the effort, Android developers "neglect" the ability to support application data backup instead of groping to help everything work stably. In contrast, Apple automatically backs up user app data through iCloud on iOS, whether the developer likes it or not. This forces developers to make their app data as clean as possible, so that the backup process is more efficient – that's why users who switch to a new iPhone all feel the same. see the recovery of the phone go smoothly.
Even if an Android application supports backing up all data, there are many reasons why you may not experience a smooth recovery process like iPHone. If you switch between two Android devices from two different manufacturers, the application compatibility issue often makes application data unrecoverable. The issue of distributing Android updates on devices that are already on the market makes things worse – most likely after you update from an older version of Android to newer, your app data Backups will not be compatible with new devices. Security and privacy issues also cause many headaches for developers when application data is transferred from one place to another.
It may be okay for third-party apps to not back up Android backups, but it's not understandable that Google apps themselves won't recover the data as well as you'd expect. Even if you've signed into your Google account on your new phone before restoring apps, you'll always need to reset each one before they work and start sending you notifications. You will not receive emails via Gmail, receive reminders via Tasks, or traffic updates from Google Maps until you open each application and scroll through the familiar intro screens. . They were supposed to be the most compatible apps with Android's backup feature, but Google didn't seem to know what to do.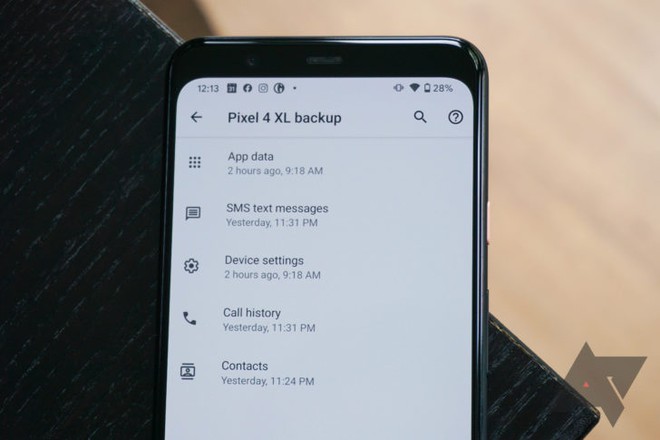 All of this makes setting up an Android phone a painful experience for many people, especially those who have to do it for work purposes, such as reviewers. Each time they receive a new phone to evaluate, they will have to spend several hours to log in and set up each commonly used application to be able to have the most accurate assessment of the phone. IPhone users avoid this "destiny", and obviously every Android fan deserves the same.
What should Google do to fix Android backup problem?
It would be too simple to say that Google should follow Apple because it makes things better, especially because Android and iOS are very different products. Android is not a closed system like iOS – there are countless OEMs and countless different versions of Android installed on thousands of different device models; even more Play Store applications than App Store. Strict control of the backup feature on Android is clearly a difficult task for Google, but nothing is impossible.
The first thing Google can do is fix errors that are currently causing difficulties, making it impossible for users to backup or restore data successfully. Similarly, allowing more than one backup to be stored on each device will be a good solution to eliminate unforeseen problems that cause backup damage. Reliability is the number one goal a backup system has to achieve, and there is a lot to do to achieve that goal. As mentioned above, Google only allows users to recover data once only at the time of initial device setup is not flexible.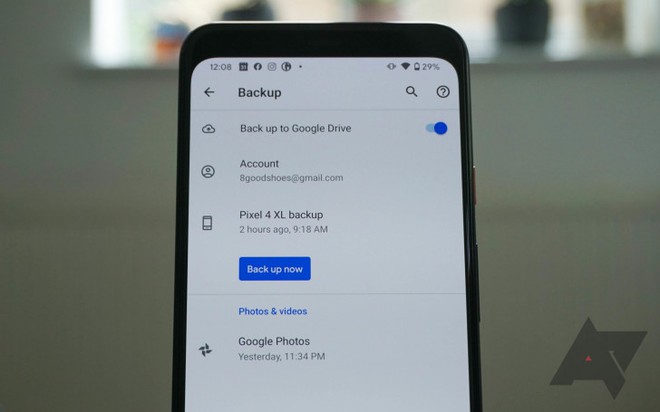 If you want Android backup to be as good as the solution on iOS, Google must convince developers to do it. Forcing them to support backing up all application data is not enough, Google must first ensure their system is powerful enough. The only practical way is to work with developers and OEMs to come up with a standardized protocol that meets the needs of all parties. This is not easy, but users deserve a better solution, and Google's job is to do everything possible to provide that solution to customers. If Apple can solve the problems that arise when transferring data between phone models and between different operating system versions, Google can do it.
Reference: AndroidPolice
Source : Genk