Is Apple's latest iPad Pro a "model" for the next high-end iPhones?
Want to know a bit about the iPhone 12 Apple is supposed to launch this fall? Look no further, take a look at the latest iPad Pro that was introduced in March.
Apple has never commented on its future products before it is ready to announce them. But if the news about the next iPhone is accurate, then the iPhone 12 will have quite a lot in common with Apple's most powerful – and also the most expensive – iPad: the iPad Pro 2020.
For example, at least 2 of the 4 versions of the next iPhone will have a new design with a flat stainless steel edge like the iPad Pro, according to Bloomberg reporter Mark Gurman. Apple is also reportedly planning to bring the iPad Pro's Lidar 3D sensor – which the company advertises as a leap forward for augmented reality apps – on high-end iPhone models in 2020.
Another unique feature of iPad Pro – Apple's ProMotion technology, which boosts the screen's refresh rate to 120Hz – is also expected to appear on the iPhone 12, according to YouTube channel EverythingApplePro.
If the aforementioned features are actually brought to the iPhone 12, it will signal a shift in the iPhone manufacturer's strategy. Apple often uses the iPhone as a chess piece to introduce new technologies – like Face ID on iPhone X in 2017 and Touch ID on iPhone 5S in 2013.
Such features will then appear on iPad. However, it seems that nowadays, it is the iPad Pro that leads the way for future iPhone models, not the stalker as before.
The features that are already present on the iPad Pro, such as the Lidar camera, 120Hz screen, and the new design, also show that Apple is increasingly targeting high-end iPhone models to professional users, sophisticated experts. Technology, and photographers – we can clearly see this change in last year's iPhone 11 and 11 Pro launches.
When Apple unveiled the iPhone 11 in September, it promoted the $ 700 iPhone 11 as a key device. Both the $ 1,000 iPhone 11 Pro and the $ 1,100 iPhone 11 Pro are both aimed at customers who are willing to "pay extra" for a more powerful camera and a more vibrant screen.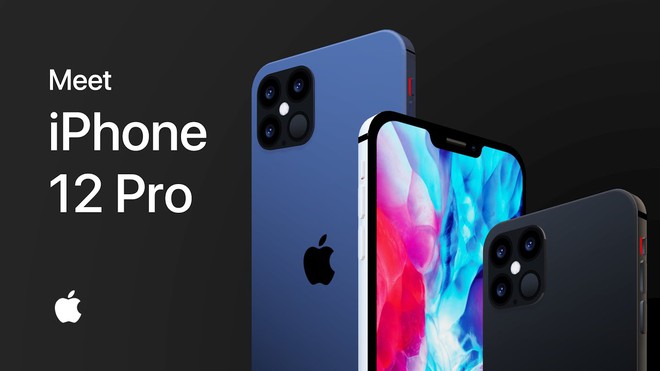 Concept iPhone 12 Pro with design similar to iPad Pro
As you can see, Apple went against what it used to do in 2018: when Apple placed two high-end smartphones, the iPhone XS and XS Max, as the flagship, while the cheaper iPhone XR was a cheaper device. Good for consumers with limited budget and not much demand.
The fact that Apple is more likely to develop iPhone 12 Pro and iPhone 12 Pro Max styled iPad Pro shows that the company will turn more strongly into a new strategy in 2020.
It's also a sign that smartphone manufacturers, like Apple, are increasingly realizing consumers will not be willing to spend $ 1,000 or more to own a new smartphone.
The iPhone XR, launched at $ 750 and now down to $ 600, is the best-selling smartphone of 2019, according to data from Counterpoint Research. Behind it is Samsung's mid-range Galaxy A10. This result probably explains why Apple decided to turn the iPhone 11 into a trump card in 2019.
With an iPhone 12 Pro that looks like an iPad Pro will be a logical move in the strategy of developing multiple iPhone models to suit all consumer needs – even if you are a longtime iPhone user who wants to buy one. new machine at an affordable price, or a photography enthusiast wants to have a compact but powerful camera.
Today, when it comes to iPhones, we no longer think of one or two large models – small, but a variety of devices of all segments – do not forget the $ 400 iPhone SE that Apple just launched in April. Things will become even clearer next fall, if Apple is to make its iPhone 12 Pro truly worthy of its "Pro" name.
Reference: BusinessInsider
Source : Genk