Is 5G access speed on VinSmart's latest smartphone faster than 3G and 4G in Vietnam?
Recently, VinSmart has announced the successful development of Vsmart Aris 5G – the latest smartphone of VinSmart in the high-end segment, with 8GB RAM configuration, Snapdragon 765 chip, integrated security chip using quantitative computing technology. death. Notably, Vsmart Aris 5G is also the first Vietnamese brand smartphone to support 5G wave, helping VinSmart become the leading Vietnamese company in successfully producing the latest wireless technology-enabled terminal. this.
In the context of major carriers in Vietnam such as Viettel, Vinaphone and Mobifone have not yet officially commercialized 5G networks, VinSmart has also provided a test video of Internet access speed of 5G on Vsmart Aris 5G.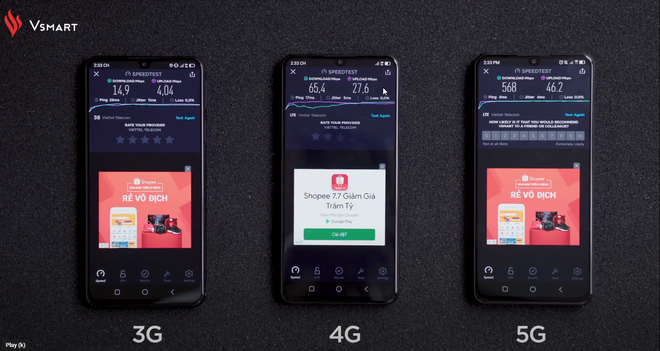 Measure the speed of Internet access using 3G, 4G and 5G on Vsmart Aris 5G via SpeedTest app (screenshot)
Accordingly, when testing with the Speedtest.net application, the speed of accessing the Internet by 5G radio at the testing station of Viettel on Vsmart Aris 5G is much faster than existing wireless Internet technologies. in Vietnam like 3G and 4G are in the same position.
Specifically, the download speed of Vsmart Aris 5G reaches 568 Mbps, while the upload speed reaches 46.2 Mbps. For comparison, the download / upload speeds on 3G networks (of FPT network) and 4G (of Viettel) reached 14.9 / 4.04 Mbps and 65.4 / 27.6 Mbps respectively. Thus, the latest smartphone of VinSmart has Internet access speed of 5G which is 8 times faster than 4G, and up to 38 times compared to 3G. Subsequent tests with VNIX or Fast.com also showed similar results, when 5G was nearly 40 times faster than 3G.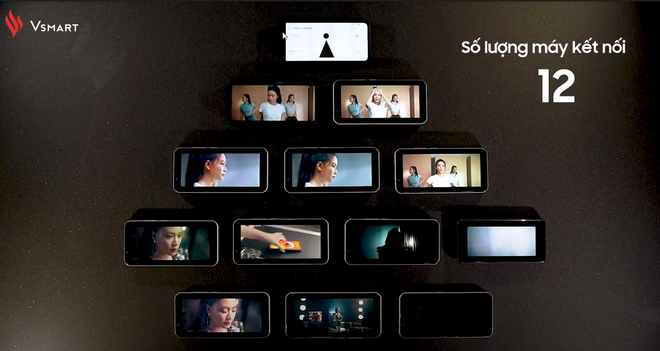 Vsmart Aris 5G can broadcast Wi-Fi to 12 devices connected at the same time (screenshot)
Test videos of VinSmart show that the use of popular movie and TV applications in Vietnam such as VTV Go or Viettel TV with 5G is also much faster and smoother than 3G and 4G. Also in the test video of VinSmart, it is clear that the speed of Internet access by 5G is so fast, Vsmart Aris 5G can broadcast Wi-Fi for 12 devices connected at the same time, allowing these devices to be able to Watch HD video without lag / stutter.
According to Nguyen Phi Tuyen – Director of the measurement center, Department of Telecommunications (Ministry of Information and Communications), the results of many tests on Vsmart Aris 5G show that this smartphone has a speed of 5G Internet access. 8 times higher than 4G by using Sub6 band. It is expected that the 5G access speed of Vsmart Aris 5G may be faster when VinSmart will apply the mmWave band in the near future.
Video comparing 3G, 4G and 5G access speeds on Vsmart Aris 5G. Source: VinSmart
5G is divided into two different bands: 5G sub-6GHz (also known as sub-6), and mmWave (millimeter wave). The sub-6 band is being used for wifi standards such as 802.11b, 802.11n, and 802.11a. 4G LTE network infrastructure including 600MHz, 700MHz, 800MHz and 1200MHz bands also works in sub-6 band.
Meanwhile, mmWave uses high frequency radio spectrum (from 24 GHz to about 39 GHz) to operate, allowing an increase in speed compared to sub-6. According to Qualcomm, mmWave is suitable for deployment in urban areas, where BTS stations can be easily installed to ensure high speed when multiple devices are connected at the same time. In suburbs and more remote areas, operators will switch to sub-6.
Source : Genk