iPhone 11 encountered a strange error: It looks beautiful but it is extremely annoying
Some users are currently complaining about a noticeable green tone display error on iPhone 11, iPhone 11 Pro and iPhone 11 Pro Max displays.
The reports of this green screen effect were first shared on the Reddit forum, and it seems that this issue mostly affects iPhone 11 models. There are some inconsistencies in how this happens. This issue, but in most cases, the screen turns green immediately after the user unlocks the iPhone or when activating the Dark Mode or changing the color tone when used at night (Night Shift). However, some people say they experience this phenomenon when the screen is at the lowest brightness possible.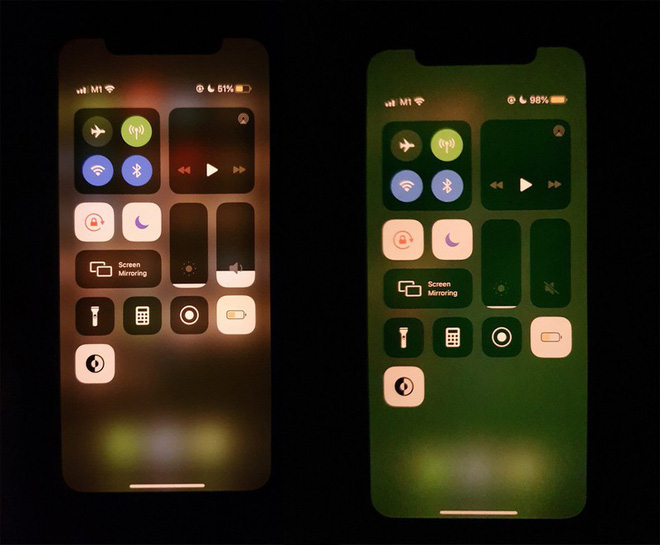 The iPhone 11 screen shows itself strangely blue.
However, this does not seem to be a hardware issue but more likely a software issue, since many users have claimed they were affected after updating to iOS 13.5.
"At first, I was afraid it was a hardware problem. But then my mom's phone also started showing up in green. It was just another bug in the iOS 13.5 update. Apple might be fix it in the 13.5.2 or iOS 14 beta update, "one user shared.
Some people say they can solve the problem by restarting the device, but others say that this does not solve the problem completely. There are also some people who are interested in this error, because it looks quite impressive on the green iPhone 11 Pro Max.
"The good news is I'm not the only one. Hopefully software updates can fix this quickly," another user said.
"This happened to me about a month ago. I contacted Apple support and they thought I was crazy," user Adam Probert said on 9to5mac .
IPhone 11‌, 11 Pro and 11 Pro Max models seem to be the main affected group, but there are also some complaints from users of ‌iPhone‌ X. The problematic updates include iOS 13.4.1. , iOS 13.5 and iOS 13.5.1. Someone said the same thing happened to the Apple Watch Series 4 after updating watchOS 6.1.
As always, Apple did not respond to any requests for comment. But if this is really a software-related issue, Apple may fix it with a future iOS update. The company is currently running a test with the iOS 13.5.5 beta.
Refer to Macrumors
Source : Genk