iPhone 11 and iPhone SE are the best-selling smartphones globally, with Samsung and Xiaomi dominating the top 10
Apple still can't beat Samsung in total smartphone sales. However, Apple's iPhones topped the list of best-selling smartphones in Q3 / 2020, according to Canalys statistics.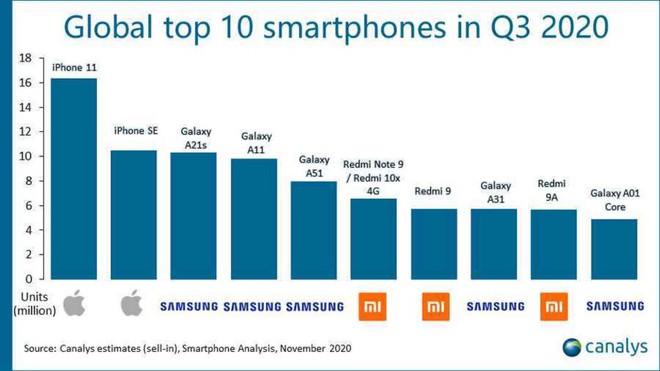 iPhone 11 is the best-selling smartphone globally
Apple's iPhone 11 was a hit shortly after going on sale in May 2019.iPhone 11 became the best-selling smartphone globally in June, and the latest data shows that the iPhone 11 continues to hold its ground. No.1 in the whole Q3 / 2020.
Apple sold 16 million iPhone 11 units between July and September. Apple achieved this number while the Covid-19 epidemic was still complicated. The global economy is also affected, and users tend to choose technology equipment with more affordable prices.
Now, Apple has launched the successor to the iPhone 11, the iPhone 12. It also means that the iPhone 11 will soon lose its No. 1 title, and the iPhone 12 may take that place.
Apple shipped more than 10 million iPhone SEs
The second smartphone on Canalys's list continues to be an Apple iPhone. Also very successful shortly after launch, Apple shipped more than 10 million iPhone SEs in Q3 / 2020.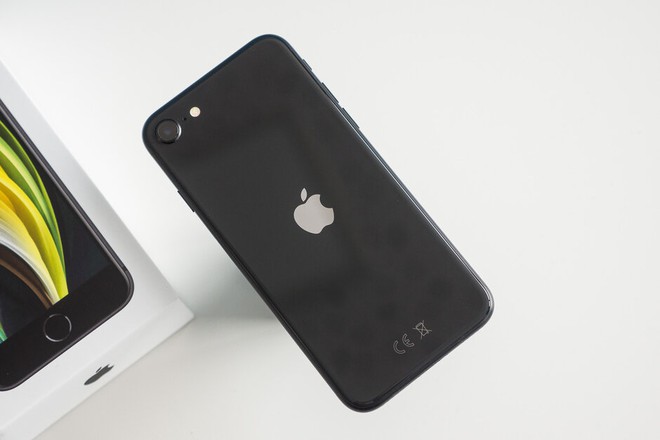 According to Canalys, iPhone SE buyers are mainly those who upgrade from old iPhone models, such as iPhone 6 or iPhone 7. Besides, there are also a large number of Android smartphone users switching to.
iPhone SE 2020 also has an unofficial successor, which is the iPhone 12 mini that Apple just launched. Therefore, the iPhone 12 mini also promises to replace the current position of the iPhone SE.
Samsung succeeds with the cheap Galaxy A smartphone
Samsung occupies the 3rd, 4th and 5th positions in Canalys's best-selling smartphone list in Q3 / 2020. Those are the affordable Galaxy A21s, Galaxy A11, and Galaxy A51 smartphones. The Galaxy A31 and Galaxy A01 Core models are also on this list, at 8th and 10th place.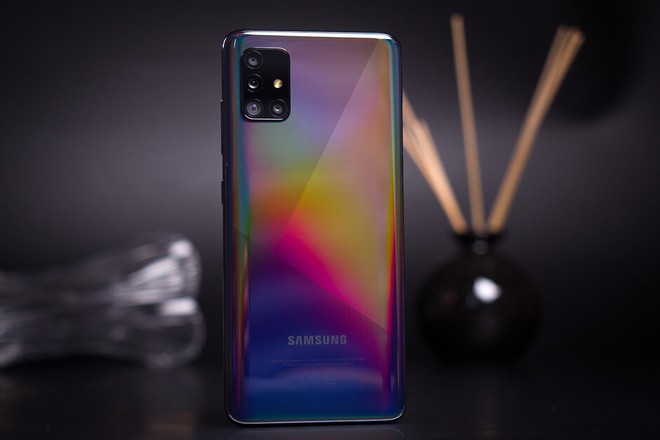 Samsung's high-end smartphones are not on Canalys's list. That is also the expected result, when the sales report of the smartphones Galaxy S20 series and Note20 series have not met expectations.
Meanwhile, Samsung's affordable mid-range smartphone line has surpassed expectations. That shows the general trend of the global smartphone market in recent times, which is affordable.
Xiaomi also enjoyed a lot of success
Interestingly, there are only 3 smartphone brands on Canalys's list, Apple, Samsung and finally Xiaomi. The Chinese phone company contributes 3 faces in this list, which are Redmi Note 9, Redmi 9 and Redmi 9A, at 6th, 7th and 9th respectively.
Xiaomi is still known for its best-selling affordable smartphones in the market, so these results should come as no surprise. However, in the last quarter, Xiaomi especially benefited when rival Huawei left potential markets such as India and Europe open.
The name missing from this list is Huawei. In the past, Huawei also contributed some of its low-cost smartphones in the top 10. But with sanctions from the US, Huawei smartphones cannot be sold in markets outside of China, due to the lack of apps. and familiar Google service.
Reference: phonearena
Source : Genk