Invite you to hunt for technology with 50% ++ discount at CellphoneS during Black Friday
What is BlackFriday?

It is a big sale event held on the last Friday of November every year, and has been introduced to the Vietnamese market for many years. On Black Friday, a series of great discounts,% discounts or product discounts are available at many places.
Black Friday is CellphoneS's biggest technology product discount festival of the year, as a tradition each year CellphoneS pioneers a Black Friday sale program so that you can own technology items at a price. the best. When participating in Black Friday, you can also buy many products that will get a lot of discounts, applicable to all products at CellphoneS (Except for extended warranty services):
• Additional 5% off up to 100,000 VND when buying 2 products.
• Additional 10% off up to 100,000 VND when buying from 3 products or more.
• Support ordering – easy online payment
• Free delivery with invoice over 300,000 VND. Buy more accessories in 1 order for free shipping.
Genuine smartphone series reduced to 3 million
Officially taking place from November 27 to the end of November 30, the following series of genuine smartphones with good prices will make you fidgety during the series of Black Friday events at CellphoneS:
• Xiaomi Mi Note 10 camera 108MP reduced to 4 million to only 8.99 million.
• Poco X3 128GB "monster configuration" in the segment, now just over 6 million.
• Genuine iPhone SE 2020 VN / A is only 9.99 million.
• Nokia 8.3 5G smooth with Android One reduced by 3 million to 9.89 million.
• Nokia 2.4 is cheap, smooth and light with only 2.99 million dong.
• Super hot !!! Galaxy Tab S7 + exclusive price is only 21.49 million, comes with a leather case and keyboard worth 5 million.
• Oppo Reno 4, Oppo A93,… discount up to nearly 1 million.
• Genuine Asus ROG Phone 3 immediately reduced by 3 million.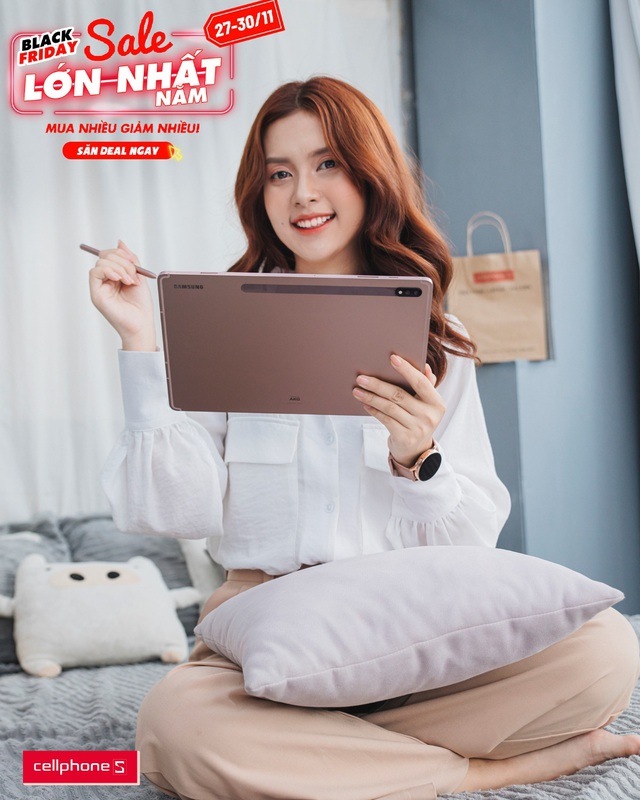 Super audio accessories discount up to 50% ++
Wireless headphones, Bluetooth speakers are a new trend of the technology world, especially young users. In addition, the prices of genuine headphones from major brands such as: Sony, JBL, Harman Kardon, LG, … are also very plentiful, on the occasion of the Black Friday 2020 discount – the biggest sale of CellphoneS, Brothers just spend more than 100 ~ 200K to be able to own a genuine headset to use.
• Energizer UB2609 headphones cum backup charger now only VND 490,000.
• Huawei Sound X 5.1 smart speaker dropped directly 3 million to 3.99 million.
• Famous Harman Kardon Onyx Studios 5 speaker from only 2.99 million.
• JBL Pulse 3 speaker white version 47% reduced to 2.49 million.
• Sony WH-1000XM3 premium noise-canceling headphones reduce shock by 2 million.
• LG ToneFree Headset HBS-FN4 is down more than 50% to 1.39 million.
• Partron PWE-100 true-wireless headphones reduced by 32%.
• JBL C150SI "national" headphones priced at only 150,000 VND.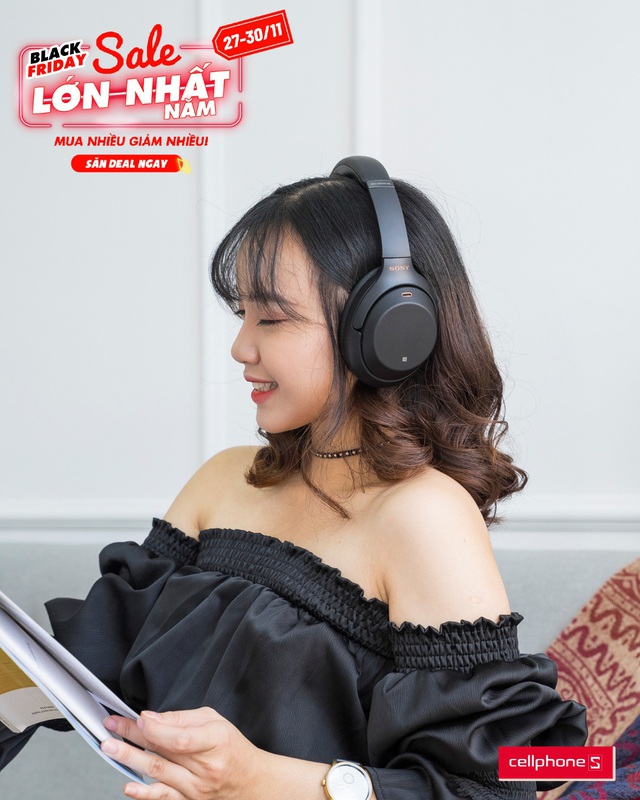 Cable combo – charger, backup battery, smart toys, 50% ++ discount on case
Finally, in the Black Friday 2020 list at CellphoneS, it is obvious that charging accessories – cables, battery backup watches, case cases … are offering huge discounts of more than 50%.
• Huami Amazfit Bip watches reduced by 40% to 1.25 million.
• Haylou LS02 watch genuine shock price only 450,000 VND.
• Anker PD 18W fast charger with USB-C port is only 295,000 VND.
• Cable Anker Powerline II C-to-Lightning port shock price only 190,000 VND.
• Combo charger – Xiaomi ZMI 30W cable with 2 USB-C ports with super attractive C-to-C cable from only 275,000 VND.
• Genuine Gear4, UAG case, Zeelot screen stickers or Tucano, Tomtoc high-end backpacks are all reduced by up to 20%.
• Xiaomi air purifier
• Genuine Energizer backup battery offers better prices up to more than 50%, priced at only 245K for 1000mAh UE10045 capacity charger, …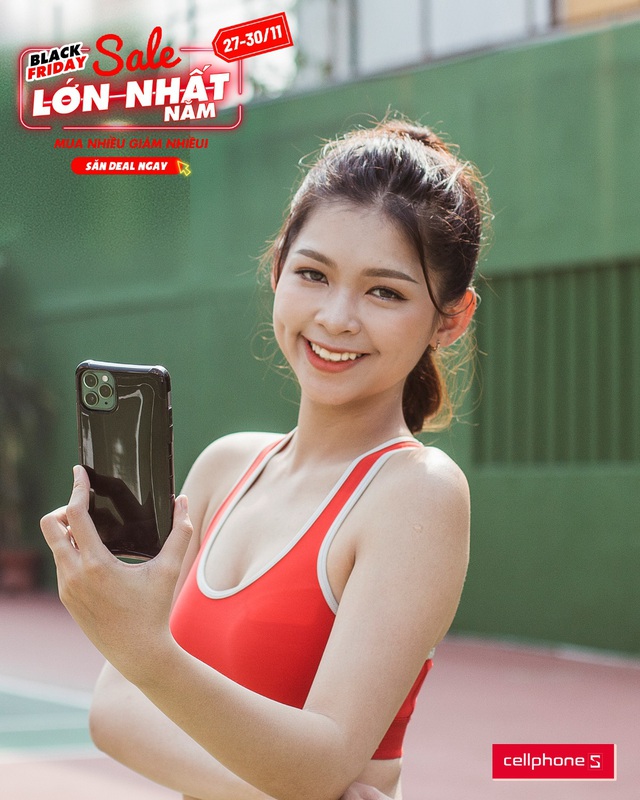 What are you waiting for but don't click on the link below, go to Black Friday with a series of very good deals at CellphoneS, only from November 27-30!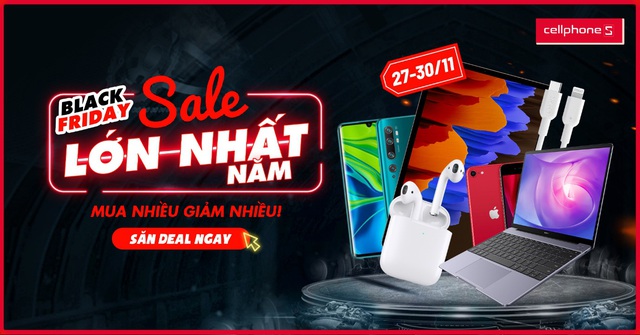 See details of Black Friday deals at CellphoneS
In addition, the Fun Phone mobile repair system also offers discounts of up to 40% off services and components cost at good prices for those who need to repair, replace or refurbish their smartphones at the end of the year. .
• Genuine Pisen and Energizer battery replacement and repair service for iPhone models with instant 40% off
• Up to 35% discount for screen glass replacement services, back glass, cover, camera replacement, SSD RAM upgrade, …
• Cable accessories – charger, screen stickers, headphones, … only from 200K.
CellphoneS and Funny Phones are a strategic partner of genuine Vietnamese mobile and accessories such as Apple, Samsung, OPPO, Xiaomi … With more than 50 doors The product always gives customers genuine products with the best prices and deals. Get more peace of mind when buying at CellphoneS with 30 days of renewal. Guests who are far away can book online at home. Free nationwide delivery of CellphoneS. Please contact the call center immediately: 1800.2097 or go to the stores of CellphoneS system.
Source : Genk