Investing in electric vehicle charging stations across the country, what can VinFast learn from Tesla?
The importance of charging stations is just as great as gas stations for traditional cars today. Therefore, in parallel with the manufacture of electric cars, charging stations also need to be prepared and installed in a very meticulous manner.
Tesla – the pioneer in the electric vehicle field has made a roadmap to build charging stations in many locations not only in the US but also around the world, worthy of other companies to follow.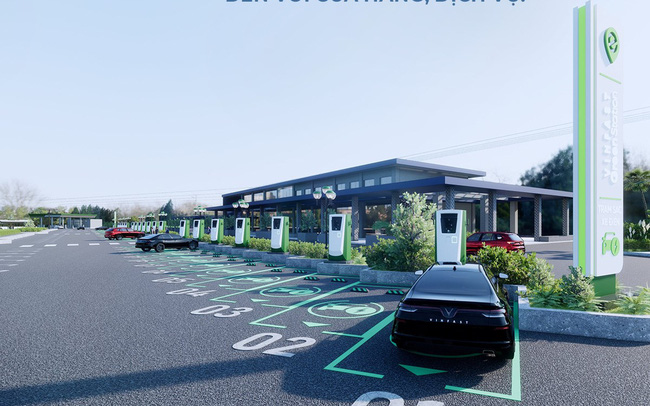 In Vietnam, Vinfast has started a strategy to build its own charging plants to support not only cars but also its electric motorbikes. Like Tesla, this will help Vinfast not only profit from charging cars, but the number of cars sold by the company is likely to increase thanks to convenience for customers. This brings.
The car company belongs to billionaire Pham Nhat Vuong's group recently issued an announcement calling for partners to have suitable premises and invest in electric vehicle charging station infrastructure nationwide with an expected network of 2,000 charging stations. with more than 40,000 battery charging posts. VinFast said the charging stations will develop according to European standards, the charging station will operate automatically and can be located in any parking area without changing the capacity of the parking area.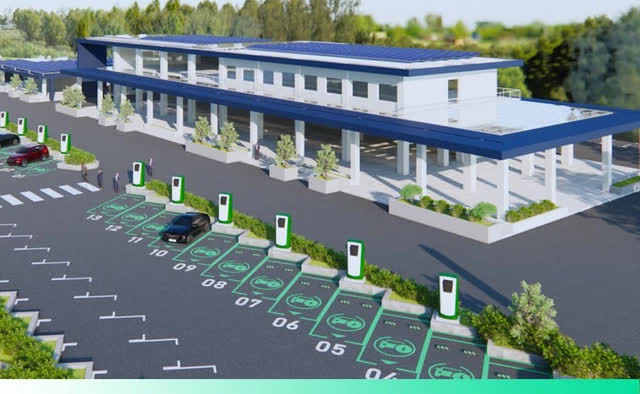 From the very beginning of electric vehicle production, charging stations had become a major concern for Tesla; they built their network right from the outset of one of the first electric cars – the Model S. Contrary to the approach of many other automakers focusing solely on feature development, Tesla has taken the initiative to bring greater utility to their customers.
Nissan is a prime example. With the relatively affordable Leaf and innovative features, it soon led the electric vehicle market and the Nissan Leaf was also the best-selling electric car between 2011 and 2014. However, Nissan does not build for users a network of fast charging stations but depends on a third party, bringing a lot of trouble for customers.
Realizing this, since 2012, Tesla has started to introduce six fast charging stations called the Tesla Supercharger. Tesla started with the standard SuperCharger V1 and V2 charging trees with 150 kW. With such capacity, users take about 20 minutes to charge to 50%, 40 minutes to charge to 80% and 75 minutes to 100% for Tesla model S.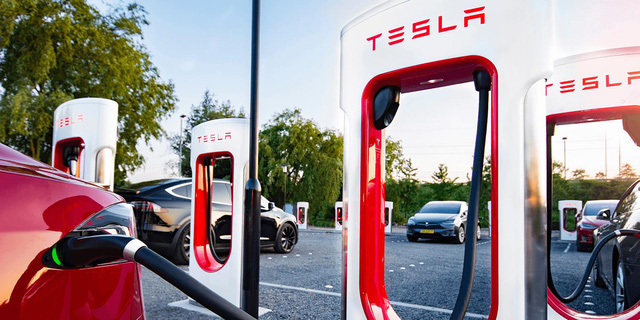 Tesla's V2 charging station (Image: Electrive)
By September 2017, Tesla announced the launch of the urban Superchargers (urban Superchargers). The urban supercharger is more compact than the standard Supercharger, mainly deployed in large city areas such as parking lots and garage garages in the mall.
Compared with the standard Supercharger, the Urban Supercharger has a maximum capacity of 72 kW, which is about half the amount. These urban charging stations are currently only in use in the US and will be used in many other locations over the next few years. 2 years later, the company continues to introduce the Supercharger V3 charger in New York with many outstanding features, most notably the charging speed has been significantly improved. All electric cars produced by Tesla, from Model S, X, Y … can use these chargers.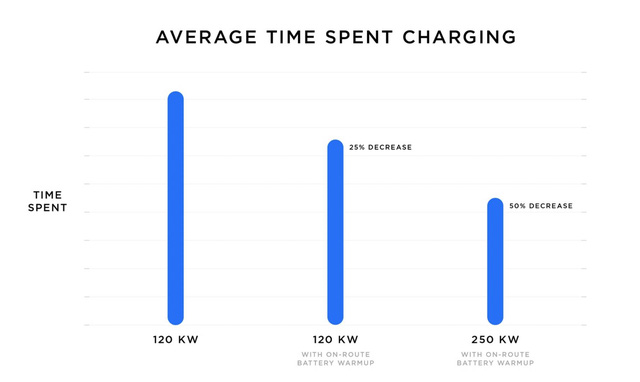 Charge times are reduced significantly with the Tesla Supercharger V3 (Image: Tesla)
As of 2016, the average number of Tesla cars that can be charged at the same time per Supercharger booth was about 34 units; The cost of building a charging station is about $ 100,000 (2013) and goes up to $ 270,000 by 2015, depending on the number of charging plants installed. These rechargeable trees are expected by the company to be around 12 years old.
In the beginning, less than 10% of all the electricity used to charge cars came from Tesla charging stations. However, by 2019, according to data provided by Tesla, up to 72 GWh of electricity will be used through their charging stations worldwide. Most of the Supercharger charging stations are owned by Tesla, with only a small number of charging stations owned by taxi companies with fleets of electric vehicles purchased from Tesla itself.
Tesla also applies a fairly flexible policy to the use of its charging stations. Model S and X electric vehicles ordered from Tesla before January 15, 2017 will be used free of charge at the charging stations until the end of the vehicle's life cycle. Vehicles purchased from January 15, 2017 to November 2, 2018 will be free about 400 KWh (equivalent to about 1000 to 1600 miles of travel); After they are used up, they will pay a fee that is believed to be lower than using gasoline for traditional cars. This price is about 0.2 to 0.26 USD / KWh (equivalent to 6,000 VND / KWh) in the US (except Hawaii). During this same time period, up to 5 friends and owners of the current Tesla electric vehicle will receive lifetime free car charging at this charging station, with those who buy their cars through. referral code.

The cost of using electric chargers at Tesla's charging plant (USD / KWh) compared to the cost of using gasoline (USD / Gallon) (Photo: CleanTechnica)
By the end of 2014, there were 119 standard Tesla Supercharger stations operating in the US, 76 in Europe, and 26 in Asia. In March 2020, Tesla owned 1,826 charging stations worldwide with 16,103 charging plants, including 908 stations in the US, 398 stations in Asia and the rest scattered in many other countries around the globe. . Tesla's rechargeable tree count hit 20,000 in November of last year, indicating the company's extremely strong coverage.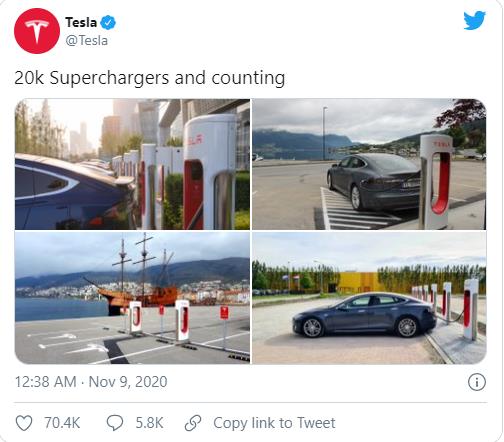 Tesla hits 20,000 charging trees worldwide (Image: Tesla)
Thus, it can be seen that through the development of charging stations, Tesla not only has more revenue from selling electricity to cars but also helps increase the number of cars sold – which is the main business segment of the business. That is why although many companies develop electric cars, even earlier than Tesla, but until now, their cars have the strongest coverage globally.
Source : Genk