International fans are delighted with VinFast VF e35, VF e36, cleverly reminding Supercar Blondie to 'save words' to focus on the car
Supercar Blondie shared a video on Instagram and quickly received 17,000 views in just the first 30 minutes.
Fans were very excited about the appearance of the VinFast VF e35 and VF e36 duo with responses such as: "Give me one", "I like it", "I like the gray one", "I love the gray one", I like the bigger one", "I like the VF e35, it's very beautiful", "The red one looks like a Honda MDX"… Some people even commented: "Speak less, focus on the car!"
Of course, there are also cautious comments like "Looks like many other SUVs on the road. Maybe there will be more amenities inside…"
On VinFast America's Instagram account, fans also have positive feedback. It seems that the initial design has made an impression and what VinFast needs to do is a corresponding luxury cabin at a reasonable price.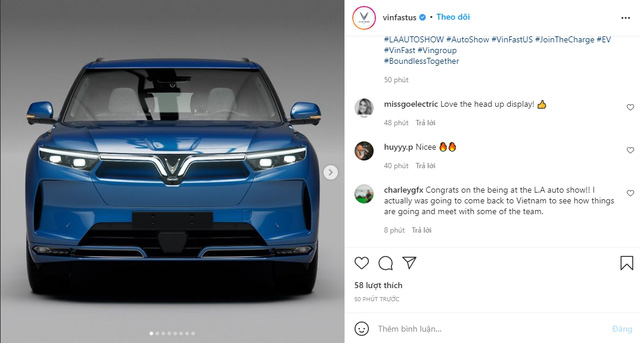 At the Los Angeles Auto Show 2021, VinFast VF e35 appeared in a red shell. The size of the car is similar to Mercedes-Benz GLC or BMW X3. Some modern exterior equipment has a full LED lighting system and 21-inch wheels, shod with Pirelli 255/40R21 tires. The interior is designed like a luxury car. Minimalist design with few buttons, only the number adjustment button. Some other modern equipment has a panoramic sunroof, anti-glare mirror overflowing.
Meanwhile, VinFast VF e36 belongs to the full-size SUV segment, on par with Lexus LX570, Mercedes-Benz GLS, BMW X7, Chevrolet Tahoe… Compared to the concept version, the interior has some changes, including the center of gravity. rectangular steering wheel rounded four corners. This may be an upgrade to make a difference compared to the "junior" VF e35.
VinFast VF e35 and VF e36 engines produce a maximum capacity of 402 horsepower and maximum torque of 640 Nm. Combined with the all-wheel drive system, the electric SUV can accelerate from 0-100 km / h in 5.5 seconds with the VF e35 and 6.5 seconds with the VF e36.
VinFast VF e35 and VF e36 are expected to meet the 5-star ASEAN NCAP, 5-star EURO NCAP and 5-star NHTSA safety standards before being distributed in Vietnam, Europe and the US.
Source : Genk