Intel witnessed unprecedented failure, the era of domination of the US semiconductor segment may have come to an end
Intel's decision to consider outsourcing its manufacturing heralded the end of an era that dominated the company's semiconductor industry. This is a move that affects not only Silicon Valley but also global trade and geopolitics.
The Santa Clara-based company has been the world's largest chip manufacturer for the past 30 years thanks to a combination of the best designs and a state-of-the-art manufacturing plant – one of which is still located. based in the USA.
Most of the other US chip makers closed or resold domestic factories years ago and ordered production from foreign companies – mainly in Asia. Intel, meanwhile, has not changed its decision, saying it has improved both its manufacturing facility and created a better product. However, that strategy is slowly breaking down, as the company's factories are having trouble keeping up with the latest 7 nanomete chip manufacturing process.
After CEO Bob Swan said Intel was considering hiring a foreign company to produce, its shares fell 16% on July 24, the sharpest decline since March.
Chris Caso, an analyst at Raymond James, wrote in a note: "We think that failing to meet Intel's roadmap is an incredible failure, especially for a company once famous for its perfect plan. This is a demonstration move for Intel's dot matrix. "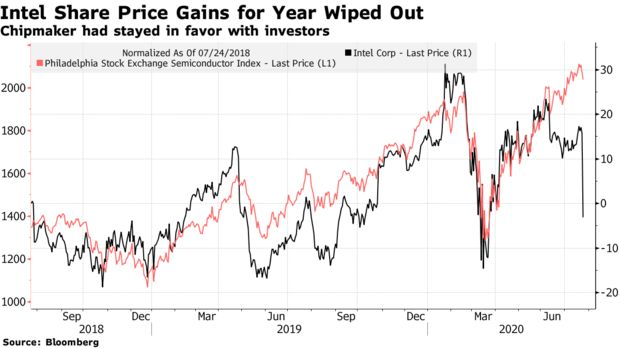 All of Intel's gains this year have been "wiped out".
Swan says the place where semiconductors are made is not so important. However, domestic chip production has become a national priority for China, and some US national politicians and security experts consider it a mistake to send the secret to overseas manufacturing. Mistakes carry potential dangers.
In June, John Cornyn, a leading Republican Senator, said: "We have seen how vulnerable the United States is." The comment came as US lawmakers proposed about $ 25 billion in tax credits and funding to strengthen semiconductor manufacturing.
Intel's Xeon chips have operated computers and data centers so far that support nuclear power plants, spacecraft and jets, and helped the government quickly absorb information. intelligence and other important information. Many of these processors are manufactured at facilities in Oregon, Arizona and New Mexico (USA). If Intel hires a foreign company, it is likely to be done by Taiwan's TSMC.
Chris Rolland, an analyst at Susquehanna, said: "With the latest move, we believe that Intel has no chance to catch up with TSCM at least in the next half-decade, or even never." He suggested that Intel should resell the factory to TSMC although it is not certain this will happen.
Over the years, Intel has spent tens of billions of dollars on upgrading its factories, and its predecessors, Bob Swan, have considered domestic manufacturing plants as an important advantage helping the company lead the industry. As the largest chip maker, Intel benefits from the size of the economy and attracts the most experienced engineers and scientists.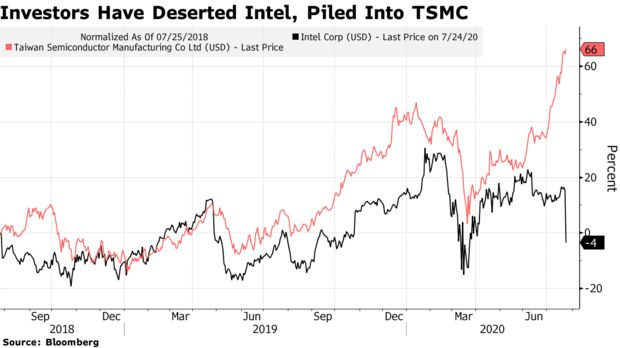 Investors fled Intel, pouring money into TSMC.
The development of smartphones and other mobile devices has changed everything. Intel later invaded the mobile chip segment, but never committed to producing and designing the best for this field. They still prioritize the PC and chip server segment. As smartphone sales skyrocket, phone makers use chips from companies like Qualcomm or make their own designs, like Apple. And TSMC's factories are producing these products.
While Intel produces hundreds of millions of chips each year, TSMC produces more than 1 billion. This gives the Taiwanese company a lot of experience in factory improvement and helps its engineers stand out from Intel in technical practice.
Last Friday, Swan said Intel's products were still the best despite production delays. However, opening the door to outsourcing, the CEO is threatening one of the last solid "strongholds" in America's technological leadership.
Caso from Raymond James said: "The outsourcing of leading technology production – for example, TSMC and Intel will lose their important competitive advantage in the past 50 years."
Refer to Bloomberg
Source : Genk