(Infographic) Charts revealing the epidemiological nature of COVID-19
The number of deaths in the Covid-19 epidemic in China has exceeded 2,300. However, one study considered to be the most comprehensive so far revealed: Most cases of Covid-19 have only mild symptoms.
Again, the new corona virus mortality rate, now known as SARS-CoV-2 by itself, is not too high, at 2.3%.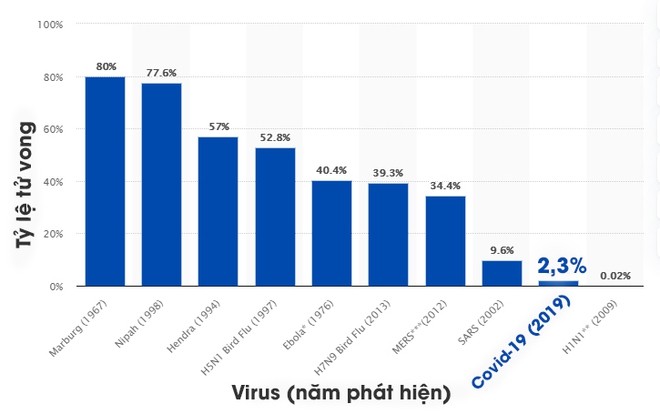 Cases of Covid-19 still concentrated mainly in Wuhan City and Hubei Province. The deaths are often patients with weak immune systems, due to pre-existing cardiovascular diseases such as heart disease, diabetes, cancer …
By the time the symptoms started, Covid-19's epidemic curve in China reached its peak between January 23 and 26 and is now decreasing.
However, Chinese scientists warn that in the next few weeks or months, the epidemic may worsen, as people in the country end an unusually long holiday to go to work and school. .
The report from the China Centers for Disease Control and Prevention (CDC) analyzed a total of 72,314 cases of SARS-CoV-2 virus, from December 8, 2019 to February 11, 2020.
Of which 44,672 cases (61.8%) were confirmed, 16,186 cases (22.4%) were suspected, 10,567 cases (14.6%) were clinically diagnosed and 889 cases (1 , 2%) no disease symptoms.
Scientists have drawn an epidemiological curve based on the time of onset of symptoms of reported cases. Accordingly, it peaked on January 23-26 and has been declining ever since.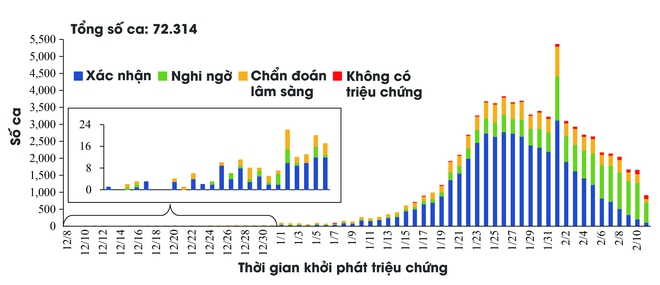 A second epidemiological curve added at the time of confirming the diagnosis of cases shows the delay from the time when a patient has symptoms, until they are tested or diagnosed to be negative or positive for virus.
This chart can give us an estimate of a true translation peak, and it may have occurred up to 10 days before the data was updated.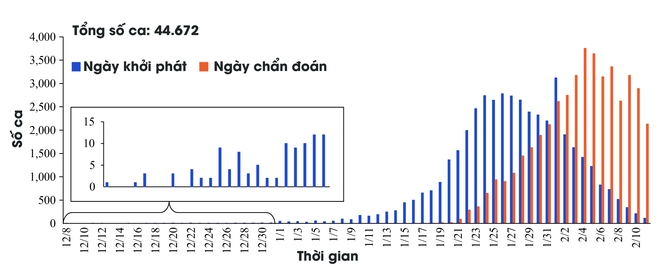 By analyzing the epidemiological curve, Chinese scientists found it to have a mixed model, consistent with the hypothesis that the SARS-CoV-2 virus was transmitted from an animal species in the Huan Nam seafood market, Wuhan to people.
In December 2019, the number of onset illnesses was very low following the " spread of different strains " model. Only about 0–22 cases of onset / day suggest that it could be the time when the virus begins to jump from animal to human and has to adapt to our body, like a new host.
Later, the number of onset cases began to increase, peaking, and then decreasing according to the " same-spread pattern ", indicating that SAR-CoV-2 had learned the ability to pass from person to person.
Covid-19 was initially restricted to Wuhan City and Hubei Province, but poor control of the disease caused it to spread rapidly. As of February 11, 2020, cases of SARS-CoV-2 infection have been reported in 1,386 districts in 31 provinces and autonomous regions of China.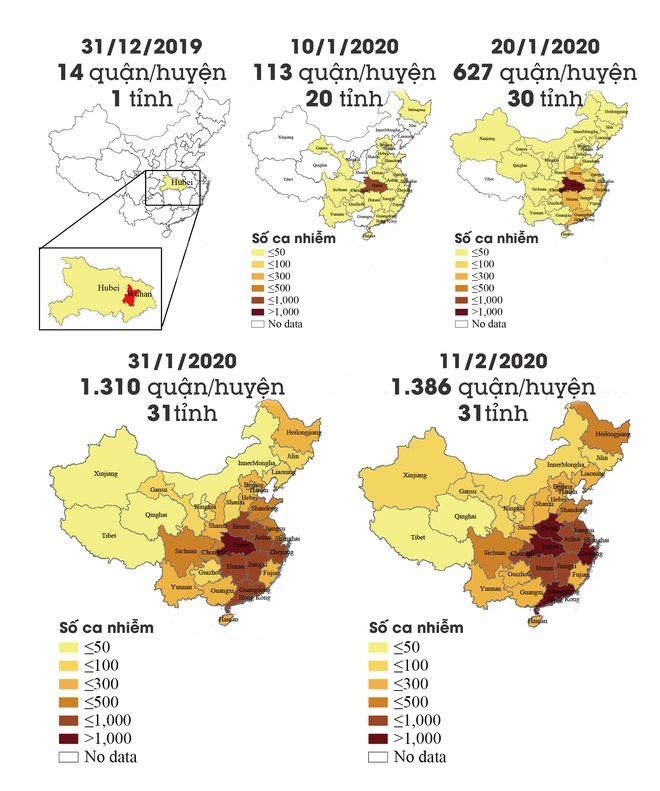 However, the epidemiological curve of the group of patients who started the disease outside Hubei Province also showed that it peaked on January 27. And most of the Covid-19 patients outside Hubei had been to Wuhan City and returned during the outbreak, or they had close contact with the patients who had arrived there.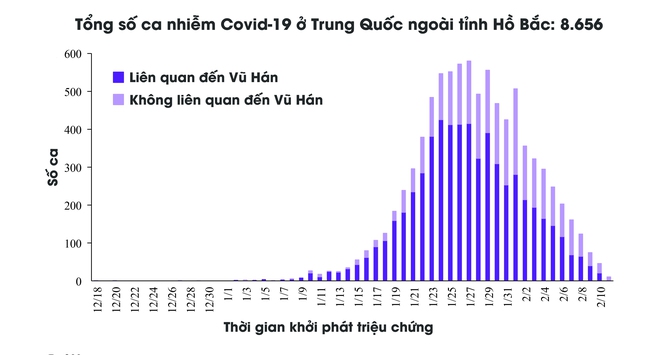 The age distribution of Covid-19 cases shows that most patients are in the range of 30-79 years old, with the proportion in Wuhan City being 89.8%, in Hubei province being 88.6% and The whole of China is 86.6%.
In general, males are more susceptible to SARS-CoV-2 virus than females. They also have a higher death rate.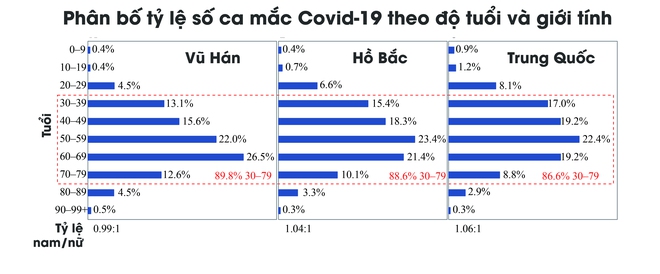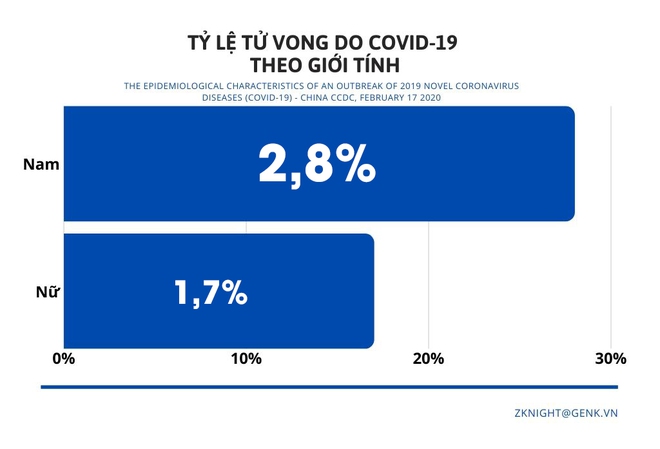 Through the analysis, the scientists found that 80.9% of confirmed cases of Covid-19 had only fever and dry cough. These patients had no shortness of breath or lung infection. Only 4.7% of patients had severe symptoms including respiratory failure, septic shock or organ failure.
Up to 49% of patients in this group will die, bringing the average death rate in China when infected with Covid-19 to 2.3%. But it also means that all non-critical, even severe symptoms will be well treated and restored.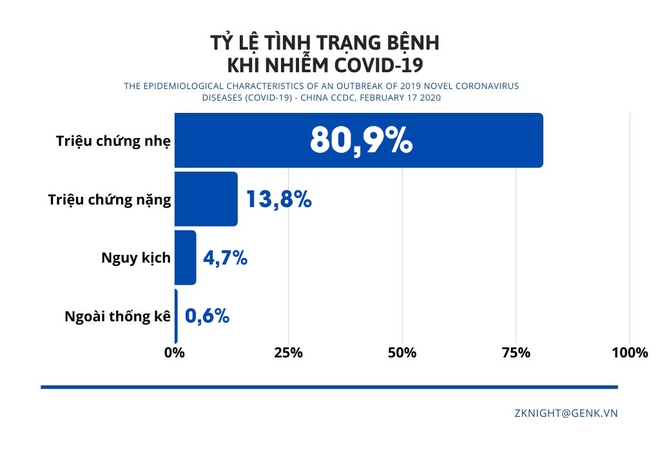 Among the SAR-CoV-2 virus infections in China, 1,716 health workers, 5 of whom died (0.3%). These health workers are not just doctors, nurses and nurses, but are counted as anyone working in hospitals, including office work.
The rate of medical workers in Wuhan epidemic infected with Covid-19 was the highest, up to 64%. The cases of health workers in other areas of Hubei Province were 23.3% and outside of Hubei were 12.7%.
Keeping the health force safe is an extremely important requirement in disease control. And China did this well by reducing the proportion of health workers with severe symptoms from Covid-19 from 38.9% to 12.7% (in Wuhan) and 45% to 8, 7% (all over China).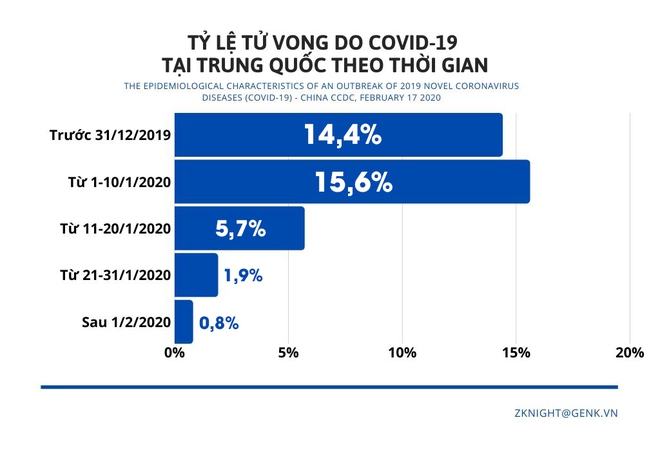 Researchers at the China Centers for Disease Control and Prevention say their new report is the largest statistical study ever in the Covid-19 epidemic. It can be used to assess China's disease control efforts, including blockade of cities.
China has implemented multi-sectoral and multi-channel coordination measures to spread disease knowledge to the public, along with self-preventive measures including handwashing, wearing masks and care instructions. medical.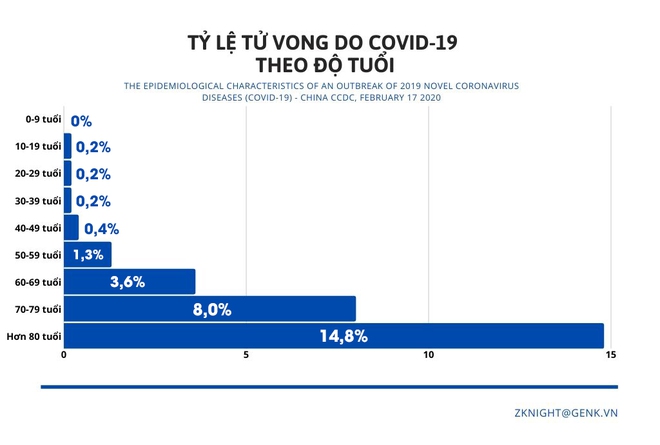 With its drastic direction, the Chinese government stopped the spread of Covid-19 within its borders and the rest of the world.
The evolution of the epidemic is slowing down, researchers at CDC China said. However, they warn that when the extended Lunar New Year holiday comes to an end, a large number of people will return to school and work making the situation more stressful.
China will need to prepare in advance to prevent a further wave of the disease, which may occur in the coming weeks or months.
* You understand correctly that the corona virus is causing Covid-19 epidemic, let's take the following test to check:

Source : Genk