India asked WhatsApp to cancel its data sharing plan with Facebook
In an email to WhatsApp Director Will Cathcart, the Ministry of Information Technology (IT) of India confirmed that the upcoming data sharing policy update raises "serious concerns about its impact on choice and rights. autonomy of indian citizens. Therefore, we urge you to withdraw the proposed changes ".
The IT ministry also asked WhatsApp to clarify its data sharing agreements with Facebook and other companies, as well as why European users are exempt from the new privacy policy and Indian users have no other option. outside accepted.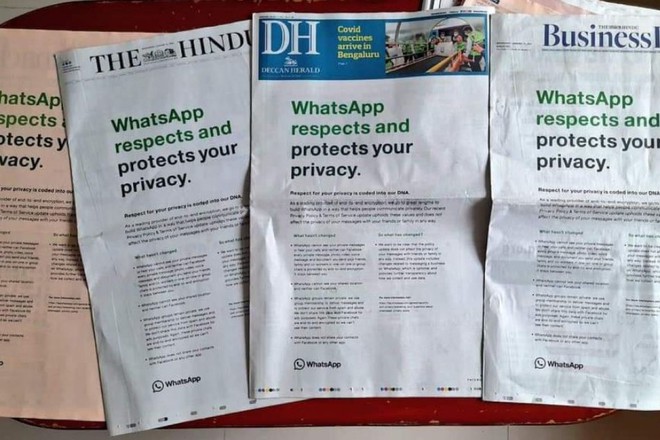 WhatsApp buys paper advertising to "justify" the new policy. Photo: B&T Magazine
The ministry argues that such discrimination is detrimental to the interests of Indian users and the government takes the problem seriously. The Government of India is responsible for ensuring the rights of its citizens are not compromised and therefore requires WhatsApp to respond to the issues raised in the letter.
Earlier this month, through an in-app warning, WhatsApp asked users to agree to a new terms of use, allowing the app to share some of their personal data such as phone numbers and addresses with Facebook. Initially, WhatsApp set a February 8 deadline to comply with the new policy if it wanted to continue using the service.
The "all or nothing" approach has stripped every meaningful option from the Indian user. It takes advantage of WhatsApp's social importance to force users to agree, possibly violating their interests related to information security and privacy, "the ministry's email wrote.
WhatsApp's notifications caused a lot of confusion and anger and annoyance with users. Some choose to look for other services like Telegram and Signal.
In a statement released on January 19, a WhatsApp spokesperson stressed that the update does not extend data sharing capabilities with Facebook. Their goal is to provide transparency and new options for interacting with the business, for them to serve their customers and grow. WhatsApp always protects private messages with end-to-end encryption, so WhatsApp or Facebook cannot view them.
Facebook acquired WhatsApp in 2014 for $ 19 billion. Since 2016, the application started sharing some information about the user with the parent company, but users are allowed to exit this option. In response to the wave of protests last week, WhatsApp said it would delay implementation of the new policy to May 15.
In addition, WhatsApp also buys advertisements in several newspapers in India to explain the change and explain the rumors.
New Delhi also expressed frustration with the timing of the WhatsApp update's announcement. The ministry said it is reviewing the Personal Data Protection Law, which oversees how user data is shared with the world.
On January 19, India's Law and IT Minister Ravi Shankar Prasad gave advice to Facebook. "WhatsApp, Facebook or any other electronic platform, you are free to do business in India, but do so in a way that does not affect the interests of Indians."
According to TechCrunch
Source : Genk