Impressive technological breakthrough on Z Fold 3 changes the multitasking way of the most "connoisseur" tech-fans
At the present time, it can be said that Galaxy Z Fold3 is the most "expensive" name in the smartphone world, both literally and figuratively. Not only because of the elegant and sophisticated beauty worthy of a masterpiece, but above all the breakthrough technology imprints, promising to change the way phones are used in the 4.0 era.
Technological breakthrough
Playing a pioneering role in opening up a completely different new field, the first generation Galaxy Z Fold folding screen phones have really made a big shock in the technology world. And after only 2 years, these values ​​are not only perfectly promoted on Galaxy Z Fold3, but also comprehensively upgraded, bringing a lot of interesting changes, contributing to making this super product an ideal model. ideas for the next generation of smartphones.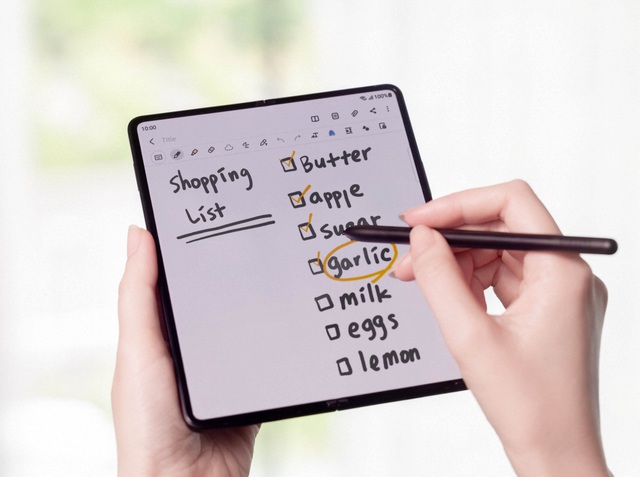 Perfectly inheriting the unique hinge design from the two predecessors, this super product has upgraded the folding experience to a new level by combining the super durable Amor Aluminum material and IPX8 water resistance with a not two. Besides, Galaxy Z Fold3 has always proved its leading position with revolutionary breakthrough technological innovations. No longer the "defective" screens like on the first two generations, this super product has opened a new chapter for a complete impressive visual experience with the unique UDC hidden camera technology. Along with upgrading to a customized 120Hz scanning speed, users can now enjoy a realistic image space "without dead corners" and can easily manipulate and control smoothly from work to entertainment.
On the other hand, the integration of the ability to use the S Pen has given the Galaxy Z Fold3 an unprecedented multitasking experience like no other smartphone. Combined with the powerful performance from the Snapdragon 888 chip, this super product is no longer an ordinary smartphone but a multi-style technology device, affirming its leading position in opening the mobile era. completely new.
Rank up in experience
But that's not all, when what makes the Galaxy Z Fold3's charm lies in the unique leveling experience that can't be found on any mobile device at the moment. Especially when the demand for entertainment and multitasking is increasing and becoming practical, owning a large screen smartphone has become indispensable for anyone. In the shape of a regular smartphone when folded, Galaxy Z Fold3 still ensures the ability to work perfectly with the front screen, not inferior to any flagship at the moment. But when unfolded, it's the total superiority of the unprecedented breakthrough multitasking experience.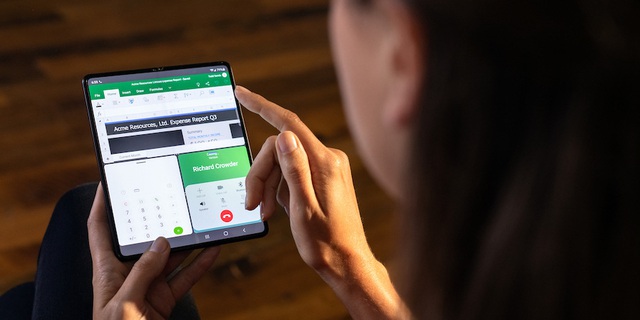 With a large 7.6-inch screen, combined with 120Hz scanning speed and Multi-Window capability that allows opening 3 application windows at the same time, Galaxy Z Fold3 has brought a completely comfortable and easy working space. in each operation. Combined with a variety of display customization modes and unique drag and drop control support, the Galaxy Z Fold3 becomes a true office, ensuring work productivity wherever you are. Besides, the effective support of the S Pen makes the working experience on Galaxy Z Fold3 easy and fast. Perfect low-latency drawing capabilities that allow you to not only take notes, shorthand, but also turn handwriting into text in real time, ensuring flexibility and efficiency come first. .
On the other hand, besides the true multitasking mode, the audiovisual entertainment experience on Galaxy Z Fold3 is also raised to a new level. An image space opens up with the unique UDC hidden camera technology, allowing you to immerse and enjoy blockbuster movies to the fullest and most realistically. Especially with Flex Mode, you can completely place the Galaxy Z Fold3 anywhere and still be able to manipulate and experience on the screen, helping to optimize entertainment anytime, anywhere.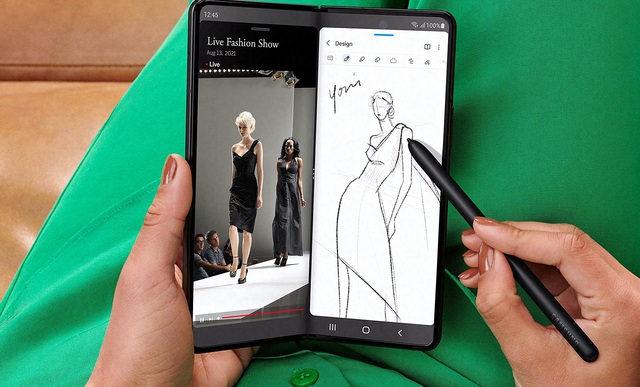 Combined with a 4-speaker Dolby Atmos sound system, the Galaxy Z Fold3 has become a true mini-cinema, delivering superior audio-visual quality enough to satisfy high-quality entertainment needs. Along with that, the integration of the ability to use the S Pen also turns the Galaxy Z Fold3 into a unique creative space for young people. From smooth writing and drawing to adaptability, optimizing interactions on the big screen, with the S Pen, users can unleash their own experiences with personal compositions, and open a new world that helps to realize ideas easily and quickly.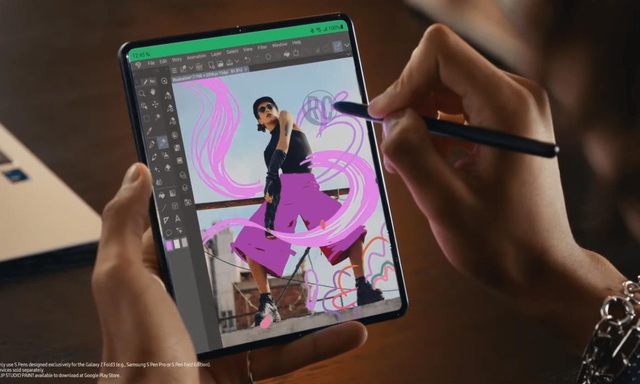 With a luxurious and elegant appearance imbued with a contemporary minimalist design style, Galaxy Z Fold3 not only gives owners a regular phone but also a masterpiece of fashion combined with technology. The attraction comes from the unique folding design combined with a series of high-quality materials and the ability to delicately manipulate every line, making the Galaxy Z Fold3 always stand out, attracting all eyes every time it appears. .
This has been confirmed when the device not only impresses technology followers but also attracts special attention from fans, becoming a luxury fashion accessory that everyone wants to own. Especially with the limited edition Galaxy Z Fold3 Thom Browne, when this super product has transformed into a personal fashion collection, showing class and elegant style that cannot be copied.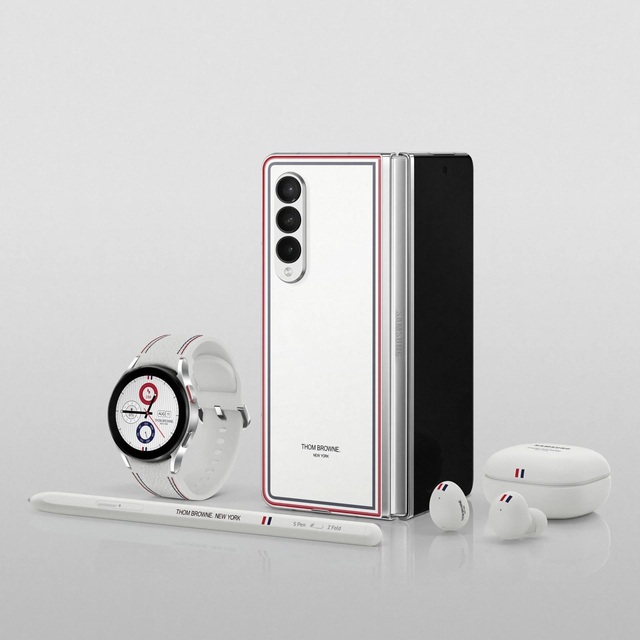 Besides, Galaxy Z Fold3 also brings a small upgrade but shows Samsung's sophistication and understanding to users and technological breakthroughs that make the impossible possible. That is the first time IPX8 water resistance appears on a folding screen device. Perfectly combined with the super durable material Amor Aluminum, this has completely changed the perspective of the Galaxy Z Fold3, which was considered fragile and weak, instead becoming sturdy, strong and reliable. reliable to be able to accompany the owner on every path.
It can be seen that Galaxy Z Fold3 has really affirmed its pioneering position in technology, becoming a typical representative of the 4.0 smartphone model. Moreover, through this super product, Samsung has also demonstrated the great potential of folding devices, when this trend is becoming inevitable, opening the future of technology while changing and raising the bar. mobile usage to the next level.
Source : Genk