HP Pavilion Gaming 15 high-performance AMD 2020 laptop for gamers
Super thin bezel screen, new hinge for better heat loss
HP Pavilion Gaming 15-chip AMD 2020 high-end laptop has a streamlined design but the proportion of used space is not small. With the design dimensions of 36 x 25.7 x 2.35 cm, the product has been focused on by HP to increase the area of ​​frequently used users. Specifically, the ultra-thin screen bezel for a larger screen, the scanning frequency of up to 144Hz is not only a good gaming experience but also very smooth when hovering over the web, making it comfortable to use with a large screen multitasking software. Or play games easily. The resolution of the screen is Full HD quality with IPS technology for all images displayed extremely sharp. The keyboard ratio of the product also occupies a large area, the full size led green keyboard is very unique in the current gaming market, the touchpad is smooth.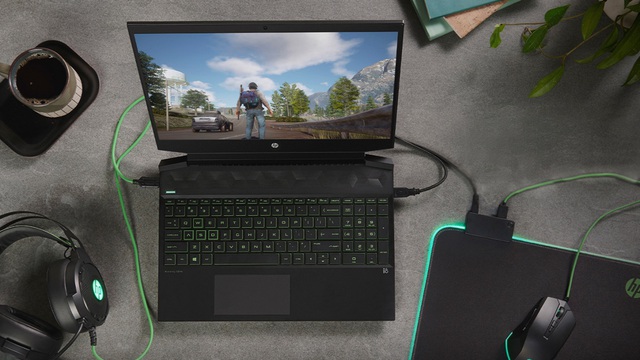 Even though HP Pavilion Gaming AMD is gaming, it weighs only 1.98kg, making it compact to use, perfect for a mobile gaming experience.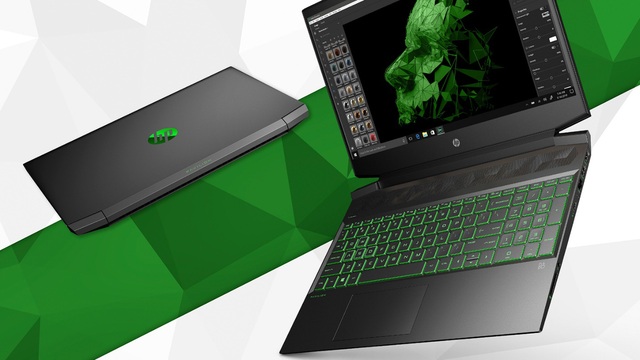 Unlike other laptops, HP's gaming line shows a complete innovation in appearance. With the new U-shaped hinge design when looking at the machine, it is not only gaming, but also creates a delicate elegance. The durability of this new-style hinge is also sure after a long period of use and helps the machine escape heat better in any used space.
Strong performance with AMD Ryzen 5 4600H chip, 8GB RAM
Laptop HP Pavilion Gaming 15 chip AMD has been investing a lot in performance. Specifically, the device is equipped with AMD Ryzen 5 4600H chip for a minimum clock speed of 3.0GHz that can boot to 4.0GHz easily. Helps the processing speed of the machine many times faster than other conventional laptops. Not only that, the laptop's RAM also has 8GB of standard DDR4 with 3200MHz bus for extremely fast multitasking speed. You can also upgrade up to 32Gb of ram for this laptop.
To match the performance of laptops HP has equipped the standard M.2 PCIe SSD 128GB SSD to install the operating system. With this hard drive, the HP Gaming Pavilion 15 EC1054AX 1N1H6PA laptop will be able to boot to win quickly and load heavy applications super fast.
Not only that, it is also equipped with a hard drive with a capacity of up to 1TB to help you comfortably store a lot of personal data, suitable for many uses such as saving game files, video images in huge quantities. .
In addition to the advantages of configuration and design, the genuine HP Pavilion Gaming AMD 2020 also attracts attention because it is equipped with HP's ADP warranty (accidental damage protection) in addition to onsite warranty at 63 provinces in Vietnam. Talking more about the ADP faulty warranty package, users will be supported by HP for free repair even with errors such as liquid spills, electric shock, breakage, this is something that no customer in Vietnam has done yet. with Gaming laptops.
With a gaming design that is compatible with a wide range of usage needs from low to high even with heavy graphics software, the AMD Pavilion Gaming 15-chip AMD 2020 Laptop will be suitable for a lot of today's needs.
Products are distributed genuine at the dealers of SynnexFPT nationwide.
Source : Genk