HP EliteOne 800 G6 AiO Touch – AIO computer set has many impressive new points
Powerful performance in a sophisticated design
HP EliteOne 800 G6 AiO offers a completely new design style with square edges, metal body and luxurious silver tone from front to back. The three screen edges are designed to be ultra-thin, combined with a luxurious base to help adorn the workspace.
This All-In-One model is also exceptionally neat with most wireless connectivity thanks to its built-in Wi-Fi and Bluetooth card. The included keyboard and mouse set itself is also wirelessly designed for a streamlined, modern workspace that inspires when working.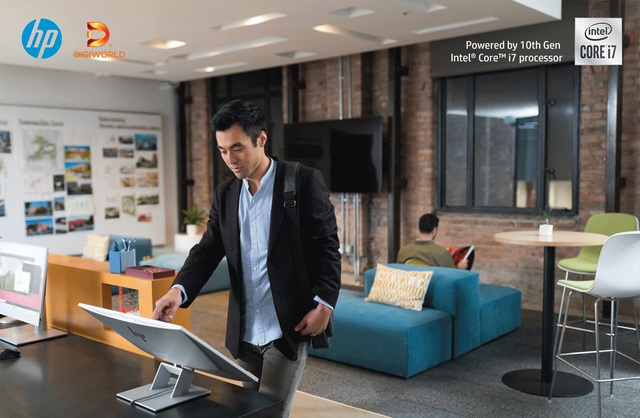 HP EliteOne 800 G6 AiO has a streamlined and modern design
With the above great features, HP EliteOne 800 G6 AiO is an option that cannot be more suitable for modern workspaces, technology and style followers.
Although neat, HP EliteOne 800 G6 AiO Touch (2H4S4PA) still possesses outstanding performance with Intel® Core™ i7-10700 Processor, 3GB GDDR6 graphics card to meet all office needs, programming to graphics. Basic drawing and editing. The product is also capable of upgrading up to 64GB of RAM and a M.2 SSD PCIe NVMe hard drive to ensure smooth multi-tasking.
In addition, HP EliteOne 800 G6 AiO still has all the familiar connection ports such as USB-A, USB-C, RJ45 network port, HDMI, DP, etc. In which, 1 USB-A port, 1 USB-C port and 3.5 audio jack is easily accessible because it is located right on the two sides of the machine.
Thanks to its powerful performance, flexible upgradeability, and a full range of connections to support all needs, the product is also especially suitable for long-term investment businesses, users who work often on computers. for many heavy-duty tasks.
Quality screen, many features for online meetings
As a product of HP's high-end business computer line, it is not surprising that the EliteOne 800 G6 AiO Touch (2H4S4PA) carries a screen with excellent display quality.
Specifically, the "2H4S4PA" version has a size of 23.8 inches, a high-end IPS panel, sharp Full HD resolution and 72% NTSC color coverage. As a result, the product serves well even the needs related to graphics.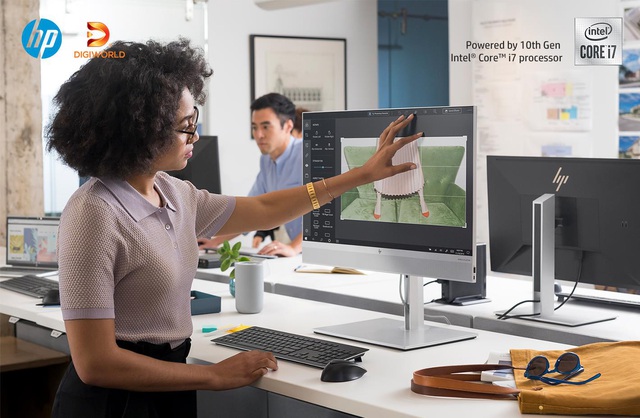 Quality screen, integrated touch
The screen is also integrated with multi-touch for convenient operation like using a tablet. In particular, the machine supports HDMI-In port, which means that the HP EliteOne 800 G6 AiO can be used as a monitor when connected to another PC or laptop.
The product is also equipped with a sharp 5MP camera, noise-canceling microphone, Bang & Olufsen speaker system and many exclusive audio technologies.
These features effectively meet the needs of meetings, online group discussions, this is an advantage that is difficult for ordinary desktop computers to have.
Environmentally friendly design
With sustainable development as a guideline, HP always strives to create environmentally friendly products. On the EliteOne 800 G6 AiO, more than 50% of the plastic used is recycled, including ocean waste. 100% of the canning material is also made from recycled paper.
The product has also achieved many global certifications for its ability to save energy, contributing to reducing operating costs as well as contributing to the goal of sustainable development.
Top-notch security features
Like other high-end enterprise products of the company, security is also particularly focused on HP EliteOne 800 G6 AiO. The machine comes pre-installed with the dedicated Windows 10 Pro operating system for businesses with many advanced security and management features. Users can log in quickly through Windows Hello thanks to the accurate facial recognition infrared camera system.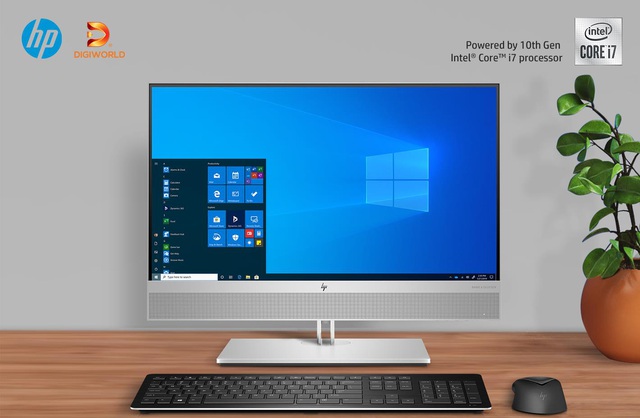 Pre-installed Windows 10 Pro and many security technologies
And of course, the world's leading security technologies from HP such as HP Biosphere Gen5 and HP Sure Start Gen6 are indispensable for BIOS protection and recovery; HP Sure Run ensures critical defenses stay active; HP Sure Click helps isolate potentially malicious files and browsers; HP Sure Sense uses deep learning algorithms to protect the machine; HP Client Security Manager Gen6 makes security management easy…
HP EliteOne 800 G6 AiO Touch (2H4S4PA) is distributed by Digiworld with a reference price of 41,290,000 VND.
HP EliteOne 800 G6 AiO Touch (2H4S4PA) comes with genuine warranty and 3-year technical support with services Free Home Delivery and Pickup Warranty, Express Warranty – next business day return, and Home Warranty, on-site hardware support for the life of the product.
Source : Genk