How to maintain classrooms, schools and houses to prevent corona virus?
As of today 11/2, 63/63 provinces are still implementing plans for students to leave school to prevent disease caused by corona virus. However, on February 9, the Ministry of Health sent a letter to the Ministry of Education and Training, recommending that no-epidemic localities can return students to school.
The necessary condition to ensure safety for students when returning to school is to detoxify, decontaminate classrooms, clean tables and chairs, ensure hygienic conditions to prevent diseases.
This measure is taken to prevent corona virus from spreading to surfaces contaminated by germs accidentally. A new study in the Journal of Hospital Infection estimates that corona virus strains generally can survive on surfaces on average for 4-5 days.
The authors recommend the use of disinfectants and pathogens such as alcohol, hydrogen peroxide (hydrogen peroxide) or sodium hypochlorite (javen water) to clean surfaces regularly.
* Please read the latest information, research on corona virus 2019-nCoV here.
Earlier, the Washington Department of Health said surfaces with high frequency of contact in schools and classrooms had to be cleaned and decontaminated at least once a day. They list them including: table top, sink surface, faucet, doorknob, railing, bathroom area, health room …
Cleaning (CLEANING) is the cleaning of dirt and removal of large numbers of pathogens on surfaces and objects, using water and soap.
Disinfecting (DISINFECTING) is using chemicals like javen water to kill most bacteria, viruses, fungi and other pathogens.
The Washington Health Department recommends that decontamination be done by school cleaning staff, preferably in the absence of students to avoid exposing them to chemicals.
The Centers for Disease Control and Prevention (CDC) requires that cleaning staff, teachers, or anyone using cleaning and decontamination agents in a school environment read and understand the instruction labels. safe and appropriate use and usage.
Sometimes, that requires foreign product manuals to be translated into the native language.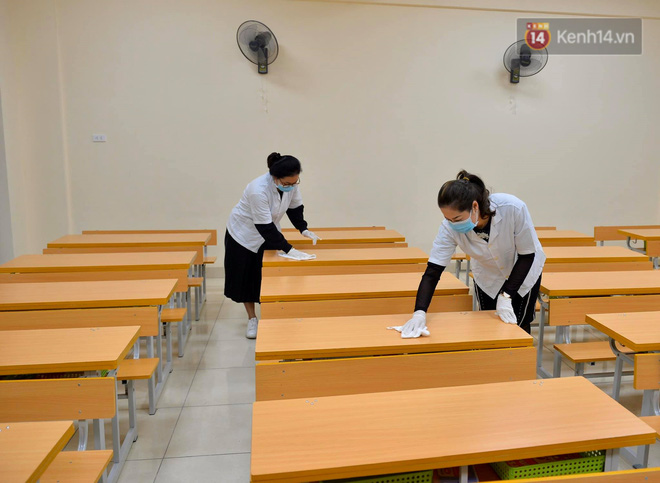 Need to maintain classroom and school hygiene to prevent corona virus?
In Singapore, the island nation has recorded 45 new cases of corona virus infection, but the education system is still functioning normally. Schools are only required to suspend meetings, camps, celebrations or other collective activities, and arrange staggered recess to help students take breaks in small groups, limiting gathering. crowded.
A guide for cleaning and decontamination is posted on the Singapore government website. Which has some notes:
– You need to wear a medical mask, disposable gloves and an appropriate disinfectant solution.
– You need to keep the window open for ventilation, and remember not to touch the face and eyes while cleaning, decontamination.
– You must use disposable towels or rags to clean the surfaces.
– Avoid using decontamination sprays directly on the surface, as it is thought to spread the virus.
– After cleaning and decontamination, put used masks, gloves and used cloths and rags in a double-layer nylon bag for disposal.
– Do not forget to shower and change the clothes you have just used during cleaning and decontamination.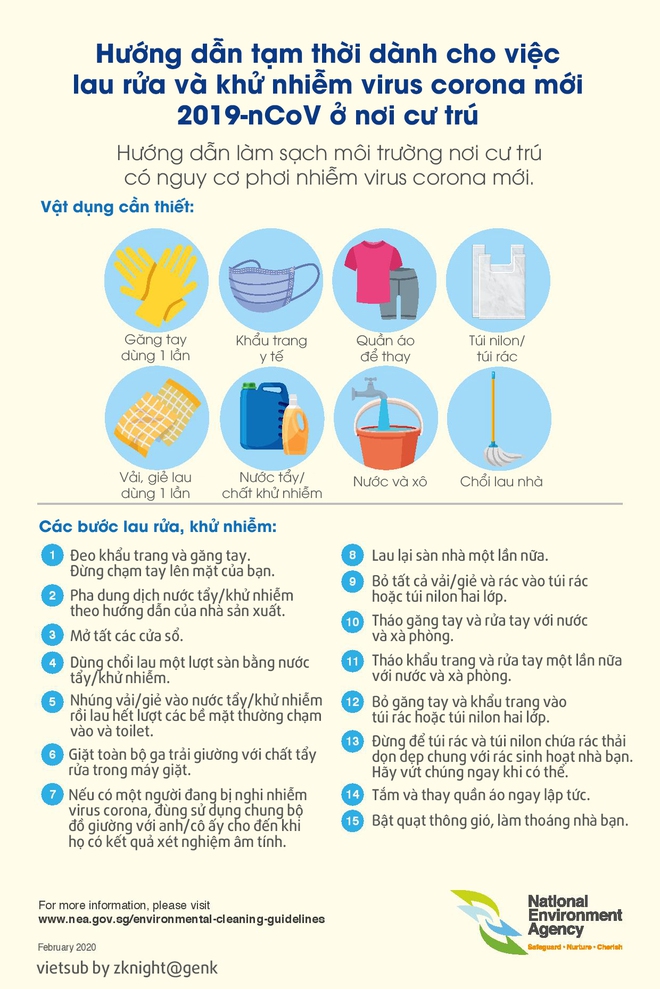 To ensure effective decontamination, the Singapore Environment Agency has published a list of products and active ingredients that can kill corona viruses. Accordingly, you should choose products with one of the following ingredients:
Sodium hypochlorite (0.1 – 0.5%), 70% ethyl alcohol, Povidone-iodine (1% iodine), Chloroxylenol (0.12%), 50% isopropanol, 0.05% benzalkonium chloride (Quaternary Ammonium Compound), 50ppm iodine in iodophor, 0.23% sodium chlorite, 1% cresol soap (sodium alkyl-ben-zene sulfonate) and Hydrogen peroxide (0.5-7.0%).
In addition, cleaners should follow product label instructions and precautions:
– Avoid direct contact with the decontaminant
– Avoid mixing decontamination products together
– When using products containing Sodium hypochlorite on metal surfaces, wait 10 minutes to wipe off its deposits as Sodium hypochlorite can corrode the metal.
– Products containing isopropanol and ethyl-alcohol may catch fire at high concentrations. So avoid using it on hot surfaces, near flames or sparks.
To check that you understand and properly practice preventing new coronavirus infection in a school setting, try the following test:
Source : Genk