How to create a unique wall-mounted "charging station" for all your electronics
In the digital age, each person always owns 2-3 electronic devices, even more. Every smartphone, tablet, laptop, or camera has a different type of charger, so every time the battery runs out, you have to find the right one to use. Recently, photographer Duncan Dimanche has posted a short video sharing to everyone how to create a charging station (charging station), both cheap and easy to do.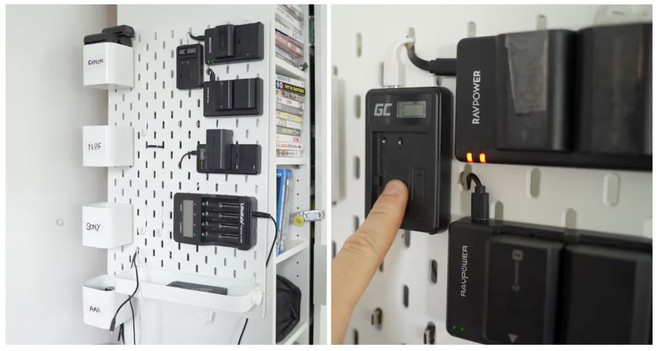 He used a sheet of steel with small holes in it, in this case IKEA Skadis for $ 17 to mount on the wall. When combined with a multi-port USB charging dock from Anker, we have one charging station for all our devices. Because of the USB port, all of the charging docks for his camera must also be USB, which is also quite cheap to replace the form with the wall plug included in the box.
To make things tidy, he used hot glue to attach the Anker charging dock to the back of the tablet, then thread the charging cable through the holes on it. And now we have a very unique homemade charging station, which saves both time for each use and helps you not to encounter the problem of the cord, causing unnecessary accidents.
Because IKEA is not available in Vietnam, it is very difficult to buy the right type of Skadis signboards in the video. But fortunately similar products are not lacking in the market, readers just need to search for the keyword "corrugated iron sheets" to produce a lot of results, with prices ranging from only VND 90,000 – 150,000. Besides, we can also buy more small boxes to attach to the board, used to put extra batteries of the flash, the camera in times when not in use.
Video tutorial on creating a wall charger station from Mr. Duncan Dimanche
Source : Genk