HOT: The roll-call for tech deals dropped dramatically at Tiki in August 25 and 26
"Co Hon Dzut" at Tiki officially "exploded" with a series of shock deals toppled in turn at 9am and 15pm, taking place on August 25 and 26. Phones, laptops, headsets, cameras, home appliances and digital accessories, … are available on shelves at unbelievably low prices.
To "start" successfully, you also have to have a secret, please save these products right away and start working HERE !

The hottest candidate for the list of sale to collapse is the Macbook Air 2017, which has decreased by more than 10 million, the price is only 8 million. AirPods 2 headphones, JBL Charge 3 bluetooth speaker, Logitech Lightspeed mouse also reduce no brakes, single pin 800k round each!

Your pocket money is about 800k and do not know what to buy? Grab the Samsung Galaxy A11 (32GB / 3GB) phone and the SteelSeries Rival 650 Wireless gaming mouse, a great product at a bargain price that only Tiki has.

LINE Friends Logitech wireless mouse now only 80k. Brothers to take advantage of "buying" more household appliances – homes, VND 800k for a Philips oil-free fryer are "delicious" too much to imagine! The Xiaomi Deerma blender worth 80k is not cheap.

The list of 256GB iPhone 11 Pro and 55 inch 4K Samsung smart TV cost destroy only 8 million VND. The list of hot goods at the same price of 800k also called the Xiaomi Mijia 1C robot vacuum and Fujifilm Instax Mini 9 camera respectively.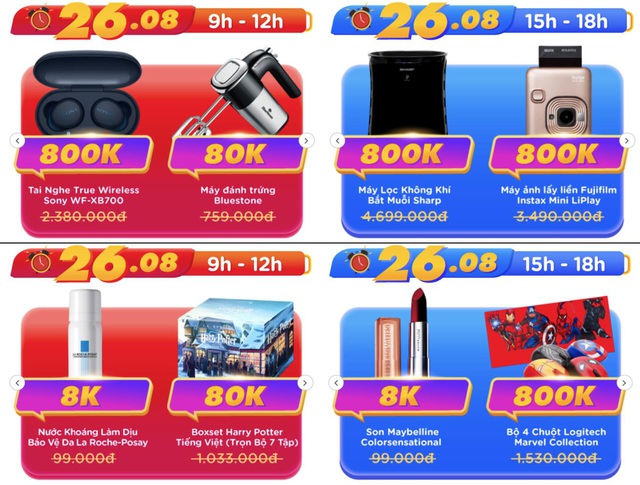 Also 800k per item, immediately own True Wireless headset Sony WF-XB700, Sharp mosquito-catching air purifier, Fujifilm Instax Mini LiPlay camera. Hunting for the Bluestone egg beater only 80k.
Those who love Harry Potter must immediately put into the boxset cart full of 7 volumes of Vietnamese version with chestnut price of 80k. Anyone who is addicted to Marvel cannot miss the 4 mouse combo Logitech Marvel Collection with a super impressive design that is extremely hot at only 800k.
Source : Genk