HMD Global was forced to withdraw most Nokia smartphone models from Germany
HMD Global has just had to withdraw most of its smartphones from the German and Swiss markets, leaving only two newly announced models, the Nokia G21 and G11.
The company is being sued by VoiceAge EVS LLC (VAEVS) over patents related to VoLTE and Enhanced Voice Service that HMD Global is using. VAEVS filed for a sales ban in December and the courts are on the company's side.
Currently, the Nokia Germany and Nokia Switzerland website only sells the G21 and G11 and does not mention phones from 2021 or earlier. It seems the problem is even happening in France, Italy, Spain and even HMD's home country, Finland. In those countries, only the G21 is available for purchase (but older models are still listed on the product listing, unlike in Germany and Switzerland). However, the X20, X10 and other products are still available for sale in the UK.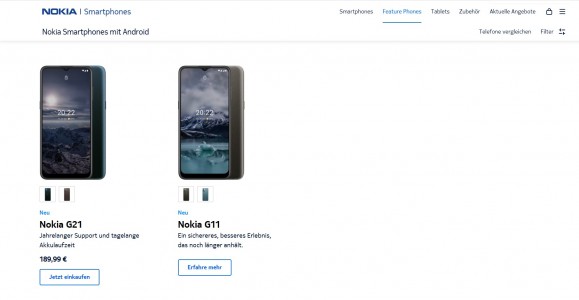 It is not clear how long this will last, as the lawsuit is not only filed in Germany. HMD says it has appealed and in the meantime it will ensure that none of the devices supplied and distributed in Germany support EVS.
Not only HMD Global, VAEVS sued other companies over their Enhanced Voice Service patents, including Apple, Lenovo, and TCL in 2020. Those companies settled with VAEVS, but it looks like HMD is want to settle in court.
Reference: GSMArena
Source : Genk