Happy New Year – Happy hunting sale – Lucky draw 200 million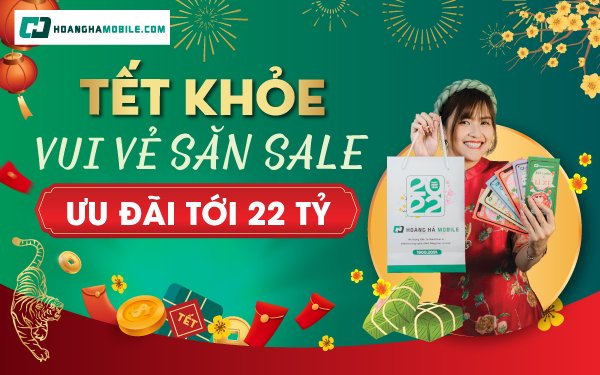 Happy New Year – great deals, up to 49% off

A series of hottest products in early 2022 are having a great sale at Hoang Ha Mobile
Goodbye Mr. Apple – Welcome Apple
Genuine iPhone 13 series VN/A priced from only 16.99 million VND
(The above price has been reduced by 1.5 million VND when participating in the renewal of old collection and 150,000 VND via VNPAY)
iPhone 12 | 12 Pro | 12 Pro Max genuine VN/A priced from only 18.35 million
Genuine iPhone 11 VN/A priced from only 13.75 million VND
AirPods 2 | AirPods 3 | Genuine Apple AirPods Pro priced from only 3.19 million VND
Genuine Apple iPad Mini 6 priced from only 17.49 million VND
MacBook Air | Genuine Apple Pro M1 2020 priced from only VND 24.89 million
Apple Watch SE | Series 3 | Series 6 genuine VN/A priced from only 4.79 million
Genuine Pisen iPhone battery replacement from only 149 thousand VND
Break the Samsung box – Win the Folding phone
Galaxy A03 costs only 2.75 million
Galaxy A12 | A22 price from only 3.55 million
Galaxy A52s costs only 9.59 million
Galaxy S21 FE priced from only 13.99 million VND
Galaxy Z Flip3 | Z Fold3 priced from only 20.19 million (price has applied discount code on Galaxy Gift)
Galaxy Tab A7 Lite priced at only 4.19 million VND (Giving genuine Galaxy Tab A7 Lite leather case)
Galaxy Watch 4 price from only 5.99 million
Customers who buy Samsung phones, tablets, smart watches, and headphones with original seals at Hoang Ha Mobile from January 17 to February 6 will have a chance to win a Galaxy Z Flip3 phone with a total value of up to 75 million.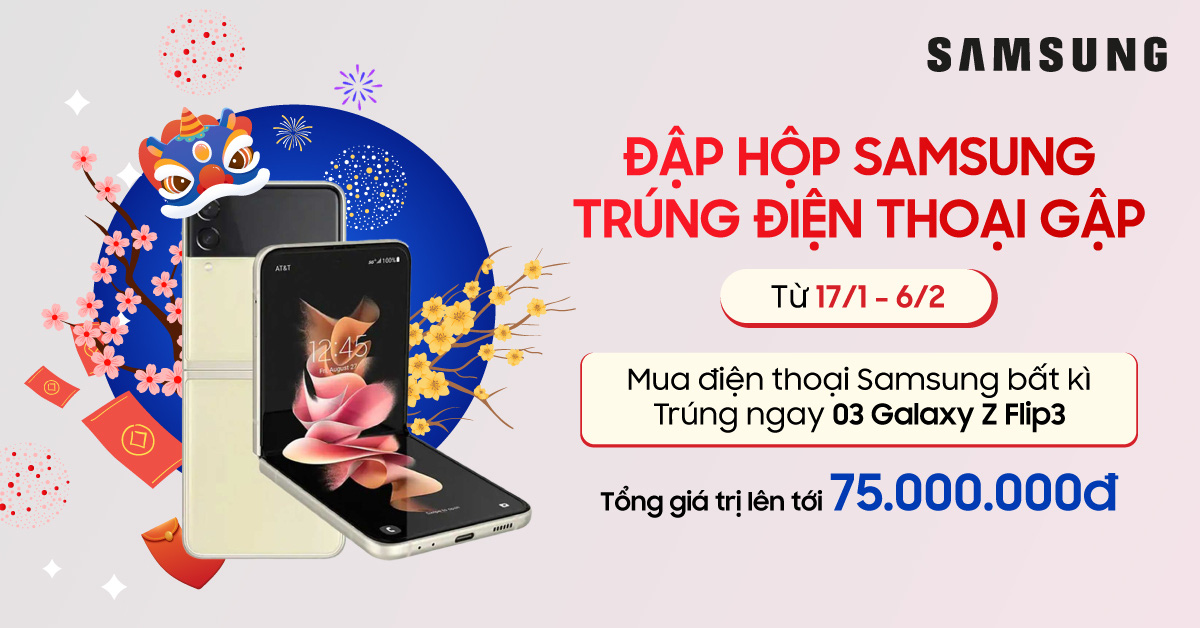 Celebrate Tet with Mi – Health above all
Xiaomi Redmi 9A | 9C price from only 2.39 million
Xiaomi POCO M4 Pro costs only 4.99 million
Xiaomi Redmi Note 10S | Note 10 Pro priced from only 5.59 million
Xiaomi 11 Lite 5G NE | 11T series 5G priced from only VND 7.98 million
Xiaomi Mi Pad 5 6GB/256GB priced at only VND 9.79 million
Buy Nokia – New Year we win gold
Nokia C20 | C30 price from only 2.19 million
Nokia G10 costs only 3.29 million
Nokia T20 costs only 5.79 million VND
Customers who buy any Nokia product at Hoang Ha Mobile from January 17 to February 13 will have the opportunity to win a 9999 gold ring and a Nokia C20 phone with a total value of up to VND 30 million.
OPPO Smartphone | Vivo | Realme
OPPO A16k costs only 3.39 million
OPPO Reno6 Z 5G costs only 8.34 million
Vivo Y15s costs only 3.19 million
Vivo V23e costs only 7.29 million VND
Realme C11 costs only 2.79 million VND
Watches up to 45% off
Xiaomi Mi Band 5 costs only 550 thousand
Garmin watches priced from only 2.99 million
Amazfit watches priced from only VND 490 thousand
Huawei GT3 costs only 5.49 million
Laptops up to 40% off
HP laptop 15s-du1105TU – 2Z6L3PA priced at only 12.59 million
HP 240 G8 – 518V5PA laptop for only 15.89 million VND
Dell Vostro 3400 laptop – 70270644 priced at only 14.59 million VND
Dell Latitude 3420 laptop – L3420I5SSD priced at only VND 19.79 million
Accessories – Speakers – Headphones from only 39K
Accessories for chargers and cables from only 39,000 VND
Backup charger priced from only 149 thousand VND
Sony WF-1000MX4 headset for only 4.99 million VND
Speaker Harman Kardon Onyx Studio 7 priced at only 5.19 million
Stylish check-in – Win 200 million VND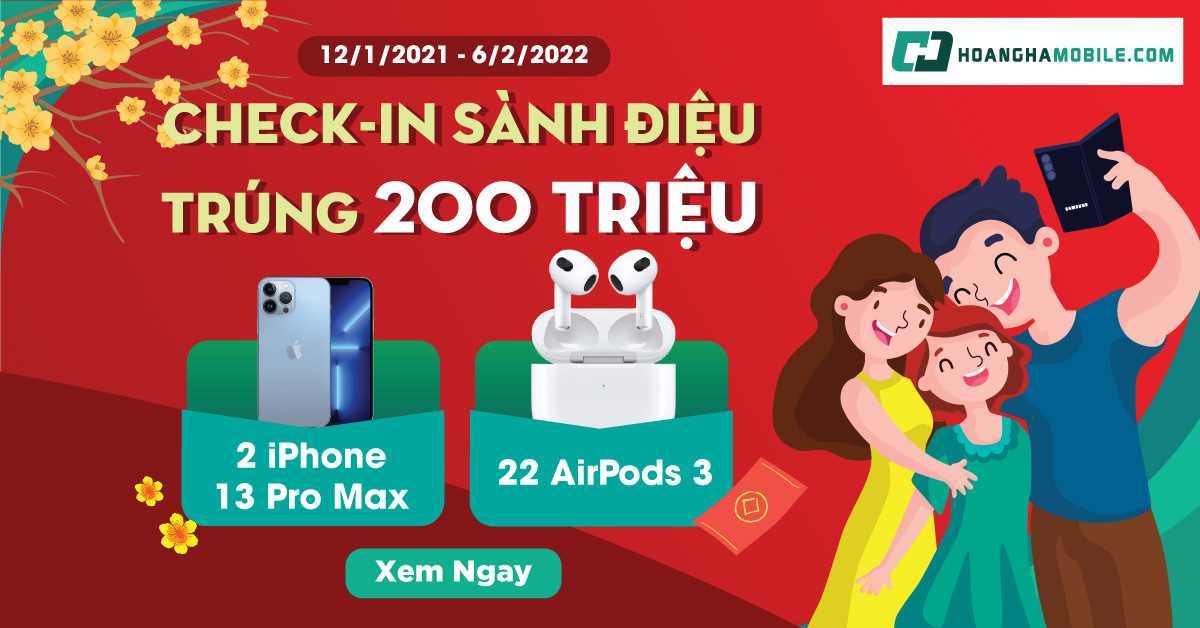 From January 12, 2022 – February 6, 2022, customers who buy 2 or more technology products and check-in at Hoang Ha Mobile's store will have the opportunity to win a genuine iPhone 13 Pro Max in Vietnam. /A and genuine Apple AirPods 3 with a total value of up to VND 200 million.
Happy Livestream – Be healthy and close the deal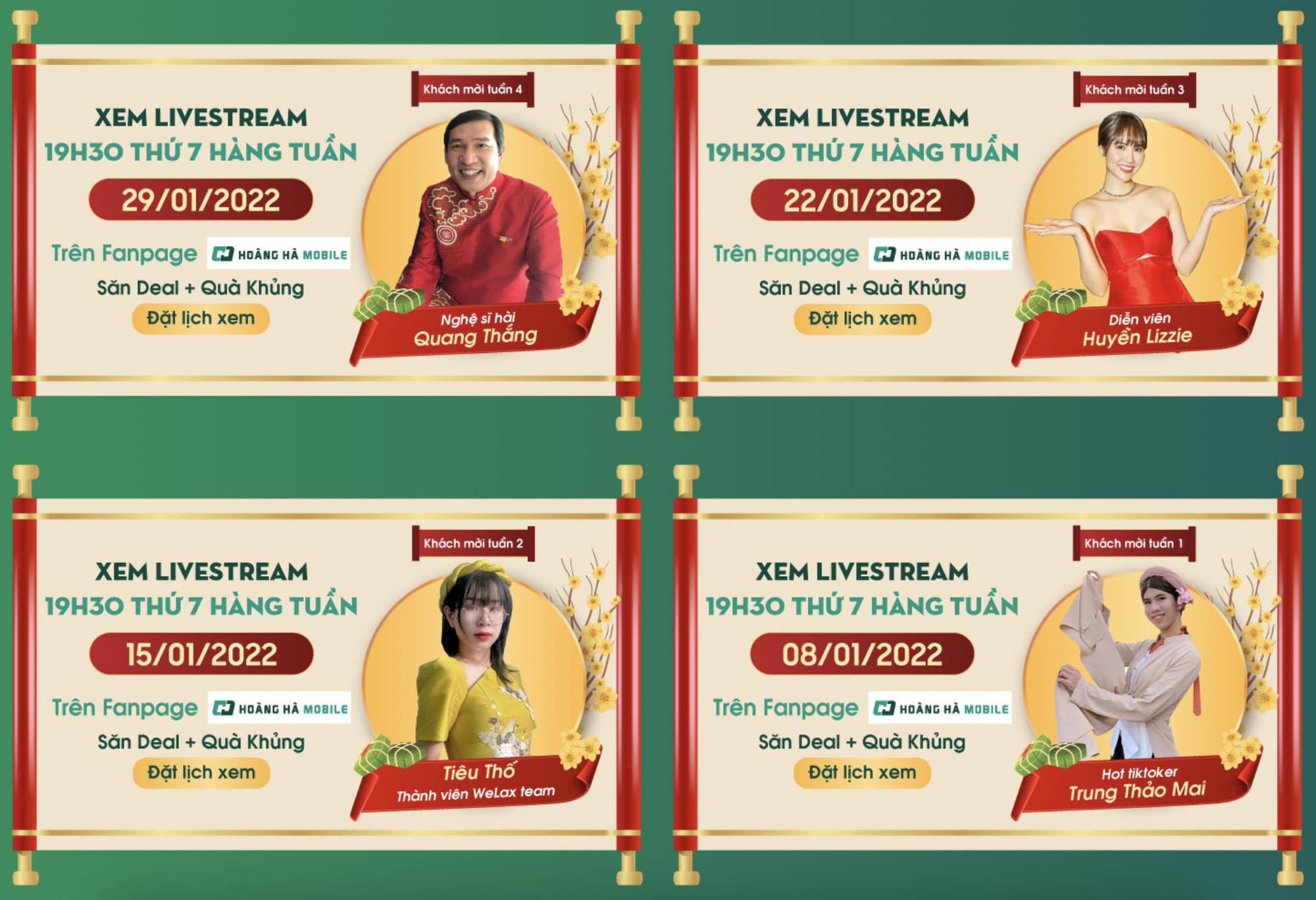 In addition, every Saturday from January 8, 2022 – January 29, 2022, Hoang Ha Mobile will hold a livestream program with the participation of famous artists. In the program, there will be many valuable gifts and thousands of extremely shocking discounts up to 49%.
Currently, Hoang Ha Mobile owns nearly 90 branches nationwide, and is the official authorized retailer of Apple in Vietnam. Besides, we also cooperate with the big telecom giant MobiFone to open a chain of affiliated shops. Besides quality and best price, Hoang Ha Mobile is committed to bringing genuine products and free shipping nationwide.
Source : Genk