Greenhouse gas emissions in China have declined significantly, after the outbreak of the Covid-19 virus
The satellites of NASA and the European Space Agency have noted a significant decrease in the amount of greenhouse gas nitrogen dioxide (NO2) in China. The reason is that industries in China suspended or restricted operations, after the outbreak of the Covid-19 virus outbreak.
In the past, air pollution in China was so severe that you could see it clearly from outer space. The development of industrial parks, power plants, vehicles, has released a large amount of NO2 into the atmosphere.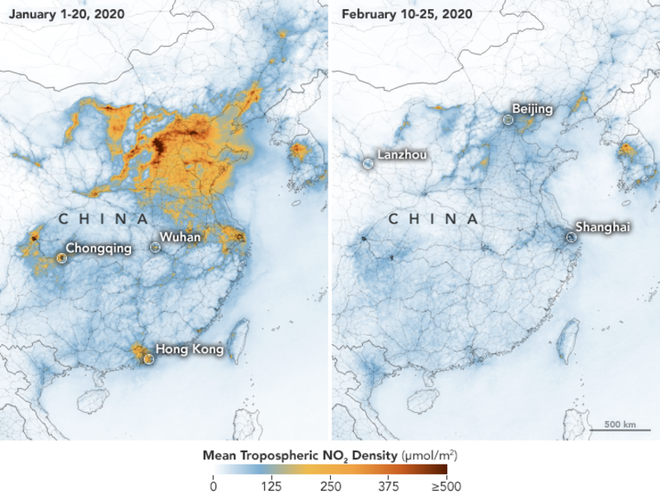 Greenhouse gases are gases capable of absorbing long-wave (infrared) radiation reflected from the surface of the Earth when illuminated by sunlight, then dispersing heat back to Earth, causing greenhouse effect. Therefore, it causes the surface of the Earth to heat up.
NASA scientists said the noticeable change in the sky of Wuhan City, the epicenter of the Covid-19 virus outbreak. Later, the change began to spread to other areas, including Beijing. Satellite imagery shows a clear difference from around early January until the end of February.
According to air quality researcher Fei Liu at NASA, "This is the first time I've seen the incredible reduction of pollutant emissions, on such a large area and for a while." short time like that ".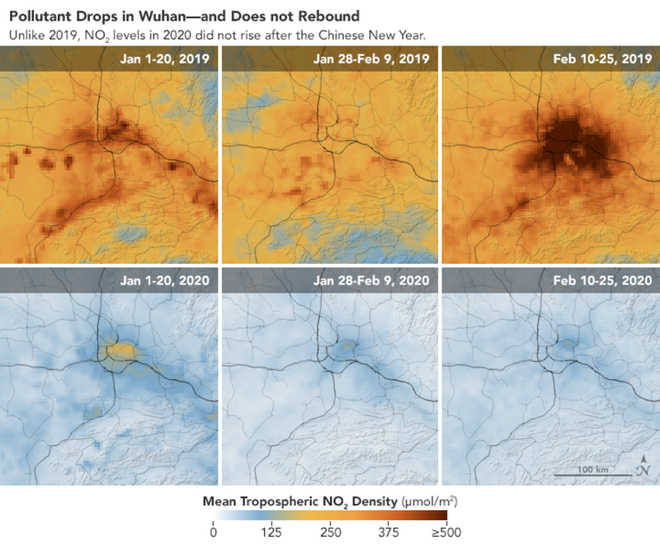 Another comparative image, published by NASA, shows this time last year in China. NO2 emissions in China have always been at an alarmingly high level, but have dropped almost to the minimum level recently.
Meanwhile, the disease situation recorded by Covid-19 virus has been spreading in 58 countries around the world. There are more than 90,000 infected cases, more than 2,800 deaths in China and 104 deaths worldwide.
Reference: Gizmodo
Source : Genk