Great technique to live a leisurely life, all the "black heads off" are discounted up to 50% on Shopee
More attractively, all of them are having huge discounts in the 10.10 Genuine Super Sale event with offers from ShopeePay wallet on Shopee app.
5-star entertainment, blow away the troubles
With just the purchase of a mini projector and bluetooth speaker, you can easily turn your small corner into a grand cinema, spoiled for entertainment after a hard day's work.
Considering the criteria of genuine products, convergence of many high-end imaging technologies, the VANKYO Leisure 410W mini projector is a bright choice today. Regardless of whether you want to watch movies from your smartphone, laptop or TV Box… VANKYO projectors can be easily connected. The device has a projection life of up to 40000 hours, supports Full HD 1080P video input, suitable for many different room areas thanks to the projection distance from 1.2 to 6.6m.
A cinema-quality picture experience starts with a quality projector
To create a "coffee-like theater" experience, the sound quality of the home entertainment corner cannot be taken lightly. The good news is that the popular bluetooth speaker model LG Xboomgo PL2 is being discounted by 50%, only 550K. This speaker has captivated many moviegoers with its rich timbre thanks to advanced Meridian technology. If that's not "yes" enough, you can use the speaker's wireless link to connect more with other speakers, making everything more "clumsy".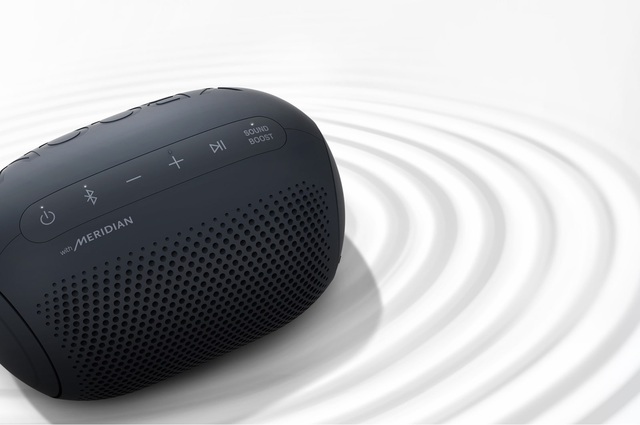 Sound quality is one of the plus points on LG speaker products
Simple cooking, full of nutrition
With the help of "assistants" like the Two-Compartment Rice Cooker or Yogurt Maker, you won't have to spend hours in the kitchen to create delicious and healthy meals.
Thanks to the design of 2 pots with 2 steamers, the Sharp KN-TC50VN-SL/WH multi-cooker allows you to easily cook 4 dishes in just one cooking time. 1.8L capacity is suitable for small families of 4-6 people. Especially with the function of cooking timer up to 24 hours, you no longer have to watch the cooking time or worry about forgetting to turn on the cooking number like before. Products are being reduced to 2,290K.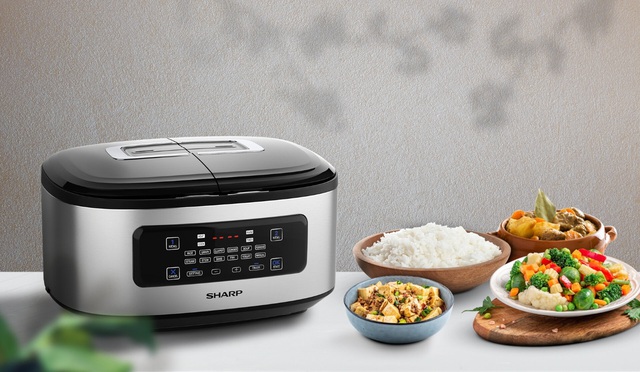 Cooking up to 4 dishes at once is real with SHARP's multi-function rice cooker
Particularly for followers of a healthy nutritional style, a yogurt maker with a "beautiful" appearance like the Lock&Lock EJY110SLV is definitely not to be missed. Modern technologies such as automatic temperature setting and maintenance (to ensure the activity of lactic bacteria), energy-saving PTC heaters, etc. will make it easy for even the inexperienced to create a Yogurt batch is as delicious as outside. This device is being reduced on Shopee, only 308K.
Buying a cute little yogurt maker is a whole year of confidence in beautiful skin and healthy body
Clean the house every day
Forget the past "wrestling" to scoliosis with cleaning the house every weekend. Now you can enjoy life and let devices like Hand Sanitizers or Vacuum Cleaners for beds, sofas, etc. do the hard work before.
Using a UV sterilization mechanism, machines like the EVOXZ EVOCARE EC01 UVC can kill 99.9% of harmful bacteria on phones, watches, makeup, masks, jewelry… in a few notes. music. Compact weight of only 303g and 350mAh battery capacity for long-term use, convenient to carry everywhere. The product is being reduced to only 250K.
Put the items in the sterilizer for 1 minute and you can use it with peace of mind
The DEERMA CM1300 two-in-one vacuum cleaner and disinfectant is also an indispensable "treasure" in every family. The super strong suction force of 12,000 PA allows this machine to be easily cleaned on hard surfaces such as shelves, glass doors, tables and chairs, blankets, sofas, etc. The trio of "divine" features including UV rays kill 99 .9% bacteria, vibration 8,000 times/minute and mattress heating feature… is the perfect combination for cleaning blankets in the bedroom. The product is being reduced to only 920K.
Although the discount price during the Shopee 10.10 event was very attractive, don't forget that you can still close your order even cheaper when paying with ShopeePay . This e-wallet is giving away code SPPPROCT04, 50K off for orders from 150K for you to upgrade your living space. And yet, to respond to the bustling atmosphere of October 10, ShopeePay also launched many attractive incentives such as: recharge phones, pay bills, buy entertainment service packages…, promising to bring a payment experience. dream math for all users. Especially, on October 10, when using ShopeePay wallet on Shopee app to top up phones, pay bills, E-voucher with discount codes, users have the opportunity to become one of 30 lucky customers to receive a voucher of 1 million copper.
10.10 Genuine Super Sale going on today on Shopee, offering tons of free shipping codes for 0 dong, Shopee Mall branded collection from only 100,000 dong! Especially, the program Choose the Right Number – BEST Gives a Good Driver to have the opportunity to receive a HONDA CITY G CAR worth up to 529 million VND, besides, there is a chance to touch the total prize of up to 3 billion VND. from the program "What's This Number"!
Source : Genk