Global realme marked its mark with business results and many international awards as well as being loved in 2020
Realme has shown its impressive potential when receiving the difficulties of the previous year and developing stronger, overcoming challenges, turning into opportunities as well as possessing impressive awards.
Overcoming difficulties through understanding young customers
2020 is considered a memorable year because realme has won a series of great awards as well as a wide range of brand recognition all over the world thanks to quality products and business milestones. This success shows that realme has been taking steady steps with reasonable directions compared to the general situation of the smartphone industry.
Youthful elements such as the slogan "Dare to Leap" (Dare to Leap), with a reasonable business strategy, and products with stable configuration, design trends create harmony. with a young user group from a young brand. "At realme, we are in line with our philosophy, which is" dare to leapfrog "in terms of creativity, design and product value, things that young users can identify," Sky Li Realme CEO shares. This business principle and the spirit of the brand have brought the leading position in growth and have been warmly welcomed by realme customers and realfans globally.
Notable growth in impacted global circumstances
According to Counterpoint statistics, realme saw an 11% increase in sales in the second quarter of 2020, being the only major company to achieve double-digit growth during that period. At the same time, this smartphone brand, just over 2 years old, has become the fastest-growing smartphone brand in four consecutive quarters through the end of the second quarter of last year, and still maintains its top 7 position in global smartphone brands.
realme 7 is one of Realme's mid-range products
A big milestone in 2020 is noteworthy is realme officially becoming the company with the fastest sales of 50 million devices, according to Counterpoint Research since October 2020. With this achievement, realme outperformed other brands by only 9 quarters to achieve this business achievement. realme has become the TOP 4 smartphone brand in Thailand, India, Cambodia and Egypt, realme has also achieved TOP 5 in market share in 12 countries based on research by Counterpoint Research and IDC. Realme has had strong business results in the first half of the year, and realme aims to achieve sales of 100 million phones in three years. The realme brand has been present in more than 61 markets around the world in the past year.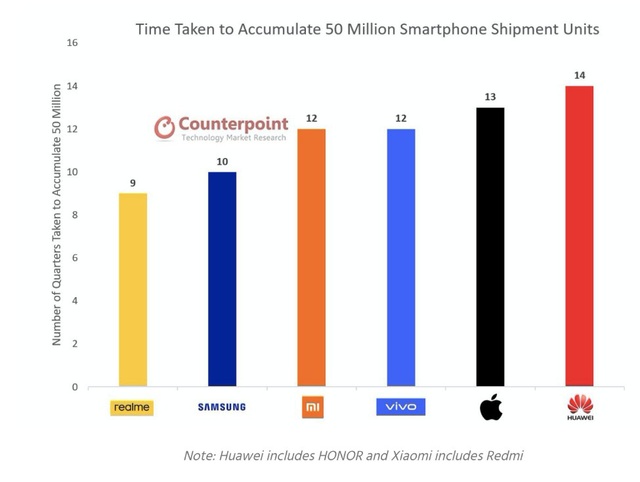 In 2020, realme implemented the dual strategy "Smartphone + AIoT". Despite competing in a challenging economic environment, realme has succeeded in achieving its goals. realme is on track to be the first to launch more than 50 AIoT products in 2020 and strive to hit more than 100 devices the next year. In the Indian market, realme has sold more than 1 million smart audio devices, occupying the 3rd position in terms of market share in the second quarter of 2020 for new brands.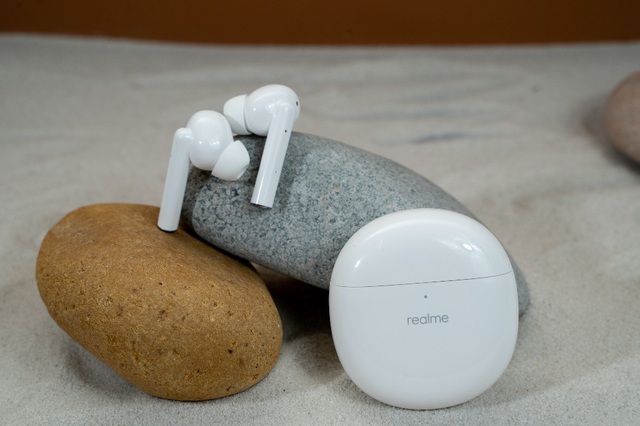 One of the realme brand's AIoT products is the realme Buds Air Pro
As the fastest-growing smartphone brand globally, this is a testament to the seriousness of the realme brand in its mission and strategy to bring young people out of their limits. With the growth gained in 2020, realme has more momentum to aim to leap stronger and faster in 2021 as a new force, making a mark in the industry.
Achieved impressive international awards
realme is close and oriented towards young people aged 18–25, who have self-esteem similar to the brand's core values. Thanks to strong support from customers around the globe, realme has received 17 brand awards, 159 product awards and 5 top design awards in 2020.
realme won the Brand of the Year award in many countries around the world such as Indonesia, India, Egypt, Poland and Pakistan, voted by leading organizations and press in each of the above-mentioned countries. With more than 160 awards for its products worldwide, one of realme's top criteria is to focus on product development and refinement to suit the needs and wants of its customers. This is evidenced by the fact that realme has won more than 17 awards voted by young people on 3 different continents, showing that realme is clearly the top priority choice for youth globally.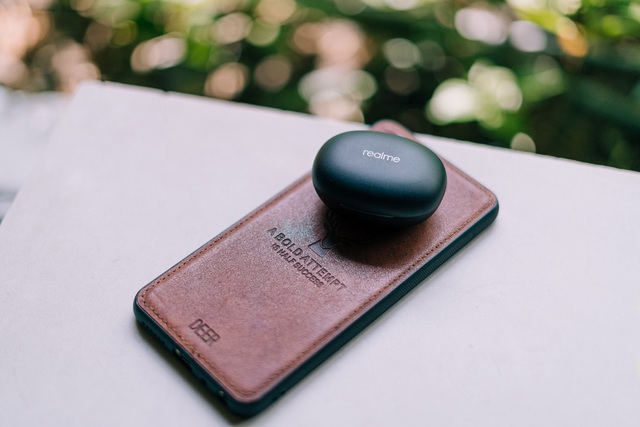 realme Buds Q is a design collaboration with famous designer Jose Levy
Realme's achievements have also satisfied many customers, and are interested in design communities around the world. Although young, realme has won 5 design awards in the world, such as the Good Designed Award 2020 in 3 products, the Red Dot Design Award for realme X2 Pro Master Edition designed by Naoto Fukasawa, Golden Pin Award and many other awards. Realme's products also bring a new wave of designs in the world. In the past 2020, Realme Design Studio collaborated with top designers Naoto Fukasawa and Jose Levy, with the reputation of Hermes to produce realme products that are leading the trend.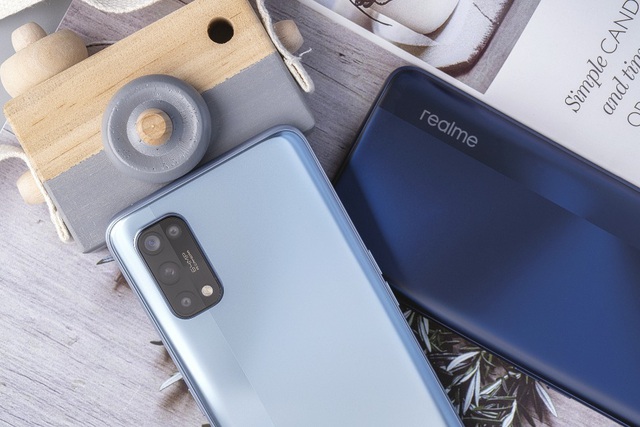 realme 7 Pro is equipped with SuperDart Charge 65W fast charging technology, fully recharges 4,500mAh battery in 34 minutes
Realme has pioneering inventions not only in design but also in technology, among which is when the company launched the 125W fast charging technology, opening a new era of fast charging. At the same time, it is also the first brand to introduce 5G technology in many markets at competitive prices, such as the global launch event of realme 7 5G, products priced under 300 USD. The famous mobile device aggregator GSM Arena has rated realme as the most balanced mid-range mobile phone in 2020.
New Year's Eve, realme has attractive offers for customers: https://realmemobile.vn/realme-tet-doi-moi/
Source : Genk