Gaming smartphone launched in 2021 will be equipped with Snapdragon 875 chip and support 100W fast charging?
The famous Weibo Leaker, called Digital Chat Station, has shared some new details regarding the Snapdragon 875 chip, including the mention of this chip will be available on gaming smartphones launched in the year. 2021.
Digital Chat Station is famous for holding many news in the technology industry. This person has accurately predicted the camera cluster on Mi 10 and Mi 10 Pro.
Because the Snapdragon 875 chip, which runs on this 5nm process, supports fast charging up to 100W, it is likely that smartphone carriers will bring this fast charging technology on devices with Snapdragon 875 pre-installed to make the most of it. processing power.
Currently, three of China's four gaming smartphone makers are reportedly testing 100W fast charging technology. That could be Xiaomi, Vivo, Oppo.
As expected, the first flagships with Snapdragon 875 chip and 100W fast charging support will be available in early 2021.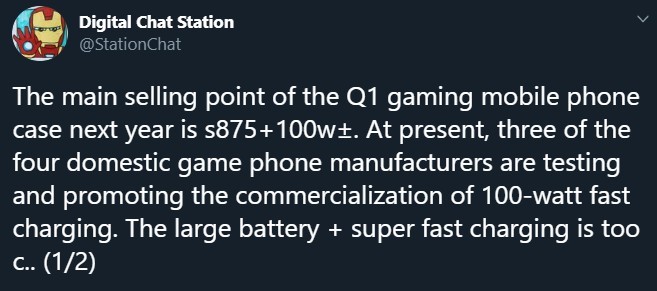 The arrival of the new Snapdragon 875 mobile processor chip will surely have a significant impact on the price of smartphones next year. Because the price of many smartphone models this year has started to increase. The main reason is the presence of 5G modem with SoC.
But of course newer chips with smaller and smaller processes will undoubtedly be significantly more expensive than before because of the difficulty of investing in production lines.
According to internal sources, the price of the Snapdragon 875 chip will be significantly more expensive than the Snapdragon 865. Specifically, the price of the chip may be around $ 250, higher than the $ 150-160 level of its predecessor. . This also means that the price of the upcoming flagship models will be more expensive than before.
The Snapdragon 875 is expected to go into mass production shortly before its launch at the 2020 Snapdragon Summit, usually held at the end of the year.
Refer to Gizchina

Source : Genk