Galaxy Z Fold2 5G – a worthwhile upgrade for the lead
"The Galaxy Z Fold2 gives a more splendid view of the future of the phone and what users expect," writes Engadget. Samsung has a series of improvements on its 3rd generation folding device, with a larger secondary screen, more durable hinge, flexible folding angles and powerful configuration.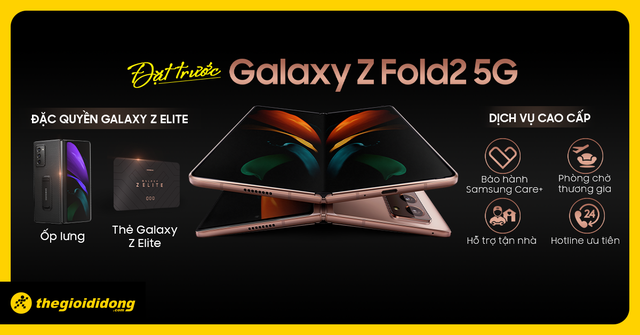 Value perks when pre-order Z Fold2 5G at Mobile World.
Galaxy Z Fold2 on shelves at Mobile World is priced at 50 million dong, pre-order from September 11 to September 24, with a deposit of 5 million dong. The reservation program offers users valuable perks, like how high-class brands favor VIP customers. Specifically, those who order the first will be given a premium Aramid case designed specifically for the Galaxy Z Fold2 with special materials, and a Galaxy Z Elite card with a limited quantity. Accordingly, the owner of the Z Elite privileged card is engraved with personalized characters and numbers according to the requirements on the case, helping to confirm the uniqueness and identity of the product user, a privilege that only appears in the current super high-end products.
In addition, Z Elite cardholders and enjoy perks such as 20% – 35% discount on the recommended retail price when purchasing mobile devices (except for Galaxy Z series), 15% – 50% off when purchasing consumer electronic devices (except for 8K TV series) on the Samsung online shopping site (www.sshop.vn/galaxyzelite).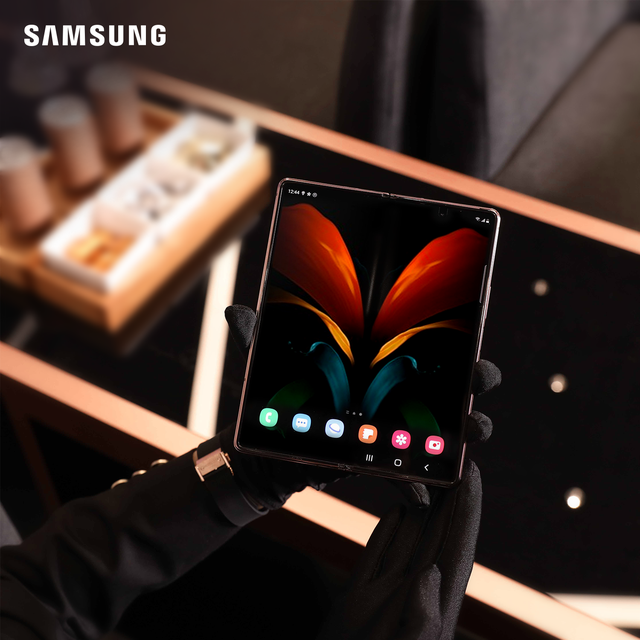 Early booking Galaxy Z Fold2, users can enjoy the full privileges of a limited number.
In addition, Galaxy Z Fold2 owners also enjoy high-end home technical support, 1-year Samsung Care + warranty benefits, merchant lounge and 24/7 priority support line or support. technology at home. Users get 0% 12-24 month installment payments when buying by credit card or through finance.
Galaxy Z Fold2 has 2 unique colors of metallic copper and diamond black, meticulously crafted with luxurious matte coating. The product can be compared to a masterpiece of art, with its innovative design, and high-end materials that bring a unique experience for users, especially entrepreneurs, successful people who want to lead the trend. . With the Galaxy Z Fold2 equipped with 5G connectivity standards, users experience future technologies, at the same time, anticipate the upcoming mobile network in Vietnam, with speeds 100 times higher than 4G standards. It is equipped with Snapdragon 865+ processor, 12GB RAM, 256GB internal memory, 4,500 mAh battery, 25W fast charging support.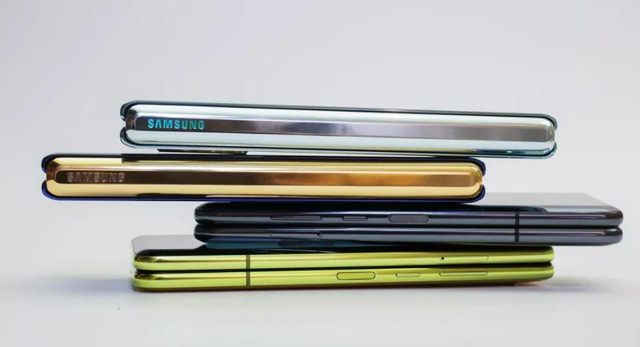 Users can personalize their smartphones with 4 color versions of optional color hinges.
This is Samsung's ambitious device, which can act as a tablet using a 7.6-inch Super AMOLED display, a smooth 120 Hz refresh rate when fully expanded, and a smartphone with a screen. 6.2-inch Infinity-O when folded.
The internal display uses Samsung's Ultra Thin Glass Technology, which improves scratch resistance and provides a more natural operating experience. The external screen occupies most of the surface of the Galaxy Z Fold2, allowing you to use the device as a normal smartphone in the folded state. Besides, the seamless transition between the screen when folded and the large body of the Galaxy Z Fold2 is highly appreciated.
The device is also geared towards busy, multitasking, multi-tasking and productive users with the help of mobile devices. Galaxy Z Fold2 can split screen, allowing users to choose the size of 3 applications displayed simultaneously. Accordingly, you can both watch YouTube, read mail and open the chat application to not miss important information.
The flexible folding mode on the Galaxy Z Fold2 once again shows that the device is a worthwhile upgrade compared to the first generation. Galaxy Z Fold2 can be folded open at angles of 80-160 degrees, allowing you to open the device in many poses, support taking selfies without a tripod, reading books, surfing the web more comfortably.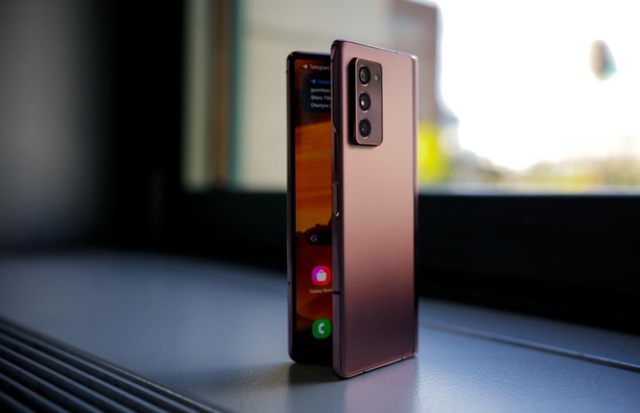 Galaxy Z Fold2 offers a privileged experience aimed at successful users who want to show their personality and class.
Samsung said the new smart hinge technology helps prevent dust and foreign objects, the machine works more durable. Galaxy Z Fold2 is the result of listening, comprehensive improvements from design to hardware to enhance the user experience of the company. In addition, "through partnerships with market leaders like Google and Microsoft, we are reshaping, and defining the possibilities for, the future of mobile device experiences," said Dr. TM Roh, CEO and Mobile Communications Business Manager of Samsung Electronics.
For more details, pre-order Galaxy Z Fold2, readers visit here , or call hotline 18001060.
Source : Genk