Galaxy S20, S20 Plus, S20 Ultra cost from VND 16.9 million. Mobile Vietnam delivered more than 300 machines to customers on the day of sale.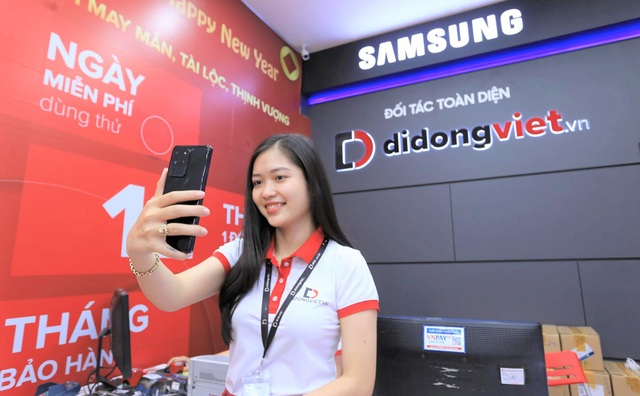 Mobile Vietnam delivered to customers pre-ordered and sold S20 trio at attractive prices.
A representative of Vietnam Mobile system said that in the pre-order of Samsung Galaxy S20, S20 Plus, S20 Ultra this time, the number of visitors increased sharply and in the first day of delivery, about 300 machines will be delivered.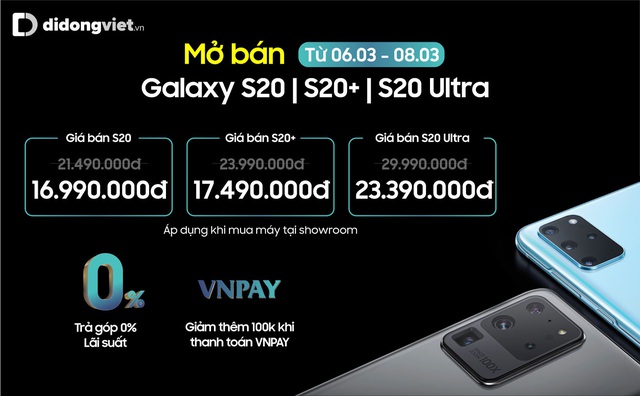 Prices of Samsung Galaxy S20, S20 Plus and S20 Ultra plummeted on the opening day, attracting users.
Vietnamese Mobile System representatives also shared that Vietnamese technology users are more excited about Samsung Galaxy S20 Ultra, with the pre-order amount of 40%, the remaining about 30% of the Galaxy S20 Plus and 30% of the Galaxy S20. .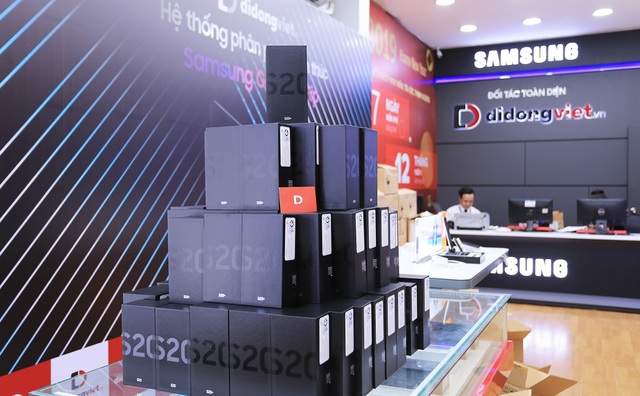 The number of Galaxy S20 devices to be delivered to customers on March 6 at Viet Mobile.
The atmosphere of the return of the Samsung Galaxy S20 trio at Vietnam Mobile was extremely exciting, right from dawn on March 6, the system was ready and many Samfan devotees were present to become one of the first people to hold. Galaxy S20, S20 Plus, S20 Ultra hands on the earliest.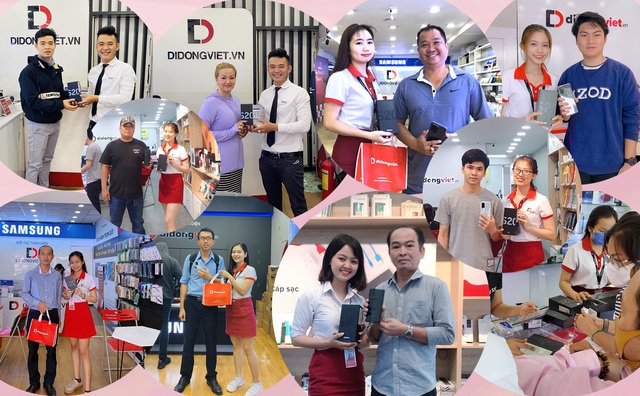 The first customers on the Samsung Galaxy S20 trio.
For customers who miss the opportunity to book in advance, Mobile Vietnam offers a special discount when buying Galaxy S20 trio, in just 03 days (06-08 / 03/2020).
Specifically at Vietnam Mobile system:
• Samsung Galaxy S20 selling price is only 16.89 million (list price of 21.49 million).
• Price of Samsung Galaxy S20 Plus is only VND 17.39 million (list price is VND 23.99 million)
• The selling price of Samsung Galaxy S20 Ultra is only VND 23.29 million (listed price of VND 29.99 million).
In addition to the strong discount for the Samsung S20 trio, Viet Mobile system supports other convenient shopping methods, such as 0% installment payment for 15 minutes, Trade – In old receipts, saving up to 10, 1 million and the default VIP offers from Samsung.
This is considered a very good price compared to the equipment present on the new trio of Samsung flagships. It is known that after the preferential period, the price of S20, S20 Plus, S20 Ultra will return to the initial listing level.
Mobile Vietnam is proud to be a prestigious address that brings the method of Trade – In the old collection of innovation to save life, nearly 100 Vietnamese stars and hundreds of thousands of customers choose.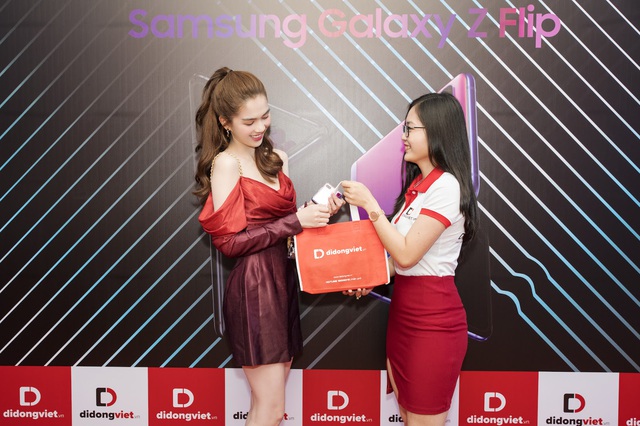 Image Ngoc Trinh shopping mobile phone at Vietnam Mobile.
Model Ngoc Trinh, musician Duong Khac Linh, singer Phi Nhung, singer Cam Ly, singer Dan Truong, singer Thu Minh, singer Ngo Kien Huy, Miss Tieu Vy, Miss Do My Linh, Shark Pham Thanh Hung … with many Vietnamese stars and customers have highly appreciated the products, services and the Trade – In program at Mobile Vietnam.
Mobile Vietnam is a genuine phone retailer over 10 years old, has 15 stores in Ho Chi Minh City and Da Nang. With the advantage of after-sales policy and product quality, Mobile Vietnam is the choice of customers who want to own quality phones. Read more at didongviet.vn or call 1800.6018 (free).

Mobile Institute is a member of Mobile Vietnam professional in the field of repair – replacement of components for mobile phones with nearly 6 years of presence in the market with the system of 8 branches in Ho Chi Minh City and Da Nang. For more information, please visit the website viendidong.com or call the call center 1900 2057.
Source : Genk