Galaxy Note20 Ultra proves unexpected power in Showmatch Lien Quan Mobile
Showmatch Galaxy Note20: Superstar Dai Chien ended successfully on the afternoon of August 21, the victory belonged to Takademy team with the famous names of the Vietnamese Mobile League community: DK Monkey, Anh Ma, Luc Kenzo TV. . The opponent's side was also popular names like Tung Hoa Mi, Trung Hoa Mi … that created one of the super classic matches of Lien Quan Mobile Vietnam.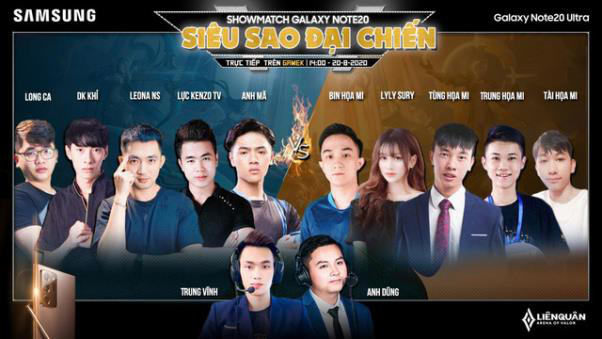 Six intense matches that were so intense, fighting each other little by little attracted a huge number of viewers. The competitive players also showed off their talents, making the audience witness the glorious battles with bold tactics as well as the player's competitive skills.
To that end, in large part thanks to the device that the players compete in is the Galaxy Note20 Ultra. "The screen is extremely clear, giving me a wide view, the ability to cover as well as capture situations that happen more easily. This makes me extremely excited." – Streamer Tung Hoa Mi shared.
Hao Anh Ma said that himself in the first game was not the best performance, but thanks to holding the Samsung Galaxy Note20 Ultra, it makes the experience and control of General Slimz easy. easier, especially with this Rabbit's Mechanical Tuber. With the advantage of the large screen makes Slimz's javelin throws more precise, smoother.
Also thanks to the Samsung Galaxy Note20 Ultra, Takademy easily imposes the gameplay on his opponent in the first games. Slimz in Anh Ma's hand has promoted extremely precise javelin throws that make the team of Hoa Mi face many difficulties. It took the third game to regain their composure and begin to shorten their scores when Superman and Lindis took a big part in the combat, disturbing Takademy's squad.
Despite his great efforts, it is undeniable that Takademy's strength in the match when DK Monkey with Anh Ma and other players returned strong and completely overwhelmed the game compared to the opponent. Team Hoa Mi, despite their best efforts, only won one more match before being finished in game 6 with a total score of 4-2.
Galaxy Note20 Ultra has a Dynamic AMOLED 2X, 6.9 "display, Quad HD + (2K +) resolution, and an 8-core Exynos 990 processor with 8GB of ram ensures no-debatable performance. Lien Quan games when configured "max setting" is not a problem that makes players worry.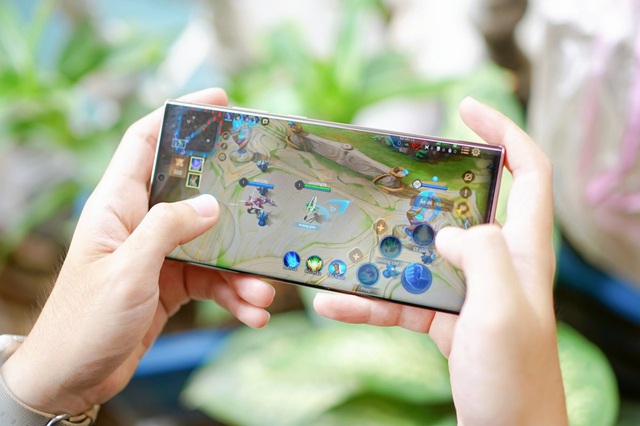 This unique Showmatch match has a number of gamers watching up to hundreds of thousands of people, partly thanks to the attraction of 10 big names of Lien Quan Mobile Viet village, the rest is because gamers are curious to know about This cult name will fight like when in the hands of the Samsung Galaxy Note20 Ultra.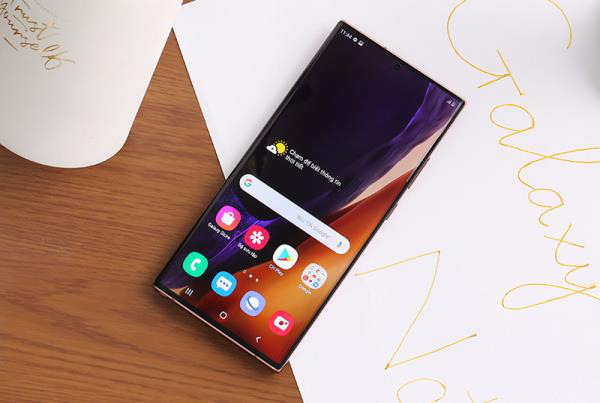 Showmatch Galaxy Note20: Superstar Dai Chien has ended successfully and its residue left the hearts of gamers equally beautiful, especially for those who have been wishing and yearning for a strong Flagship. the most powerful in the world at the present time.
Source : Genk