Galaxy Note20 Ultra drop test to see if Gorilla Glass Victus is really as impressive as rumors?
Corning launched its latest Gorilla Glass Victus last month. Samsung was one of the first manufacturers to use the headset, and it has been equipped with the Galaxy Note20 Ultra. Corning says the latest Gorilla Glass Victus is not only scratch resistant, but also highly resistant to drops.
To verify this, PhoneBuff conducted Galaxy Note20 Ultra and iPhone 11 Pro Max drop tests. PhoneBuff tests included dropping the back, corners and front. Each test was carried out 10 consecutive times, at 1.5 m altitude.
Galaxy Note20 Ultra and iPhone 11 Pro Max drop test.
Apple has long used Corning's tempered glass, but doesn't use the commercial version like other smartphone brands, but uses a custom-made version. The iPhone 11 Pro Max is said to use the same tempered glass as Gorilla Glass 6, which Apple calls tempered glass for the world's toughest smartphone.
However, according to the testing results of PhoneBuff, the iPhone 11 Pro Max was severely cracked on both the front and back, the camera cluster was also severely damaged. Fortunately, the touchscreen is still functional.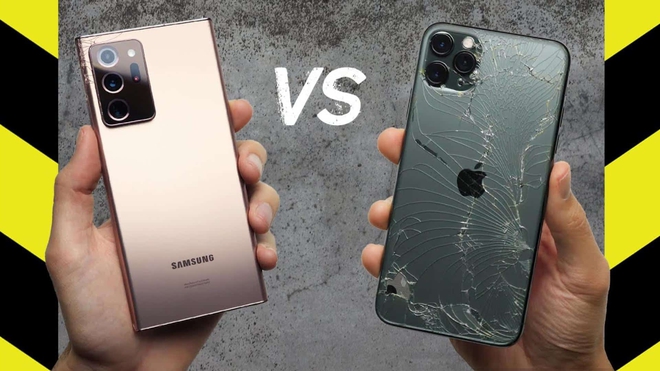 Meanwhile, the Galaxy Note20 Ultra looks pretty intact. There aren't any cracks on the screen, only a few small cracks in the rear corner near the camera module. The functions of this smartphone are still working properly.
PhoneBuff gave the Galaxy Note20 Ultra a nearly perfect score of 39/40, while the iPhone 11 Pro Max only got 30/40 in the drop test. Hopefully, with the iPhone 12, Apple will use the new generation toughened glass that is stiffer and more durable, so that users will no longer have to worry about drops.
Reference: 9to5mac
Source : Genk