Full set of free money hunting tips for shopaholics in August
An introduction, mutually beneficial

In addition to hunting vouchers or discount codes, Shopee users and ShopeePay wallets now have the new joy of hunting for "new mats" who have never known the shopping power of the aforementioned duo. The reason is because these two online shopping and payment platforms are implementing the program "Shopee gives new friends up to 250K", from August 6 to August 31. Specifically, all users who have never made a purchase on Shopee (have not had a Shopee account or have had but have not purchased) are eligible to participate. Users start by accessing here to fill in the registration form, then select "register now" and follow the instructions.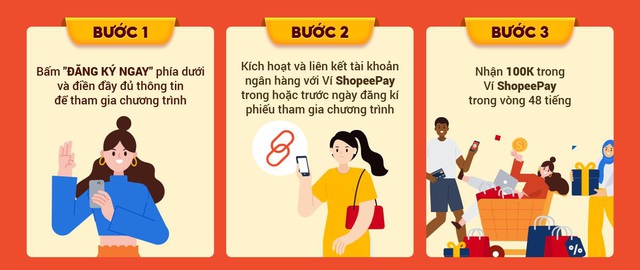 If you already have a Shopee account, you just need to activate the ShopeePay wallet in the app. If they do not have an account of this trading platform, they need to create a Shopee account and activate the ShopeePay wallet on the application, respectively. Note that the date of performing the steps to create and link an account with the date of filling out the registration form must be the same.
After successful registration, users will immediately receive offers with a total value of up to 250K, including a bonus of 100K given to ShopeePay wallet, 100K voucher applied for the first time to pay Shopee orders with ShopeePay wallet, 50K voucher applies to the first order paid by VISA card.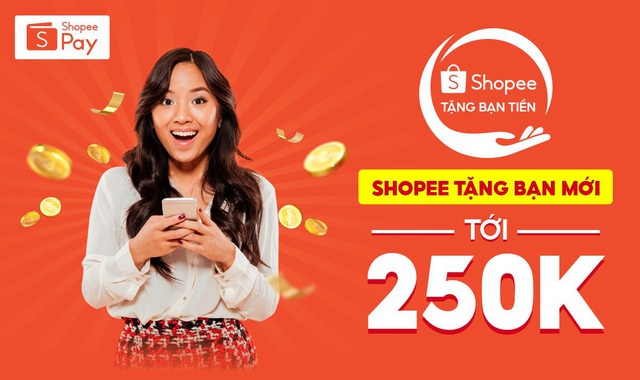 In addition to familiar faces such as friends and relatives, many people also expand their scope to include the hostess, the leader of the neighborhood group, the neighbor… to introduce them all. Due to the influence of social distancing measures, many users are facing difficulties when they cannot shop and pay in the traditional way. The introduction of utility tools like Shopee or ShopeePay makes a lot of sense at this time.
Of course, privilege is not just for one side. Shopee also has a program "Refer a new friend to receive up to 200K coins", whereby each account will be given a referral code and immediately receive 20K bonus coins when relatives use this code to shop the first order. . Each account has a maximum of 10 referrals, equivalent to 200K coins, and this bonus can be used to shop on Shopee.
Notably, from August 23, users can still shop on Shopee during this period and will receive the goods after the end of the interval or as soon as new instructions are announced. For orders with a high probability of being canceled because the pickup or delivery area is isolated, or the shipping unit cannot handle it because of operational limitations, Shopee will notify users. You can safely stay at home to shop and refer friends to install Shopee and ShopeePay to enjoy the same offers for new users and referrals as above, and many other attractive programs in the 9.9 Super Buy Day sale. Shop officially arrives at Shopee from August 20 to September 12.
Opportunities are wide open, hunt for coins
If you feel that the bonus from the Shopee "matchmaking" job is still not good, you can switch to "harvesting" incentives on equally lush "fields". That is a series of attractive programs being organized by ShopeePay wallet, with coins, vouchers and discount codes.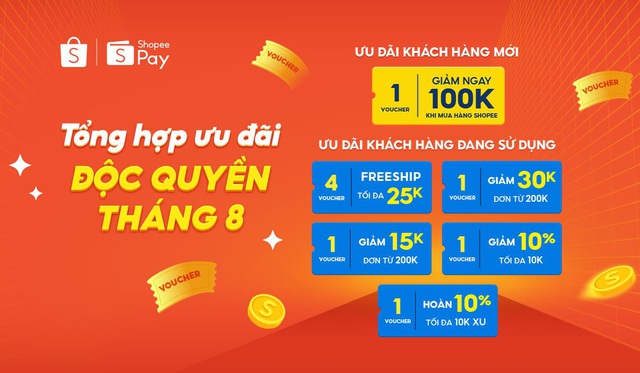 In terms of shopping, the combination of 8 generous vouchers when closing Shopee orders is something that must be hunted all in this August. Briefly, there are 4 free shipping vouchers, 2 discount vouchers of 30K and 15K for food orders from 200K, 1 voucher for 10% off up to 10K, 1 voucher for cashback up to 10K coins. The full set of tips is available at: https://shopeepay.vn/khuyen-mai/shopee-san-sale/.
In the payment field, ShopeePay has prepared a great party "buffet" of discount codes when charging phones, paying bills, etc. Some attractive promotions such as buying 1K phone cards will apply in some of the most time frames. determined. Pocket code hunting tips at: https://shopeepay.vn/khuyen-mai/thanh-toan-dp-shopee/.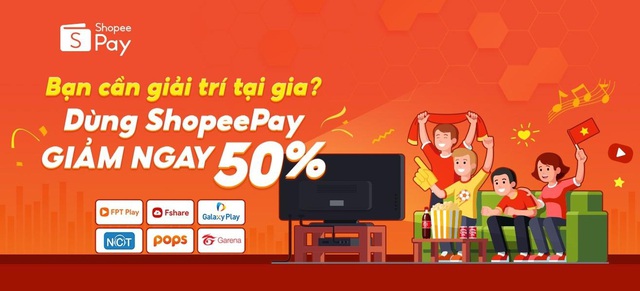 The active members of the association "bored from staying at home for too long" are also invited to the entertainment world of ShopeePay's great deals. There are a series of vouchers for immediate 50K discount for new users and 50% off up to 30K for "old friends" when buying service packages on famous entertainment platforms such as Galaxy Play, Nhaccuatui, Pops, FPT Play…
In addition, during the days at home, you can participate in playing games on Shopee such as: the game "Choose the right number – Win a good driver" with the most valuable reward of 01 Honda City Cars, "Shopee choose the right price" with other players. furniture gift worth up to 30 million VND, "Pracing the puzzle piece" takes place at the same time as the prize is a full set of Apple products, "What is this number" with a prize value of up to billions of dong. .
With so many tips on hunting for gifts, it is "wrong" if someone still has no money to shop or is bored at home. Download Shopee and ShopeePay now and collect coins and gifts gradually before the year-end sales storms hit.
Source : Genk