From the first country to legalize Bitcoin, here's why developing countries are 'fertile ground' for virtual currency
Especially in countries that often experience financial instability or have barriers to accessing traditional financial products such as banks, the use of virtual currencies is becoming a part of it. in life.
Kim Grauer, research director at data firm Chainalysis, said: "When people pay attention to tweets from Elon Musk or institutional investors about Bitcoin, emerging markets are the place to trade. The translation of this virtual currency is very exciting. Bitcoin gives them many business opportunities."
In 2021, Chainalysis ranked Vietnam as the first country in terms of cryptocurrency adoption among 19 emerging markets and 20 frontier markets. According to Grauer, in Vietnam, some young people like betting and are good at technology, while there are not many investment channels to pour their savings, such as ETFs. Meanwhile, the US only ranks 8th.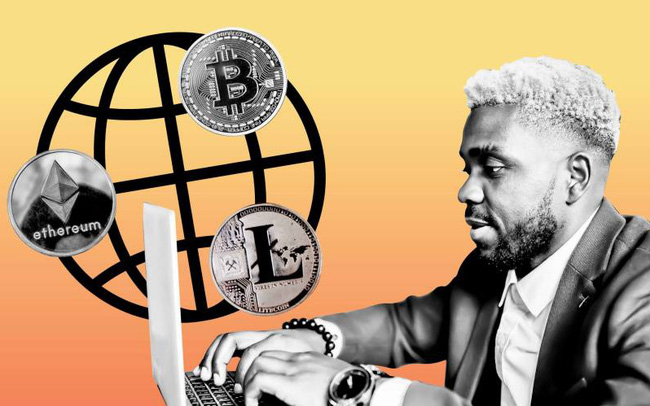 Data from UsefulTulips.org, a website that tracks Bitcoin transactions on the world's two largest virtual currency peer-to-peer trading platforms, shows that, in the last week's post, sub-Saharan Africa has surpassed North America and become the area with the most active virtual currency trading volume.
Recently, El Salvador became the first country to officially accept Bitcoin as a fiat currency. This decision was met with many warnings from the IMF and many financial and monetary experts. However, others see this as a breakthrough.
Paul Domjan, co-author of the book Chain Reaction: How Blockchain Will Transform the Developing World, said: "We should take this seriously. El Salvador's decision will change the position of Bitcoin in the system. global finance and sparking debates about digital currencies."
Alternative to weak currencies
As a "store" of value, a medium of exchange, and a unit of account, fiat currencies in some developing countries have not yet played the right role. Therefore, emerging markets are fertile ground for cryptocurrencies.
Unpredictable inflation rates and volatile exchange rates, complex banking systems and expensive services, limited use of financial services, and uncertain regulation all reduce the attractiveness of official currency.
Nigeria, Africa's most populous country, is a case in point. The country's young, impatient population faces high unemployment, volatile black market exchanges and capital controls.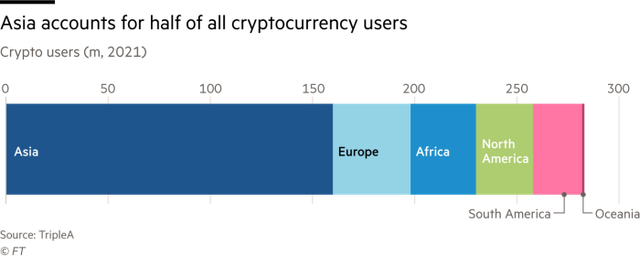 Users from Asia account for half of the world.
As the price of oil, the country's main export, slumps during the pandemic and the supply of the US dollar tightens, many businesses are unable to repay their debts to foreign suppliers and creditors. Accordingly, a WB-backed power plant was almost insolvent. As for those sending or receiving remittances, lack of USD is a fairly frequent problem.
Ray Youssef, CEO of Paxful, said: "When you go to Africa, specifically Nigeria and talk about people's daily difficulties with money, you will find something very unbelievable. That is, they have A peer-to-peer virtual currency exchange that allows users to trade directly with each other.
He added: "The currency used is Bitcoin, which is held in escrow accounts until payments are fully repaid by bank transfer, phone card or gift card."
Each transaction varies in size, from retail investors purchasing virtual currencies under $100, to merchants providing invoice processing/balancing or financial services businesses. "Nigeria's trade with China is high," Grauer said. "They import goods with virtual currency, because the foreign exchange policy restricts small business people from participating in international trade."
Meanwhile, the reason for the popularity of cryptocurrencies in Venezuela and Brazil is the high cost and cumbersome procedures of the financial system. So far, Binance and Coinbase are still popular exchanges in developing countries.
Cryptocurrency trading takes place
Ryan Taylor – CEO of Dash Core – the first virtual currency network to enter the Venezuelan market, said: "We think people will accept a virtual currency and that will be their main currency. But in the end, it will be their main currency. , the reuse purpose is different."
Small coins like Dash are used more for small transactions, Taylor recounts, while Bitcoin is for larger transactions and higher costs. Meanwhile, Litecoin is used to pay satellite TV bills.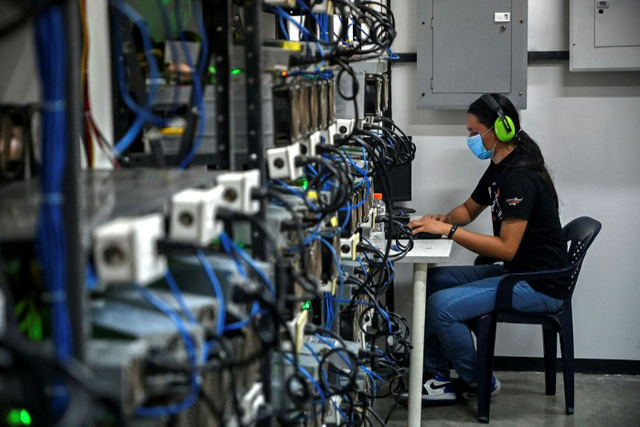 Employees work at a Bitcoin mining center in Venezuela.
In addition, people in Venezuela see virtual currencies as an alternative to traditional money transfers – which are the lifeblood of many developing economies. Transferring money through traditional channels like Western Union can be very expensive.
According to Taylor, sending money to Africa is a "nightmare", while sending money to the Americas, Europe and China is almost impossible unless you are rich.
According to the World Bank, the cost of sending $200 to sub-Saharan Africa will be charged about 9% in the first quarter of 2020. However, on peer-to-peer virtual currency trading networks, this fee is only about 2-5%. BitInfoCharts numbers show that the average transaction cost for Bitcoin was less than $3 in August 2021, while Ethereum was $8-44.
Seeing this as a "golden opportunity", Hashdex Asset Management launched 3 virtual currency ETFs in Sao Paulo this year, attracting more than 160,000 investors. One of them is HASH11, currently managing assets worth 2.17 billion Reals ($421 million) and is the second most invested ETF on the country's stock market.
According to TripleA's analysis, Brazil is the largest cryptocurrency user country in Latin America, with 10.4 million people. Mercado Bitcoin exchange was born with the total trading volume at the end of August increasing 7 times compared to 2020. The company also received a $200 million investment from SoftBank.
However, the UK's Financial Conduct Authority (FCA) warned, if consumers invest in products related to virtual currencies, they should be prepared to "lose" their money. Meanwhile, the Basel Committee said the development of virtual currency assets and related services could raise financial stability concerns and increase the risks banks face – including fraud, cyberattacks and terrorist financing.
In Zimbabwe and Nigeria, regulators have introduced strict regulation of virtual currencies. Zimbabwe banned local banks from dealing with cryptocurrencies in 2018, and Nigeria banned commercial banks from dealing with crypto-related companies.
Consult the Financial Times
Source : Genk