From a little-known name, VinFast's partner has now become the world's No. 1 electric vehicle battery manufacturer: The major electric vehicle manufacturers are eager to cooperate, difficult to have competitors in the near future.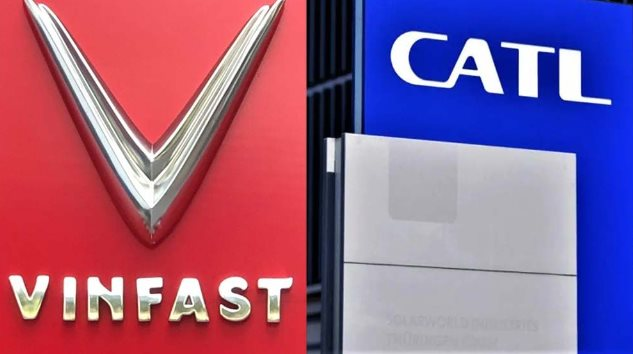 In recent months, news that Amperex Contemporary Technology Company (CATL) will enter the US soil and join hands with major partners such as Ford and Tesla – the world's leading electric vehicle companies has caused a stir. stir. The increasing number of automakers stepping up their hands-on with the Chinese company that dominates the market in electric vehicle batteries has raised a big question: How can a company expand so quickly? So, making the whole world depend on them?
Covering all major electric vehicle markets
Now CATL-manufactured batteries are found in electric cars Tesla, Mercedes, VinFast and many other electric vehicles. The Fujian-based company is producing at lower prices than ever before. With such a rapid growth rate, how the company expands its product scale and production facilities is something that many people are curious about. The company licensed intellectual property, rose from shaking hands with electric vehicle companies, and accepted low margins. CATL has also built huge factories and invested in raw material mines to strictly control supply. As a result, the company has gone deeper into the value chain and supported small electric vehicle companies.
That created a vast empire that grew from small steps. Partners and factories have made the Chinese giant almost indispensable in the global electrification process. In 2022, the company's overseas sales grew 176% and accounted for nearly a quarter of its sales.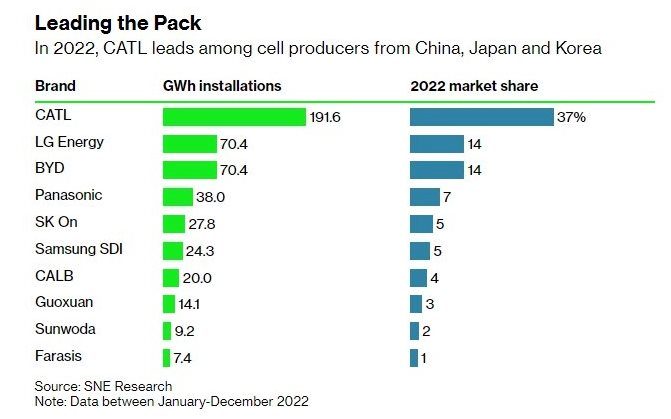 In Japan, CATL has cooperated with Daihatsu Motor – Toyota's small car manufacturing subsidiary to supply batteries for electric vehicles. In Indonesia, it has invested nearly $6 billion in state-owned mining companies for nickel — a key raw material for making electric vehicle batteries. This move is considered "wise" in the context that the world's leading manufacturers are flocking to this country.
In Thailand, where electric vehicles are showing signs of lagging behind, CATL has licensed exclusive technology to Arun Plus – a subsidiary of PTT – a state-owned oil and gas group. They are promoting electric vehicles, affiliated with Hon Hai Precision Industry aka Foxconn, and committed to invest $1 billion in a new factory. In Bolivia, the Chinese company is helping to build up untapped lithium reserves.
CATL's most ambitious international projects are in Europe, where greening regulation has spurred electric vehicle adoption and prospects for energy storage products remain bright. The company has factories in Hungary and Germany and is considering setting foot in a third of the countries in the region. Hundreds of workers are being hired to work at these factories, helping the company grow and increase CATL's presence in countries.
Although the US-China trade tension still exists, the US market is not completely ignored. In 2020, CATL bought a factory in Glasgow, Kentucky, investing nearly $100 million before the inflation-lowering act was enacted, fueling a battery maker boom with plans to hire around 350 workers. . Two years ago, the company also opened a sales branch in Detroit, its first in North America.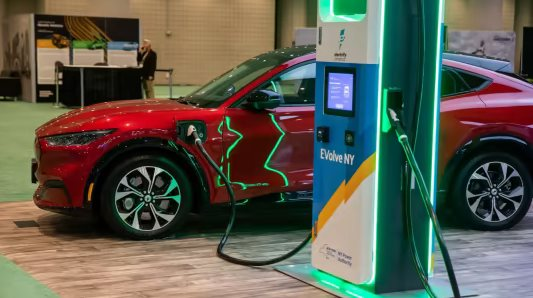 Hard to be replaced
Beijing's subsidies to encourage electric vehicles have contributed to CATL's growth, but represent only a small fraction of the company's growing revenue and do not give the company a preference for with domestic companies.
Each plant that CATL builds is now lower in cost, and supplies of raw materials and components are efficiently guaranteed while CATL remains firmly in control of its research and development activities. Battery production capacity is estimated to increase from 1 to 800 GWh by the end of next year, more than doubling by the end of 2022. The company spent just over 48 billion yuan ($6.97 billion) to increase production capacity. rates and cleverly restructure commodity pricing contracts. With more than 5,500 domestic patents and 1,065 international patents, CATL has fiercely protected its intellectual property, waging legal battles to keep it tight.
This expansion also has difficulties. CATL's gross margin has halved over the past six years with a 20% drop recorded in December. However, investors see this as a trade-off to achieving a proportional return. compared to market share. They were also concerned that that would ultimately hinder growth, so CATL recently revised its battery pricing. That will help push costs down more widely.
At its current rate of growth and with its "tentacles" entwined around the world, it's hard for CATL to be superseded — or replicated in the near future.
According to Bloomberg
Source : Genk