FPT Shop offers an extra 1 year warranty for high-end Lenovo ThinkPad laptops
Lenovo is always one of the most popular laptop brands at FPT Shop. In 2020, sales of Lenovo laptops at FPT Shop increased by 245% compared to 2019. FPT Shop also became "the best growing retailer in Vietnam" in 2020 of the Lenovo brand, and Lenovo ThinkPad is one of Laptops are the most popular among users at this retail system.
It is known that ThinkPad is Lenovo's high-end laptop line, famous for many advantages: timeless durability, excellent dust and water resistance, compact design from 0.9kg – 1.9kg, strong configuration Powerful, many security features such as Trusted Platform Module (TPM) chip to help encrypt data, webcam that automatically locks when not in use, secure fingerprint sensor… Especially, the ThinkPad X1 Nano is Lenovo's first ThinkPad to be powered by the Intel® Evo™ platform with integrated 11th Gen Intel® Core™ processors for outstanding speed and intelligence, while maintaining impressive battery life. 13-inch 2K screen, thin edges with 16:10 aspect ratio for extremely sharp images. 4 speakers and 4 microphone system 360 degrees for impressive sound quality. The X1 Nano supports Dolby Vision and Dolby Atmos®, plus WiFi 65 and optionally 5G6 for high-speed connectivity, creating new levels of efficiency for connectivity and collaboration in a new hybrid world of work.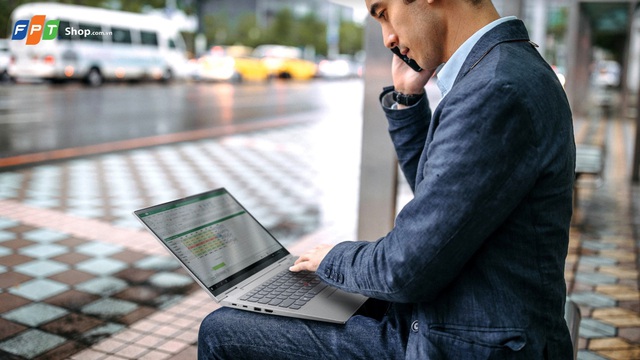 The high-end Lenovo ThinkPad line of laptops is loved by users because of its many advanced, durable, and compact features. The machine is being discounted up to 10% at FPT Shop.
Not only high quality, the product also comes with many attractive incentives, especially for students who are in need of laptops to study online during the back-to-school season in September, namely:
• Free 1 year warranty, bringing the total warranty period up to 3 years, exclusive offers only at FPT Shop. 1 year free warranty is equivalent to nearly 10% of the machine's price, a lot of support if the machine makes an error during the warranty period of the company, helping customers save maximum costs, rest assured to use long term.
• FPT Shop also "strongly" reduces up to 10%, ie up to 2,500,000 VND, applied when paying directly.
• If you are still wondering about the cost, you can choose to pay in installments with 0% interest.
• All customers who choose to buy Laptops at FPT Shop also receive more practical gift combos, including: fashionable Laptop backpack, up to 35% off Samsung LCD screens, an additional 200,000 VND off when buying Brother printers , 100,000 instant discount VND when buying Microsoft 365 Personal software, up to VND 700,000 when paying 100% via Moca wallet…
• FPT Shop always offers free home delivery and installation.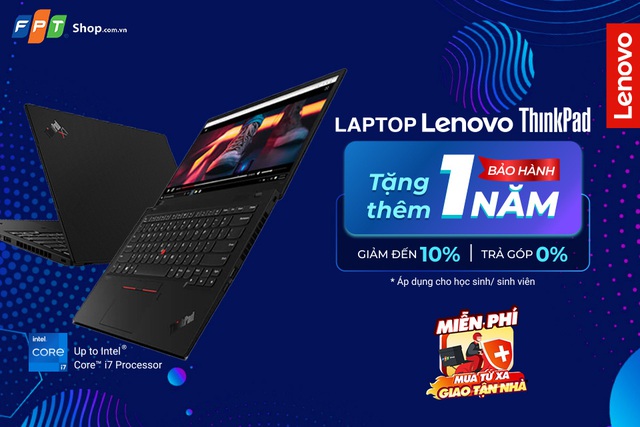 This September, FPT Shop offers an extra year of warranty, up to 10% discount or 0% interest installment installment for customers who choose to buy Lenovo ThinkPad laptops nationwide.
The program applies to students who are students – students aged 15-25, studying at all high schools, universities, colleges, intermediate schools, etc. nationwide can participate. . The procedure is very simple, you only need to prepare 2 simple documents including: ID card / CCCD and 1 document to confirm that you are a student – a student.
To choose to buy a laptop with the most incentives, you can go directly to 700 FPT Shop stores nationwide, buy online at FPT Shop website or call the toll-free hotline 1800 6601 for quick advice. FPT Shop always has a free home delivery and installation program, remote online technical support, helping you fix technical problems as quickly as possible.
Source : Genk