FPT Shop discounts up to VND 500,000 for a trio of OPPO A92, A31 and A12 phones
Possessing a modern design, a professional camera cluster, a large battery capacity and a powerful configuration, the trio of OPPO A92, OPPO A31 and OPPO A12 are smartphones that many young people are passionate about technology in the era. recently.
In particular, this July will be the 'golden time' for you to own a trio of super products at a reasonable price when the product is discounted to 500,000 VND at FPT Shop. Accordingly, from 03 – 19/07, FPT Shop immediately reduced 500,000 VND for OPPO A31 4GB – 128GB version and 300,000 VND for OPPO A12 3GB – 32GB version. With the price of only VND 3,990,000 for OPPO A31 and VND 2,690,000 for OPPO A12, students and students can take advantage of this opportunity to own a cheap but still adequate smartphone. Good features for everyday use.
Also, in the last 3 days of the week from July 3 to 5, FPT Shop also reduced immediately VND 500,000 for OPPO A92, the new price was only VND 6,490,000. In particular, besides the two color versions, White Stylish and Strong Black, OPPO A92 has just launched the more Purple personality, helping users to have more choices.
Moreover, you also receive many other practical incentives such as 0% interest installment purchase, 100,000 VND purchase coupon for smart wearable devices, up to 40% off genuine fashion watches, earphones genuine hearing is reduced by 10% when purchased with the trio of OPP phones
To choose to buy the phone with the most preferential, you can buy directly at the nearest FPT Shop or buy online here , FPT Shop will deliver products within 60 minutes.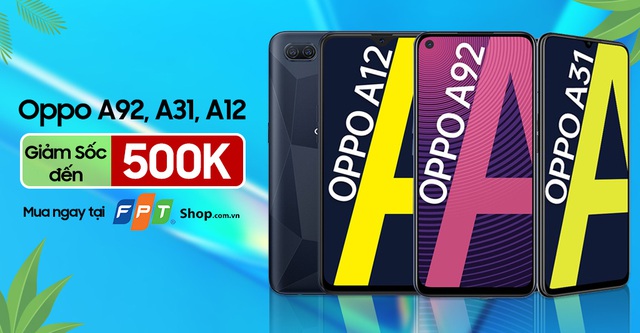 FPT Shop immediately discounts 500,000 VND for customers who choose to buy OPPO A92 from 03 –05/07 and discount up to 500,000 VND OPPO A31 4GB- 128GB and OPPO A12 3GB – 32GB.
Why should you buy goods at FPT Shop?
In addition to the attractive incentives when you choose to buy phones, laptops, accessories, … FPT Shop also brings the best service experience to technology users.
Specifically, right after choosing to buy online, FPT Shop will quickly deliver your device to you within 60 minutes, helping customers feel secure to buy quality technology products at reasonable prices without having to worry about matter of time and distance. The payment method is also very diverse, you can choose to pay directly when you receive goods or pay online via card.
Regarding warranty policy, products at FPT Shop will be warranted according to IMEI so it is very accurate and convenient, helping you not to worry about losing documents or invoices. You also get a free exchange for a product within 30 days if the device has an error from the manufacturer, particularly with FPT Shop accessories, it will be warranted for one exchange within 1 year.
Another noteworthy point is that FPT Shop supports free innovation within 30 days or a refund of 80% of the machine price if the product you buy has an error from the manufacturer. Moreover, you are also supported to exchange products with cosmetic faults, lost accessories, …
For those who are worried about financial issues, they can choose to buy 0% interest installments at FPT Shop. The installment process is very simple and the application process is quickly approved in just 15 minutes, you can even receive remote assistance without having to go to the store. At the same time, you can choose many forms of installment payment at FPT Shop such as 0% interest installment payment, without prepayment with many reputable financiers and banks in Vietnam. Moreover, FPT Shop also guarantees maximum benefits for customers who choose to buy installment products while they still receive the same incentives as direct purchase.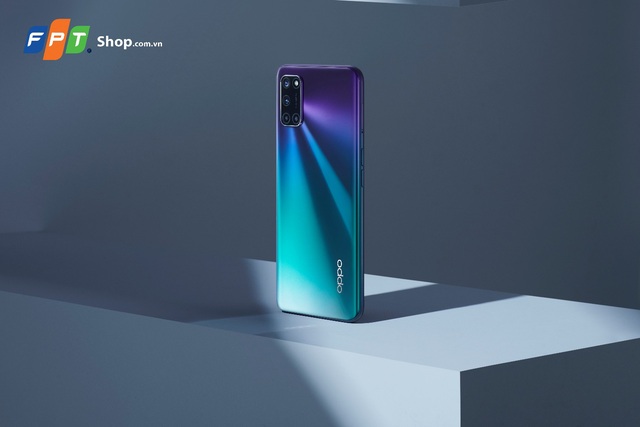 Choose to buy online OPPO A92, OPPO A31 4GB- 128GB and OPPOA12 3GB – 32GB, FPT Shop will be delivered within 60 minutes.
Products purchased at FPT Shop are genuine, customers can choose to buy directly at the store, buy online or call 1800 6601 hotline for advice, fast purchase.
Source : Genk