FPT.AI won the competition for natural language processing in Japan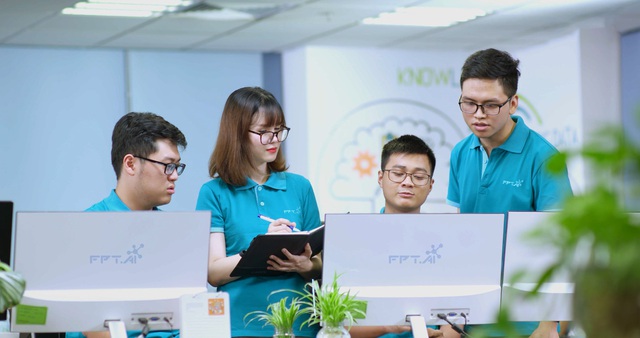 FPT.AI Comprehensive Artificial Intelligence Platform (FPT.AI) has surpassed many competitors from all over the world to win the highest position in 03 categories: English, Vietnamese, Korean in the Natural Language Processing (NLP) model competition named SHINRA2020-ML organized by RIKEN Institute of Basic Science and Tohoku University – Japan.
SHINRA2020-ML contest is the main activity within the framework of the 15th NTCIR Conference – a prestigious annual science event of Japan, attracting the participation of the above universities, laboratories, and research institutes. the world, with the goal of creating an open knowledge base including optimal artificial intelligence models to share with the technology community.
In this year's competition, the participating teams had to system and classify 25 million articles in 30 different languages ​​into 219 areas that were specifically identified on the Wikipedia open Encyclopedia.
To achieve the leading position, FPT.AI not only possesses a highly accurate natural language processing model, but also sufficient computational resources (server systems and central processors). force "to complete the required task. Particularly focusing on the field of AI – the core foundation in the digital revolution, FPT has early promoted application-oriented AI research for many years to bring technology to each enterprise and organization. The high ranking in the international competition is one of the strong evidences of FPT's serious and methodical investment in this field, contributing to affirm Vietnam's AI technology research capacity on the regional map. and the world.
The contest attracted many teams from prestigious universities, companies, research institutes of Japan, Australia, India, Portugal, and Vietnam. One of the famous names to attend may be Studio Ousia – a famous Japanese technology company has just announced the NLP model named "LUKE" with superior processing ability compared to Google's models. , Facebook last April.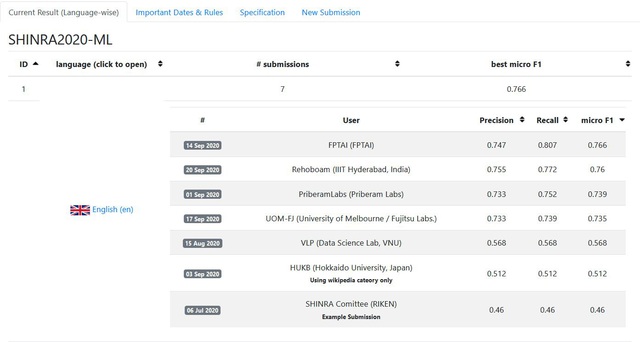 FPT.AI's ranking performance in 3 languages
As one of the key pillars of Artificial Intelligence, Natural Language Processing technology focuses on the study of language interactions between computers and humans, thereby providing breakthrough solutions. Labor efficiency for people, optimizing operations for businesses.
Possessing leading AI technology and diversified product ecosystem, FPT.AI platform is capable of operating 24/7 with multitasking efficiency 10-15 times faster than processing traditional management, helping businesses save time, concentrating human resources to perform jobs that create higher values. The winning model will be integrated into the FPT.AI product ecosystem, helping to improve the accuracy and efficiency of AI solutions and applications that are becoming more and more popular such as Chatbot, Automatic Switchboard, Optimize information extracted from captured images …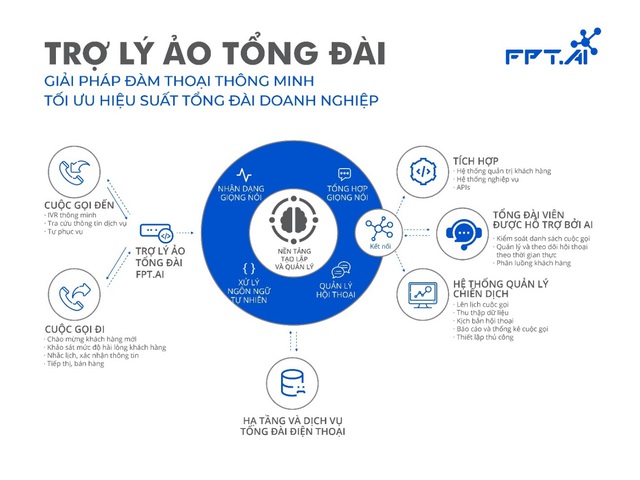 Breakthrough product The PBX virtual assistant is in the FPT.AI product ecosystem
With this solid premise, FPT.AI is expected to research and develop products to expand into other languages, step by step conquer developed markets such as Japan, Korea, …
About FPT.AI
The FPT.AI platform provides a solution ecosystem based on Artificial Intelligence that brings breakthroughs in business operating efficiency, with service packages from free to paid tailored for each needs. The company includes: Building platform for multilingual chatbot FPT.AI Conversation, Virtual assistant of Vietnamese voice-based interactive switchboard (FPT.AI Virtual Agent For Call Center), Identification and key extraction confirm information from photos (FPT.AI Vision), Synthesis and Speech Recognition (FPT.AI Speech).
Being honored with the Top 10 Sao Khue 2020 title in the category of technology solutions 4.0, FPT.AI is the choice of more than 70 domestic and foreign organizations and enterprises such as Vietnam Airlines, Honda, HomeCredit, Prudential, Ministry of Health … with more than 27,000 programmers in regular use, benefiting more than 11 million end users.
Experience for free right at https://fpt.ai/en .
About NTCIR conference
Held annually in Japan from 1998 up to now, the NTCIR Conference focuses on the goal of gathering large test data sources for the purposes of in-depth computer science research, and at the same time opening up " playground "for research groups to exchange and discuss these experimental results, aiming to build a common community of scientists studying in-depth on Artificial Intelligence.
Source : Genk