Forget the removable battery, because Xiaomi has just designed a phone with a removable screen
Do you think today's smartphone designs are not as innovative as they used to be? Think again. Xiaomi has just filed a patent for one of the most unusual smartphone designs we've heard of in recent years – of course, being more "weird" than rumored rotating and scroll-screen phones. LG's grand. The Xiaomi phone we are talking about here will take non-traditional smartphone design to a new level with a … detachable screen!
The Chinese company has been experimenting with some pretty interesting smartphone designs, and the Mi Mix Alpha with a 360-degree screen is perhaps one of the best examples. Just a few days ago, we saw another Xiaomi phone patent with a wireless headphone holder. And the detachable screen phone again shows the bold design ideas still under consideration at Xiaomi. Take a look at the pictures below, taken from Let'sGoDigital, to get a better picture of Xiaomi's new device.
How does a detachable screen phone work?
According to LetsGoDigital, Xiaomi applied for a patent for this multi-part phone in China in March.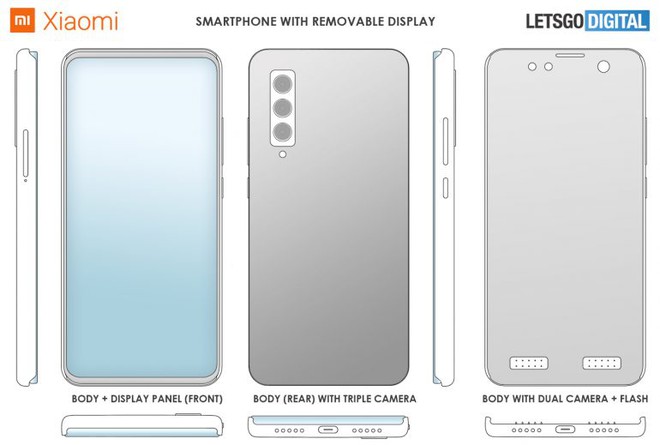 The patent describes a device with two components: "main unit", or body, and "detachable part", or removable screen. The main part is twice the thickness of the separate part, and when linked together, they will create a normal smartphone. However, the screen is removable to operate independently. That means it must have its own source. One USB-C port, two speakers, selfie camera, main camera, and buttons – all on the main body.
LetsGoDigital confirms the selfie camera is actually a camera under the screen, hidden below the removable screen when the phone is in normal state. The screen has no rabbit ears or moles, so this seems plausible.
In addition, the removable screen can be charged wirelessly via a wireless link with the body.
Obviously things are too complicated. The patent does not describe any use cases for the aforementioned phones. However, the detachable screen is more likely to be useful when acting as a remote viewfinder for the camera or when playing games. However, if the application is only limited at such a number, it is not clear whether Xiaomi really considered manufacturing a detachable screen smartphone!
Reference: AndroidAuthority
Source : Genk