Forcing developers to pay a 30% fee, Apple was accused of monopoly in Europe, and fined up to $ 27 billion
The European Commission yesterday made an antitrust allegation to Apple that the company " distorted competition in the music streaming market by abusing its monopoly position in distributing music streaming apps through the door." your App Store . "
The European Commission's EC claims focus on two regulations that Apple imposes on developers: forced to use Apple's in-app payment system – with a 30% commission and a developer ban. notify users about payment options outside of the app.
This forces competitors to music streaming app Apple Music to raise fees by 30% for users to compensate, leading to the potential loss of market share to potential users. This is the first stage of the antitrust process against Apple and the company has the opportunity to respond to the EC's objection list within the next 12 weeks.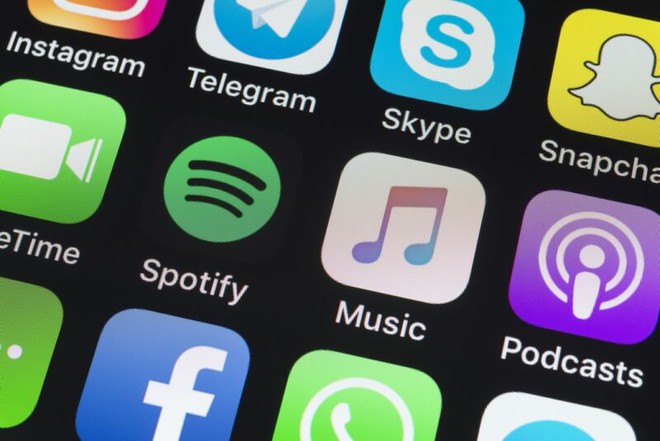 The allegation comes after the antitrust investigation stems from Spotify's accusations in 2019 of competing with the Apple Music app in the music streaming market.
With this allegation, Apple could face a fine of up to 10% of its global revenue – $ 27 billion of Apple's $ 274.5 billion in global sales last year – though rarely. The EC imposes this maximum penalty. But what's most dangerous is that Apple could be forced to change its business model and its App Store policies – which causes more lasting harm.
While the allegation only relates to Apple's behavior in the music streaming market, other separate European antitrust investigations are underway in the area of ​​ebook distribution via the App Store. This investigation is based on similar Rakuten's allegations of a 30% commission for ebooks sold through the App Store.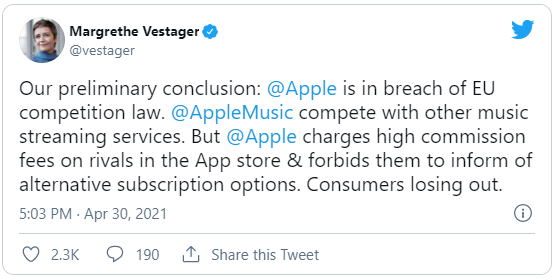 In addition, the European Commissioner, Ms. Margrethe Vestager also revealed that the EC is interested in Apple's policy towards the game market on the App Store. Last year, Microsoft urged regulators to investigate the App Store, after Apple prevented Microsoft's online game streaming service xCloud from appearing on the app store.
In response to the EC's allegations, Apple issued its statement:
" Spotify has become the largest music subscription service in the world, and we're proud of the role we play in it. Spotify doesn't pay Apple any commissions on 99% of its subscribers. and only pay 15% commissions on subscribers they have through the App Store. At the heart of this case is Spotify's request to promote alternatives to their iOS app, a behavior that no app store in the world allows.Once again, they want the full benefits of the App Store while not thinking they have to pay a fee for it. with fair competition . "
Refer to The Verge
Source : Genk