Facebook plays a "scare tactic" that charges users iOS for tracking apps
According to researcher Ashkan Soltani on Twitter, Facebook appears to be looking to counter Apple's App Tracking Transparency (ATT) feature by sending reminders to Facebook and Instagram users on iOS.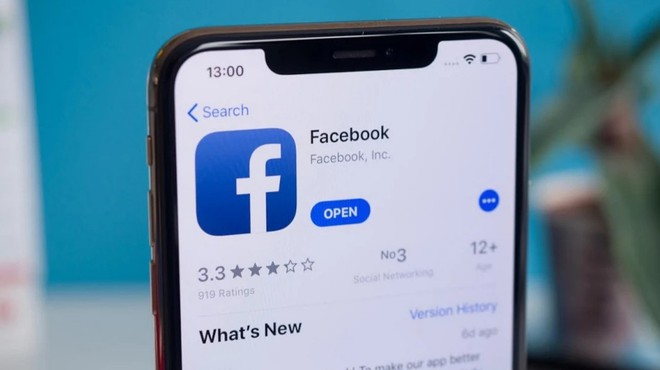 Through a visible message box, Facebook reminded users that they should allow and enable app tracking so that Facebook can ensure personally targeted advertising, keeping these apps free. fees and revenue for advertisers.
These prompts come shortly after Apple released the iOS 14.5 update, which required all iOS apps to ask users before being allowed to follow up.
When Apple first announced it would launch App Tracking Transparency, many experts, advertisers, and app developers spoke out against Apple's decision, including Facebook.
The social network launched two ads that complained that ATT would kill small businesses because it would reduce the reach of customers through online advertising. Not to mention, Facebook is also the party that enjoys the majority of advertising revenue. Last year, Facebook generated $ 84 billion in online advertising. But of course whether the protest is successful or not, the company will still have to comply with Apple's regulations.
Some companies have tried to figure out how to instruct iOS users to enable app tracking, although Apple has some rules and instructions that companies must follow when creating pre-prompts and feature reminders. ATT. Failure to comply may result in the app being removed from the App Store.
If you are using Facebook or Instagram on an iPhone with iOS 14.5 installed, you will see a message pop up with a message like the image below.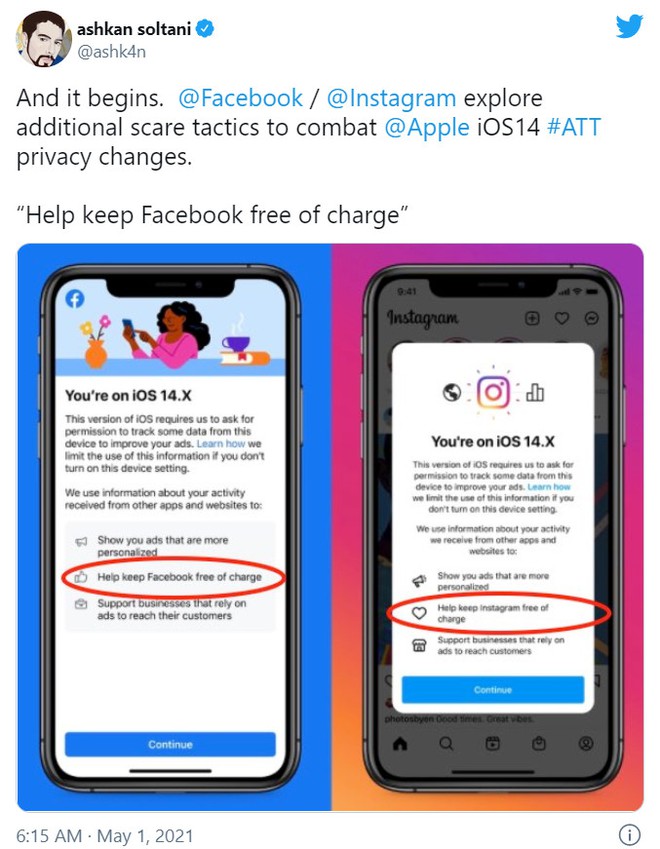 In the announcement, Facebook explained that iOS 14.5 requires developers to get user consent before tracking some data to improve ad serving. Facebook also said that users will benefit from this data collection on three fronts. Most visible is the section that helps "keep Facebook and Instagram free".
According to Soltani, what Facebook is doing is using "scare tactics" to get Facebook and Instagram users to voluntarily be tracked. According to the reminder image, Facebook wants to emphasize that users grant tracking permission to Facebook is a way to keep these services free and users do not need to pay just to use them.
This implication clearly wants to remind users that, if they do not allow Facebook to follow the Facebook and Instagram app, all will no longer be free.
Apple is said to have reminded app developers, including banning them from pressuring users to allow tracking.
In March, Facebook CEO Zuckerberg changed his stance when he said that Facebook could really benefit from ATT and stated that "We could be in an even stronger position if the changes of Apple encourage encourage more businesses to do business on our platform " . In other words, ATT could bring more traffic to Facebook's platforms.
However, it seems that Facebook still has mixed views with Facebook about the App Tracking Transparency feature. Facebook's note states: "As more people upgrade to iOS 14.5, users who choose not to be tracked will automatically be excluded from certain target audiences, which leads to downsizing of their audience. object accessible ".
Refer to PhoneArena

Source : Genk