Facebook launches a new feature that makes it easier to erase painful traits and silly young posts.
Surely everyone has a "young" time with embarrassing posts on Facebook and they have become too much and too time-consuming to find and delete each of those posts – just in case someone wants to dig too hard. his past. Now Facebook has launched a new feature called Manage Activity, which allows you to do that more easily.
With this feature, users can delete a batch or an individual post and it even has filters to help you can find old posts with specific people at a certain time. Currently this feature will land first on the mobile version.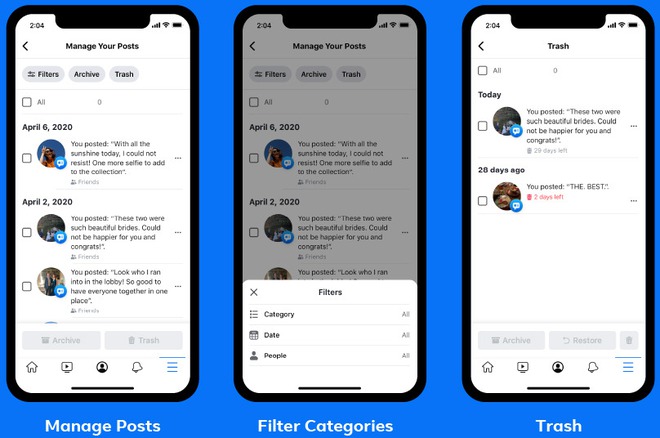 According to Facebook, the feature is intended to " help you more easily control your presence on Facebook to more accurately reflect who you are today ." Not only does it help delete embarrassing previous posts to prepare to enter the professional working environment, it will also help many people delete posts that are reminiscent of the forgotten relationship in the past.
This feature also has some options for you when deleting a timeline post. It may be sent to the trash, where it will not be publicly visible immediately but only permanently deleted after 30 days. In addition, a post may be archived, meaning that it will no longer be publicly visible, but you can still review it privately.
Manage Activity is Facebook's latest effort to give users more control over their data. Last year, they launched the Clear History tool, which helps users disconnect their browsing data with their Facebook accounts. However, the Clear History feature does not actually delete this data, it just removes the connection between it and your Facebook account.
Refer to The Verge
Source : Genk