Facebook has begun to update its interface to all users, including Dark Mode
Facebook's new interface on the web browser is starting to be updated globally, the company representative said last Friday. Previously, only a limited number of users were allowed to test before this new interface.
In a blog post, Facebook said the new interface would "become a new web experience for Facebook globally". Adding that "it will be faster, easier to use and allow your eyes to be more comfortable with Dark Mode".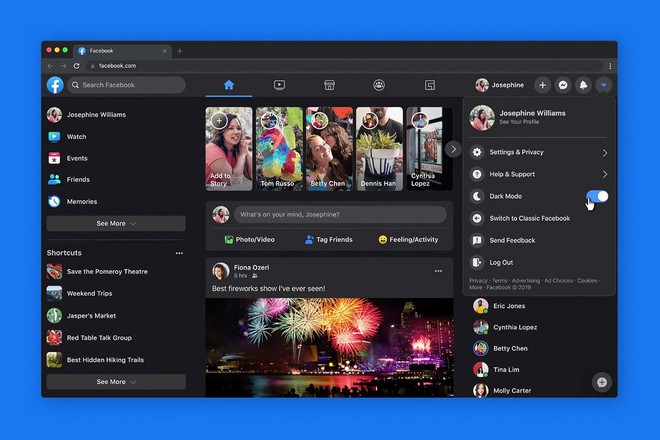 Facebook's new interface on the web browser also has major layout changes, especially the New Feed. It can be seen that the main interface of New Feed becomes narrower, creating more space for the left and right columns.
The icons are also bigger, the menu bar is bigger too, making it easier for users to access other parts of Facebook, instead of focusing on the main New Feed.
Existing users can activate the new Facebook interface in the browser and also in Dark Mode, by the following:
Click the down arrow icon at the bottom of the menu bar.
Click on "Switch to new Facebook" or "Switch to the new Facebook interface".
Click the arrow icon and activate Dark Mode.
The purpose when Facebook launched the new interface for the first time at the F8 Conference in 2019 is to focus the user experience on the other core values ​​of this social network, such as Group, Event or Messenger.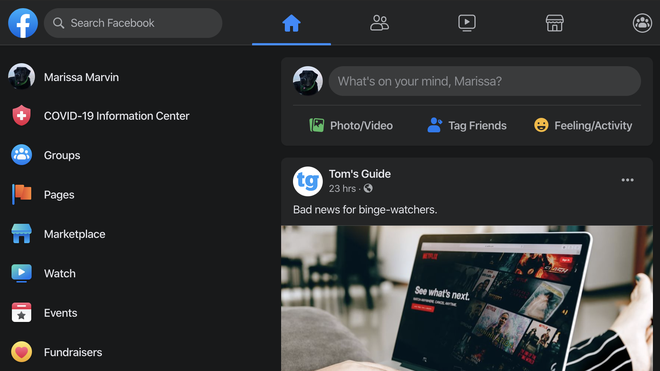 The era of New Feed is not over yet, but this main interface is filled with junk information and posts that users don't really care about. Users are increasingly inclined to work in separate groups on topics they care about, or share information with each other by message.
Facebook's new interface can make many users feel unfamiliar, especially the message. However, it is easier to use when you often access Events, Groups or watch Videos.
Starting on Friday, Facebook's new web browser interface is starting to be updated to all users around the world. However, because the update schedule is not at the same time, some users may still not receive the new interface and will have to wait a few more days.
Reference: theverge
Source : Genk