Experience APC Smart-UPS SMC1000IC: Cloud-connected UPS to monitor UPS remotely, anywhere, on any device
Switching to remote control / operating technology can help IT professionals in particular and businesses in general manage their distributed IT infrastructure efficiently, easily, and at the same time "save" costs. for high quality human resources.
One of the most interesting options today is EcoStruxureTM Ready Smart-UPSTM SMC1000IC (SMC1000IC) from APC by Schneider brand. This is the pioneering cloud-connected smart UPS product on the market, suitable for network devices, servers, routers, switches, hubs or devices at points of sale / bank branches. such as for ATMs, Kiosk and applications for popular devices such as Desktop, NAS, security equipment, audio-visual equipment …
The SMC1000IC UPS is only about 1/2 the size of the computer case. 600W capacity is suitable for many purposes.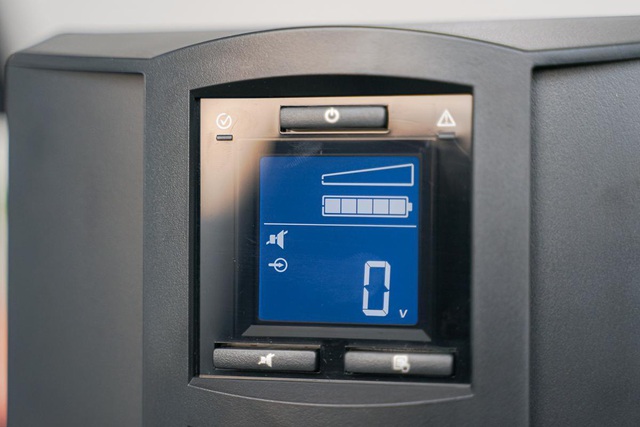 With many power banks, there are usually only a few basic buttons, but this EcoStruxureTM Ready Smart-UPSTM series is designed by APC to add an LED screen to display many information / parameters such as% power in use, amount residual power in the UPS, power input / output voltage or power / fault indicator …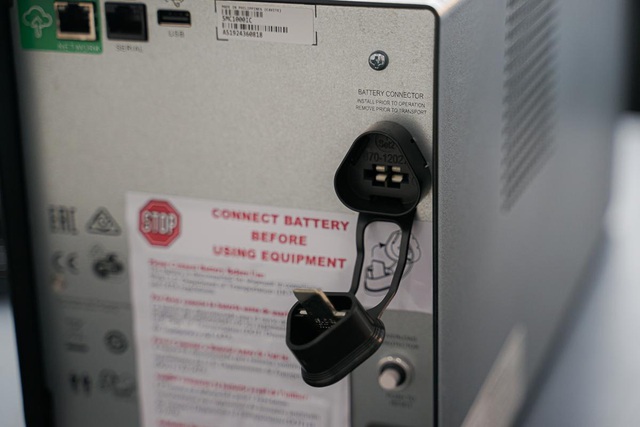 On the back panel, the SMC1000IC is equipped with a safety disconnect / breaker. The rather intelligent design can reduce risks and problems occurring when shipping or not being used for a long time.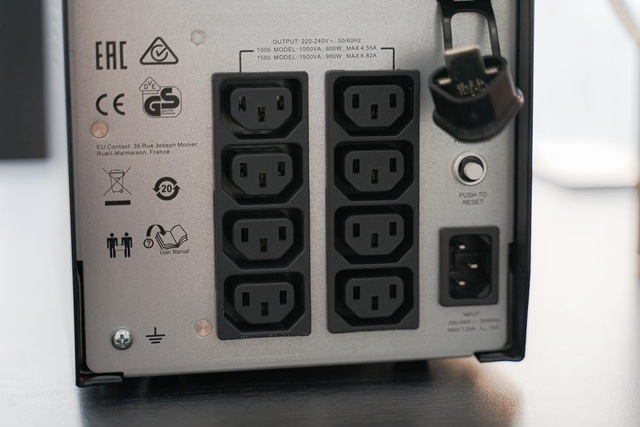 In addition, the product also owns 1 power input port and 8 power output ports.
The rear output ports are divided into 2 groups and can set the on-off cycle of each group. For example, choose groups to turn on during the day and turn off automatically at night. Or you can prioritize one group to be active during a power outage, and the other group will automatically power off, increasing UPS's uptime, helping critical equipment stay up and running for longer.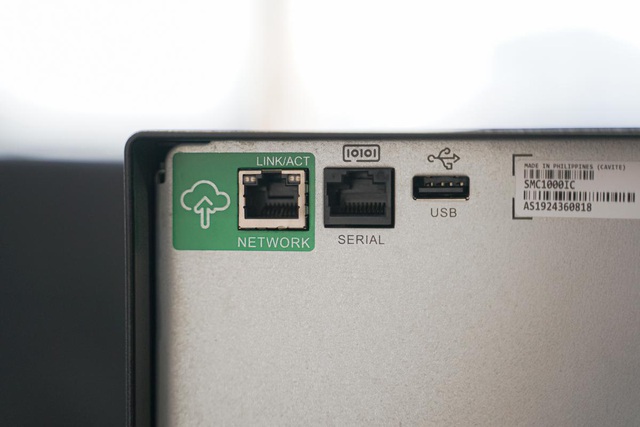 In particular, the corner on the back of the SMC1000IC also has a blue Ethernet port to help users connect to the cloud system that the company provides or choose to manage via SNMP via Serial or USB.
You just need to scan the QR code on the UPS cover, register according to the product code, and you can log into the web interface https://smartconnect.apc.com/ to support APC's free remote monitoring by smartphone. , computers or other Internet-connected devices in general. This is the highlight of the EcoStruxure Ready Smart-UPS product line.
Another plus point for remote management systems is the feature that automatically sends email notifications to customers every time they fail. Examples include warning when wiring is not standard and sending a recommendation asking the user to check the system again. For users who are not specialized in technology or are unfamiliar with operating complex systems, this is a suitable solution because the interface and way of operating via the cloud are relatively simple.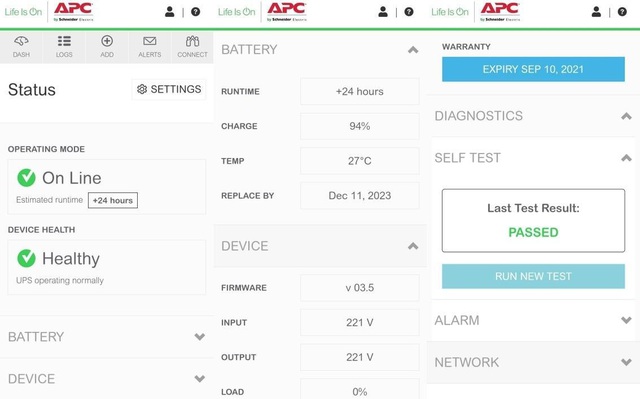 APC UPS Manager has an easy-to-use interface, clear information and many convenient monitoring and monitoring features.
SmartConnect management system through the cloud of APC is provided for free, allowing administrators to control the UPS system anywhere, up to 100 devices. In addition, users can connect the UPS to Schneider Electric's EcoStruxure IT premium paid software for access to more advanced features such as activity history / alarm storage, report / chart export. operation history / trend… extremely detailed and convenient, suitable for large-scale businesses.
In addition to remote management, the EcoStruxureTM Ready Smart-UPSTM series also features Green Mode energy saving, standard sine wave output, smart battery management for extended battery life and capabilities. Lightning surge protection for all device input / output ports.
In addition to the power supply ability, the product also has a series of other smart features, so it is named "Smart-UPS".
Practical use with set-up as individual users, the UPS gives a very good experience with stable output, powering several devices directly at the same time easily. According to the manufacturer's specifications, the SMC1000IC can supply power for 6 minutes at a maximum capacity of 600W.
However, under normal usage conditions, including for screens and cases, this number fluctuates in about 15-30 minutes or more. This is definitely enough time for you to save the necessary data and then turn off the computer safely, to avoid damage to internal components. In addition, to ensure the devices operate smoothly, the SMC1000IC can also automatically start up if the input becomes energized after the product completes a cycle of draining the battery power during a power outage.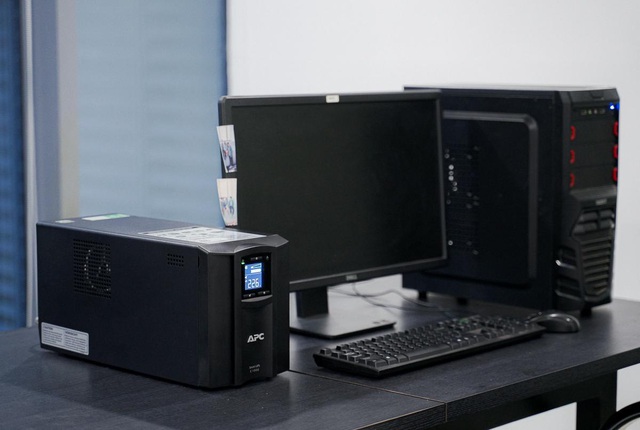 SMC1000IC has a moderate capacity, suitable for many needs of individuals and businesses.
If you are interested, you can find out more information and make purchases at Lazada e-commerce site with a discount of up to 10%, free shipping and gifts.
Source : Genk