Epic Games and Apple, who's right, who's wrong?
The most popular topic in tech lately has been the battle between Epic Games and Apple and Google. This is because Epic added its own in-app purchase payment method to the popular game Fornite, which aims to bypass the App Store and Google Play store payment rules.
Of course, Apple and Google wouldn't let go of such an obvious challenge. As a result, both have removed Fornite from their own app stores.
In response, not only launched the #FreeFortnite theme on social networks to guide the community of players, Epic also quickly hired lawyers to sue Apple and Google for monopoly suspicion.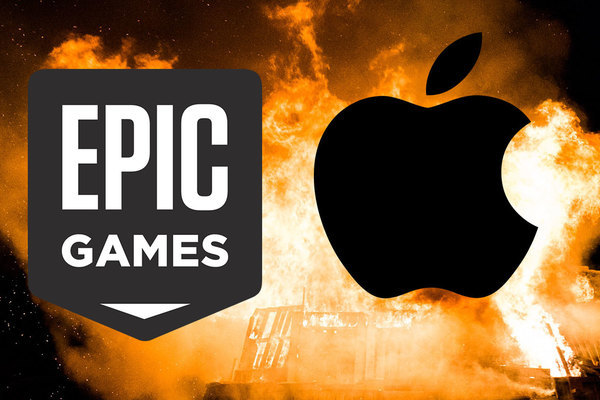 Looking back at Epic's "performance" these days, it was quite similar to the historical blitzkrieg, all of which were flash attacks, but the results of the two sides were different. During World War II, countries like Germany and the Soviet Union captured Poland by surprise through speedy operations, but Epic's invisible battle with Apple and Google was caught in a spiral of anxiety. to settle.
The cause of the problem stems back to last week, when Epic added a new payment method to the popular game. The base price of 1,000 in-game game coins is $ 9.99 USD. However, if using the new payment method provided by Epic, it costs only $ 7.99.
The reason for this price difference is that Google and Apple charge a 30% fee for in-game purchases of virtual goods. Therefore, Epic's behavior of adding a new payment method certainly bypasses the payment systems of the App Store and Google Play. Apple and Google have not unexpectedly removed the Fortnite game.
One question arises, is the removal having a big impact on game makers like Epic? First of all, due to Apple's App Store closure strategy on the iOS side, it is difficult for users to download new apps through other means than the App Store. This leaves new iPhone users unable to download Fornite.
On the Android side, although Epic has lost the distribution channel of Google Play, users can still get the package to install apps from other channels. However, Google Play's strong overseas influence still had a big impact on Epic's new user acquisition.
According to Epic's information, users who have downloaded Fortnite can still use most of the game's features.
When Google and Apple gave up Fortnite, Epic started a new attack. They soon came up with the #FreeFortnite theme on social media to guide users against Apple and reduce share rates. If successful, the share is returned to the game players in the form of a discount.
At the same time, Epic adapted Apple's classic allegorical ad "1984", pointing out that Apple had become a huge company it once hated and began to dominate the market.
It's worth noting that while Epic claims it will return benefits to players, it's clear not only players benefit after success. Because, in Fortnite's new payment method, in-game item prices are not directly reduced by 30%, but only at 20%, the remaining 10% will flow into Epic's pocket.
In addition to putting pressure on Apple and Google through social media, Epic also hired Christine Varney, a well-known antitrust lawyer in charge of US justice in the pre-Obama administration, to file a petition. 60-page lawsuit targeting Apple.
Apple and Google are not idle while preparing to deal with the lawsuit, Apple has announced that they will deactivate Epic developer accounts on iOS and Mac on August 25.
At the same time, Apple confirmed, when Epic submits a new version of the app under Apple's usual rules and uses App Store payments as a payment method for in-app purchases, Fornite will be relaunched.
Revenue sharing is a very common business rule, 30% is also common in the digital content industry. Not only Apple and Google use this way. In the console field, Sony's PlayStation platform and the Microsoft store both apply a 30% rate.
Epic's online store offers a 12% discount. If using Epic's Unreal Engine for game development, the discount can be reduced even further. But compared to Microsoft and Sony, Epic does not have the cost of developing console hardware like the PlayStation and Xbox.
It is clear that developers cannot expect a free app store, it does not follow the basic laws of commercial operation because the Win-win (PV) principle is the only thing. .
However, whether in the eyes of companies like Epic, the App Store as a distribution channel is not worth making 30%.
" If the share is too high, the game makers will not be able to survive and can only increase the price of the game, players are in a difficult situation to buy because the price is too high " – Fat Pudding Studio, a game maker Independent player, said in an interview with the media.
Additionally, the number of people visiting the app store and wanting to download new apps is decreasing. According to statistics from App Annie cited by Techcrunch, there were 204 billion app downloads in 2019, up 6% from 2018. Part of the growth could be attributed to emerging markets like India. and Brazil. Since 2016, the US growth rate has fallen to 5%. Therefore, developers like Epic do not want to pay the 30% fee for Apple.
Apple, as a pioneer of the store-sharing model, has created the era of genuine music and apps. Companies like Google have followed suit and are making a lot of money from the changes in business models. They can now tackle the usual apps and games. As cloud games become ubiquitous, can the store model deliver the same high value it once had?
In fact, Apple has adjusted its revenue sharing method for online media platforms like Spotify. After a 30% increase in the first year, the next rate will drop to 15%.
This problem is not limited to only Apple and Google, but is probably a common problem of the digital content industry. Before the development of the cloud game, it is necessary for a new business model and Apple will need to consider the 30% fee. Meanwhile, Epic Games' "war" seems just the beginning.
Source : Genk