Elon Musk teased a photo of an impressive hyperloop station in Las Vegas
Musk's daring dream of a high-speed underground tunnel system (called a hyperloop) to avoid traffic jams is becoming a reality with the Boring Company. If you're wondering what a loop station will look like when it's up and running, you're getting it.
Musk on Wednesday shared on Twitter a picture of the Boring Company loop station in Las Vegas, accompanied by a brief statement: " Coming soon ". Despite being a non-traditional type of travel, this loop station looks quite traditional. Because this is just an image, everything can be changed during construction and completion, but it can be said that it is quite realistic, not as mythical as the future works that you often see. .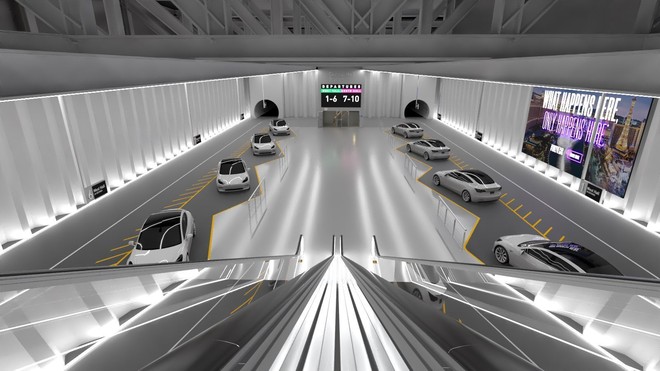 Photos of the loop station shared by Elon Musk
According to the image, when walking down the station by a staircase, we see a series of Tesla Model 3 electric cars parked – this model is one of the vehicles chosen by Musk to transport passengers from this beginning. of the Las Vegas convention center to the other end without a driver. There is a large screen at the top of the head that informs the rider when the vehicle will start, and it seems that each Model 3 is assigned a code, most likely to indicate which head of the vehicle is medium. the conference it will be heading to. And the instructions inside the tunnel will help people understand how to use the vehicle in a very simple way.
Although not quite "self-driving", unmanned Model 3s use "rails on wheels", like rollers mounted underneath the vehicle to keep it in a certain lane of the tunnel. The acceleration and braking are controlled by the software in the car, and the maximum speed that the vehicle can achieve is 241 km / h.
The Las Vegas Convention and Visitors Authority confirmed in May that both tunnels in the loop project in Vegas were completed, covering a total area of ​​0.8 square kilometers. It takes about 15 minutes from one end of the center to the other, but a ride in the loop tunnel of the Boring Company will only take … 2 minutes. Of course, conference guests will get free shipping.
What is not clear is whether there will be a 12-seater van involved in passenger transport. A lot of information and previous photos show that there was a large vehicle to carry passengers, but when asked about the vehicle on Twitter, Musk's comments suggested that the vehicle would look different. significant compared to the old renderings, or maybe there won't be any such facilities. Boring Company has yet to comment.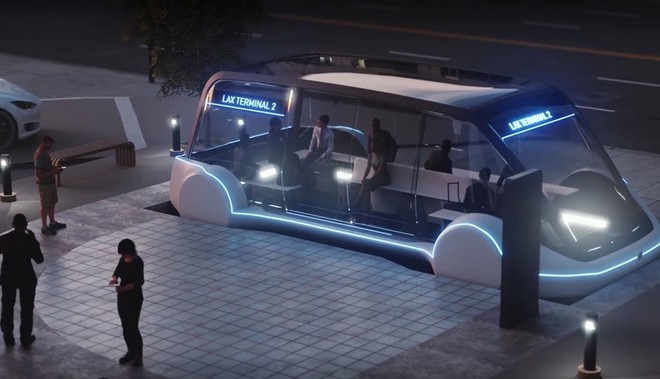 An old rendering shows a 12-seat vehicle
According to the Boring Company's plan, everything will be completed to serve CES 2021, but large-scale seminars are hardly possible in the context of the corona virus pandemic. LVCVA CEO Steve Hill previously said that if CES was delayed through January 2021, the center would wait to open a new loop tunnel. The Las Vegas government did not respond to questions about changes in opening plans amid a pandemic.
If all goes well, the Boring Company project could expand throughout Las Vegas. Musk has said in the past that it is likely that the company will build new tunnels to connect locations in the center and McCarran International Airport.
Reference: CNET
Source : Genk