Electronics Fair Event E3 this year will take place online, free to all viewers
We do not know much about the E3 2021 event, but the first information has made gamers heartbroken! The Electronic Entertainment Expo (abbreviated as E3), one of the entertainment industry's biggest game promotion events, will take place online and completely free.
Early today, some sources leaked that E3 will be an online event and viewers may have to pay fees if they want to attend online. Immediately, the E3's official Twitter account corrected the rumors (April Fool's Day?), And confirmed that they would update the news as soon as possible.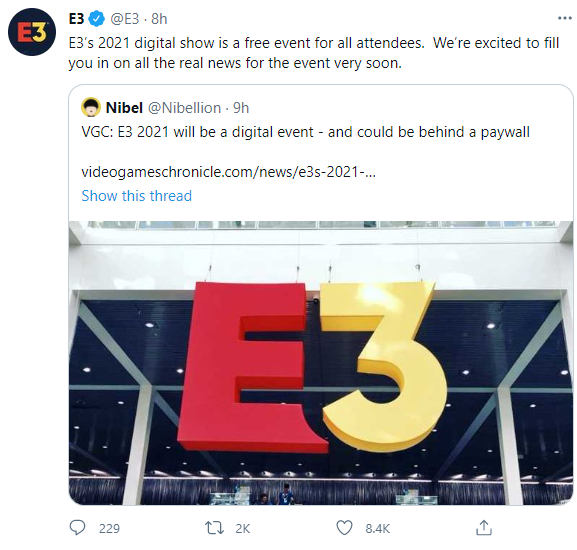 E3 confirmed that the event will be broadcast free on the internet.
We have no information other than the statement above, but based on the events that took place in previous years, E3 will be held between the beginning and mid-June. And like every year, before E3, a series of cult game companies will organize their own shows, in order to avoid being diluted with hundreds of other games participating in the event.
The two most anticipated names this year are Microsoft and Sony, the two giants that own two major console platforms in the world as well as a series of copyrights for hit titles. Microsoft has just acquired Bethesda , which already has big titles like The Elder Scrolls, DOOM, Wolfenstein, Starfield in development and more. The new Sony debuts PlayStation 5 impressive , that users also do not have to buy.
This year's event will be very much looking forward to it. We will continue to update as soon as more relevant news becomes available.
Source : Genk