Discovered shipper group fraud more than 100 million promotional money, Loship publicly terminated permanent cooperation with 1 person and denounced to the Police
Loship, the food delivery application developed by Lozi, has just announced on Fanpage the name of Loship Warriors with the following information:
Loship officially announced the permanent cessation of cooperation with Nguyen Van Ngoan on the following two acts: Collusion of frauds, money-blocking organized promotions; commit acts of threatening or intimidating Loship drivers.
The official notice of permanent cessation of cooperation with Nguyen Van Ngoan from Loship.
This is the object of a phone call to notify the driver to receive orders to divide money but meet the objections of the drivers and have acted intimidation and challenges. For acts of illicit profiteering for a long time, affecting other workers, this is considered a particularly serious case.
In addition to permanently stopping cooperation, Loship also has sufficient information, evidence, audio and text messages, to send to District 10 police to continue handling the case.
The distribution of promotional money but not shopping is strictly prohibited in Loship. All orders need to be made clearly between purchase and receipt, so if the warrior encountered the problem please report to Loship to handle together, avoiding unfortunate circumstances.
Loship will continue to accompany the warriors to not be taken advantage of by the bad subjects, affecting income.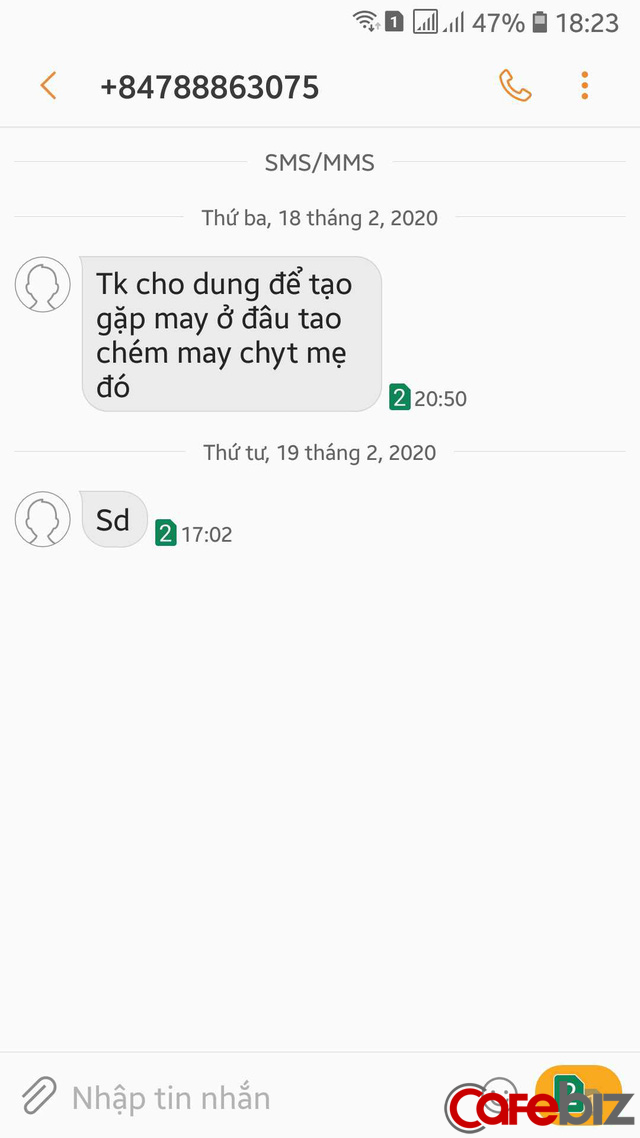 A message threatening drivers Loship refused cooperation of Nguyen Van Ngoan and his accomplices.
Then one day, Loship continued to send another message to the Fanpage of Can Tho Warriors, with the following content:
Loship sent all the warriors in Can Tho.
After checking the system, Loship discovered that a group of warriors used their customer accounts to place orders and asked other drivers to split the promotion money. Loship reiterated, this is a special case is strictly prohibited and will bring the law to handle to the end.
Any cheating should be stopped. Loship will conduct inspection of all fighters showing signs of cheating and have the right to refuse to cooperate, cancel all fraudulent applications.
In Can Tho, Loship pays special attention to developing to become a civilized and prosperous community. Loship commits, anything that goes against the good values ​​that it creates will be severely dealt with, uncompromising.
Finally, Loship always accompanies everyone to create a good job for the lives of Vietnamese people.
According to Loship's share with us, in the last few months, the following happened in Loship Warriors: there were a few shippers out of greed – such as Nguyen Van Ngoan, who pretended to be be a Loship customer, then place an order with a Loship discount code, and then pair that promotion with the shipper to pick it up.
For example: Loship has a promotion code of 50,000 VND, Nguyen Van Ngoan will place an order of about 50,000 VND with that code, then divide the shipper to receive an order of about 25,000 VND and I receive 25,000 VND, as a driver receives the order. goods exported 50,000 to buy goods for customers.
If the driver accepted the order to do illegal business, then it is okay, if not agree, he will be threatened and beaten by Ngoan and his accomplices. Over time, this fraud became organized with the participation of many other greedy drivers.
More flexibly, in some cases, the driver refused to cooperate for the first time, Nguyen Van Ngoan and his colleagues would change the phone number to create another fake order, then go to the store to snatch the driver to accept the application after they just finished shopping.
Loship discovered the incident after a couple of threatened shippers called the operator to report this fraud. Shortly thereafter, Loship conducted a large-scale review of the orders, fired many shipper frauds, as well as commended the shipper.
According to the statistics of District 10 – Ho Chi Minh City Police, only 2 shippers have blocked the promotion money of Loship over VND 100 million.
And now, this organized fraud is not only in the urban districts of Ho Chi Minh City but also in the West – particularly in Can Tho province. Therefore, Loship is very careful in dealing with quelling fraud like this in its shipper circles, in order to protect other shipper better.
Commenting on this issue, Mr. Nguyen Hoang Trung, CEO of Lozi said: " With Loship, building a community of honest, civilized delivery partners and always sharing positive things is the most important. These three criteria are very strong, new delivery partners continue to come and stick with us.Every case of fraud, affecting the lives of other partners, we treat reason at the highest level, without compromise. "
Loship is a convenient food delivery application developed by technology company Lozi, with the ambition to bring users a new experience in using home delivery service. At present, Loship has presence in 4 big cities including Ho Chi Minh, Hanoi, Da Nang and Can Tho, with a team of more than 50,000 drivers and serving nearly 150,000 customers.
Source : Genk