Detailed review of OPPO A31: Worth a try for newbies
One of two A-series smartphones launched by OPPO this year, OPPO A31 is arguably the most affordable smartphone in the budget / mid-range segment for basic users who only need one device. serving daily needs, but still "entertaining" with "cool" features.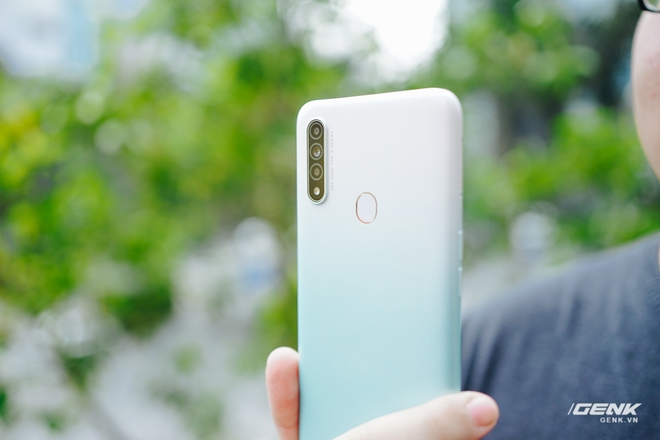 OPPO A31 does not focus too much on performance, but primarily on its ability to meet the needs of users on the basic level. And of course, OPPO A31 was launched for those users who are not financially abundant, or new smartphone users who do not require much performance.
Young designers and entrepreneurial
The design of OPPO A31 follows the direction of youthful dynamism with 2 color options which are equally "personality" named Cool White and Strong Black. Which version we have today is the white version. Despite being called white, however, the back of the device is a gentle combination of white and light turquoise, using a gradient effect and making the back of the device become more beautiful and sleek.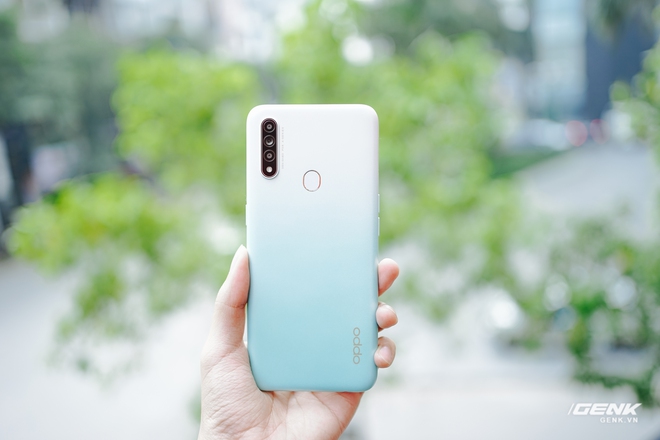 The back of OPPO A31 does not follow the trend of fake plastic glass backs like other products in the same segment, instead it has a rough plastic back. The advantage of the plastic back is that the machine does not leave fingerprints and sweat too much, as well as helping the machine have better friction, holding it more firmly. However, this back also has drawbacks, which is the possibility of high scratches and once scratched, it looks very bad, so we recommend users to use the case that comes with the device to protect your device. friend.
On the front, OPPO A31 is equipped with a large 6.5-inch screen, using IPS LCD panel with HD + resolution (720 x 1600), display ratio of 20: 9. Unfortunately, despite the price of 4.5 million, OPPO A31 is only equipped with HD + screen, while at this price range, rivals of OPPO A31 have almost Full HD + screen.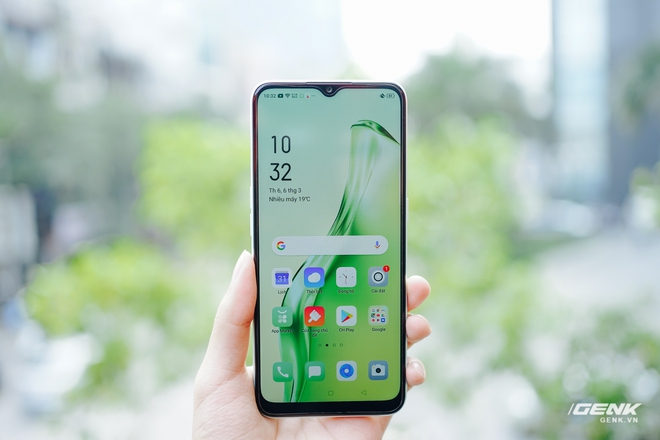 This screen of OPPO A31 uses the "water-drop" design similar to the brother of OPPO A91. The screen border of the machine is still quite thick, but we can still accept this price because most cheap Android smartphones are like that.
Camera: Stable in the price range
Following the trend of this year, OPPO also focuses quite heavily on the main camera cluster of OPPO A31. It owns a cluster of 3 cameras on the back including: 13MP f / 1.8 wide-angle camera, 2MP f / 2.4 macro camera (27mm equivalent focal length) and 2MP f / 2.4 depth camera. With this triple-camera cluster, OPPO A31 offers quite good image performance, able to take many types of photos, including portrait and background removal.
However, it lacks a super wide-angle camera, so users will not be able to capture super wide landscape photos with OPPO A31. This is actually a minus point because an ultra wide-angle lens will be preferred over a macro lens, or OPPO can take full advantage of the super wide lens to take macro photos like the OPPO A91.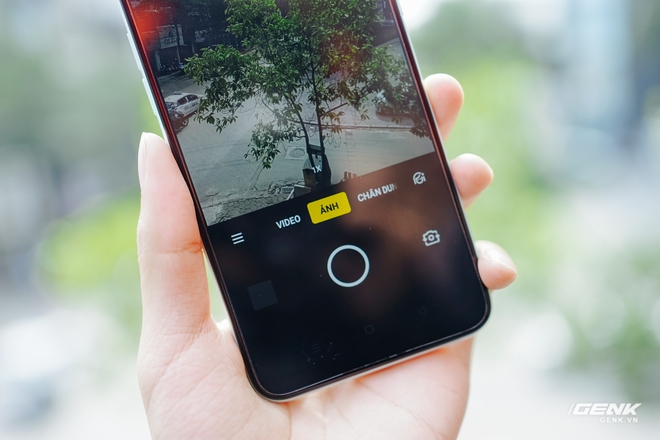 Here are a few snapshots with the camera of OPPO A31.
There is no separate shooting mode like the OPPO A91 so the OPPO A31 can not take low light as its brother, but still has enough quality to share on MXH
And here is a portrait shot with the main camera of OPPO A31 removed. It is quite surprising that the device can measure depth and distance to the subject quite well, separating the background well and handling the background blur is not too much. The only minus point probably comes from the color of the camera when the image is quite pale
Performance: Not the strength of OPPO A31
As mentioned above, OPPO A31 is oriented in the budget / mid-range segment, and therefore performance is not the strength of this smartphone. OPPO A31 is equipped with MediaTek Helio P35 chip, which has been launched since the end of 2018 and has average performance, combined with 4GB of RAM, the machine can handle basic graphics tasks. to midrange.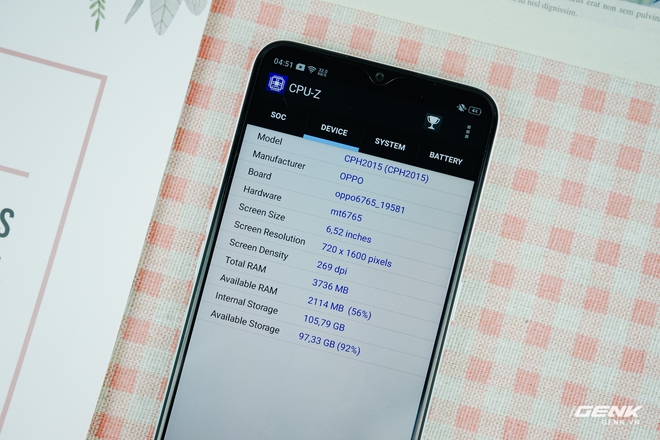 Scoring the test with the Antutu Benchmark, OPPO A31 gives a score of about 104,000 points.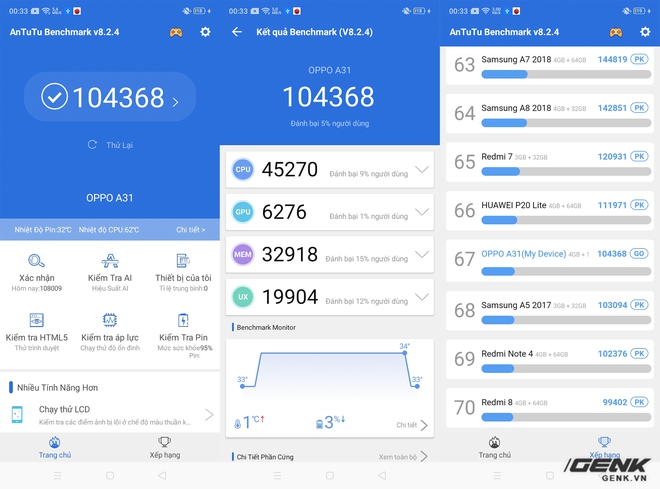 Performance score of OPPO A31 when scored with Antutu Benchmark software
Of course with Game Space mode – Built-in game space, OPPO A31 can still play some popular games today. Lightweight games still play smoothly, while some heavy games like Asphalt 9: Legends or PUBG Mobile, users will need to adjust to a low graphics level to play.
Battery life
Equipped with a large capacity battery of up to 4230mAh, combined with the use of a screen resolution of only HD +, OPPO A31 gives an impressive battery life with nearly 6 hours of on-screen continuous screen when used. Use for mixed tasks like reading the newspaper, surfing the web, surfing Facebook, using the camera and playing games …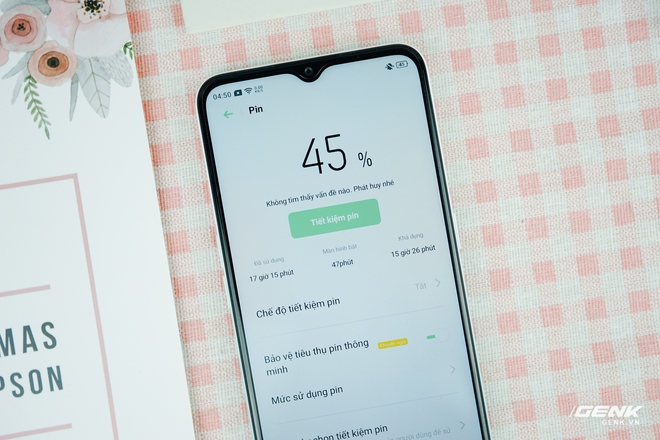 Despite the large battery, the OPPO A31 does not support fast charging, it only comes with a basic 5V / 2A charger. Even OPPO A31 continues to use the outdated microUSB connection standard, which is really a minus of OPPO A31 because many low-cost smartphones today have also switched to using the newer USB-C standard.
Summary: Please buy OPPO A31 if you are a new smartphone user
Like the title, OPPO A31 is not aimed at users who want a strong performance or a device with a quality camera. OPPO A31 was launched to meet the needs of most basic users. Therefore, the device is suitable for new users, such as students or older users.
If you need a device with more powerful performance, more interesting features and more interesting, OPPO A91 may be the smartphone for you. With a more expensive price of only about VND 2.5 million, OPPO A91 focuses on many aspects and meets more needs to use, especially with performance optimized for gaming experience.
Source : Genk