Dell Precision 3650 Tower money making machine, designers can't miss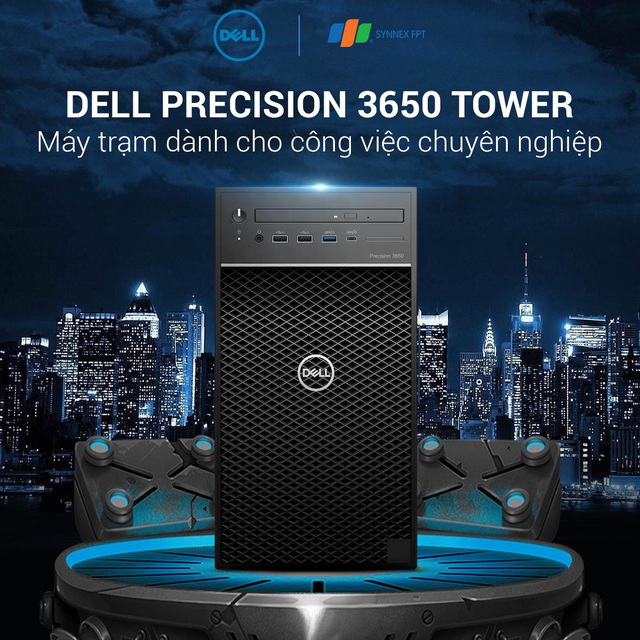 Among the famous technology brands that produce workstations, Dell is still a reputable "name" both in terms of durability, stability as well as optimized "built" configurations for each type of work. specialized.
The latest version of Dell's "workstation" T3000 workstation line has just launched with the name Precision 3650 Tower using the latest 11th generation chip, which is expected to bring more valuable experiences, worthy of a money machine. "Considerable value for money".
Elegant, scientific design
Precision 3650 Tower has the main mysterious black color, sharp metal-plated Dell logo, exuding the familiar elegance and elegance of the workstation line.
Occupying most of the front area of ​​the machine is the honeycomb mesh design for maximum heat dissipation, providing the necessary ventilation when under heavy loads, ensuring the machine continues to operate smoothly and keep it cool. Internal components are durable over time.
Not much has changed in the design, perhaps because this is already the most optimal design. T3650 is still a compact workstation following the minimalist trend to save space, prioritizing the scientific arrangement of essential hardware such as popular USB, type-C connection ports, and data-reading drives. Work. Another plus is the design of two locking levers on Dell's synchronous workstation lines to help open the case simply, install it gently without screws.
Powerful configuration, specialized for each job
Owning an impressive configuration with two options of the latest 11th generation Intel Core i up to i9 processor and dedicated Intel Xeon W-1300 Series for workstations and a wide selection of graphics cards from the basic series to the high end of AMD and NVIDIA. The specialized "build" configuration is geared towards professional customers that require heavy computing and graphics processing.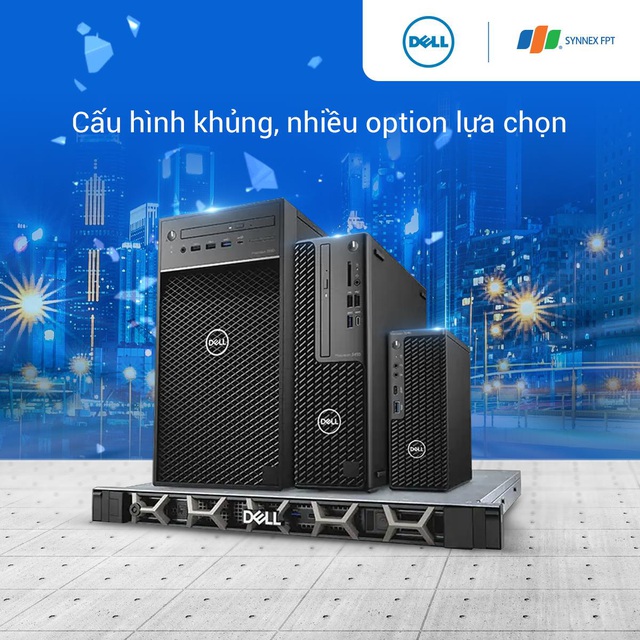 So what is the purpose of the manufacturer when offering two CPU options? The answer is to optimize the appropriate performance for each need and type of work, thereby optimizing the user's investment costs.
The first thing we affirm that, using "workstation" as its name implies is to work, or more precisely, to make money, that's the difference between a workstation and a PC. normally. Those jobs can be graphic design, construction architecture, professional film editing, 2D-3D simulation, …
Whatever the job, you will also need to care if the CPU can meet your needs? If you prioritize speed and clock, you can choose Core i, specifically on T3650 i7-11700. With this "dinosaur" chip, all heavy tasks are not difficult challenges. Example for rendering for extremely fast and smooth experience, saving maximum time. Because it is the latest and extremely powerful chip, this configuration is also more expensive than the popular workstation line. Users can refer to a number of configuration options including Core i7-11700 CPU with Nvidia Quadro P620, P1000, P2200 graphics cards with reference prices from about 30 million to more than 40 million. Particularly for the P1000 version with built-in Windows 10 Pro English.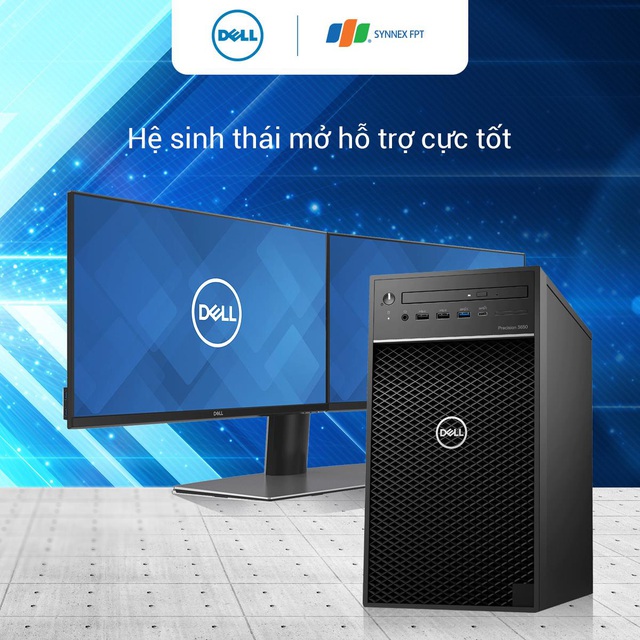 As mentioned above, if your needs prioritize time saving and fast speed, Core i will be optimal. However, in some specific jobs such as editing movies on Premiere Pro with a data capacity of tens of TB, a dedicated Xeon W CPU for workstations is probably worth considering. Although Xeon gives a slower speed, but when the machine has to render for dozens of hours, Xeon gives better stability and data safety, avoiding "lag" jerks. To invest in a workstation machine for the purpose of making money, you will surely prioritize data safety control and ensure deadlines. Intel Xeon is the reliable chip in this case. The Xeon W-1350 CPU configuration comes with two options of graphics cards, Intel Integrated Graphics or Nvidia Quadro P620 to help users optimize costs according to their needs, the reference price is from 25 million to nearly 29 million.
Precision 3650 Tower is genuine distribution in Vietnam by Synnex FPT .
Conclude
In the end, the criteria for a workstation machine is still safety, fast enough, easy to upgrade, suitable for professional work, stable long-term running and of course "deadline". Dell Precision 3650 Tower with flexible configurations for each task and investment cost, users can easily choose practical products according to their work needs. The product is backed by a 3-year Pro Support genuine warranty with Next Business Day Onsite Service package.
Source : Genk