Dell OptiPlex 5070 PC: A "delectable peach" configuration hidden in a compact, easy-to-upgrade design

Hardware configuration
Dell OptiPlex 5070 is capable of handling tasks quickly and responsibly thanks to its Intel® Core ™ i5-9500 processor (6 Cores / 9MB / 6T / 3.0GHz to 4.4GHz / 65W), coupled with RAM memory. 4GB DDR4, 3.5 inch 1TB HDD hard drive to comfortably handle all the power tasks without interruption. The OptiPlex line from Dell has over 25 years of experience, so Dell always brings innovation to the customer experience, faster and smarter.
Thanks to the optional Intel® Optane ™ memory, the OptiPlex 5070 is fast to boot. When launching applications, the system allows preloading and speeding up frequently used files, providing better responsiveness without affecting storage capacity.
Smart Windows 10 operating system
Dell OptiPlex 5070 works on Windows 10 Pro operating system – An optimal solution for users with countless smart applications and special features such as Hyper-V to access intranet, create and run virtual machines ; Bitlocker helps encrypt data to ensure safety, and can combine domain names; Windows Ink makes saving ideas easy and convenient; or Windows Information Protection for effective control of business data. At the same time, the Windows 10 version for businesses supports multiple languages, including Vietnamese, which is very convenient for Vietnamese users.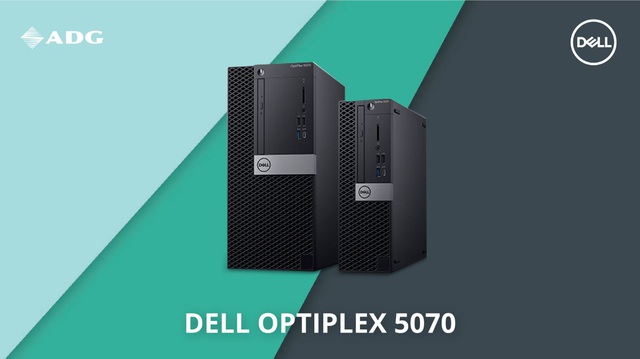 Compact, friendly design – Flexible connection
Not outside the trend of back-to-basic, OptiPlex 5070 has the shell designed "whole tree", simple and luxurious, giving a good impression on the overall. With a width of 15.4cm and a height of 35cm, OptiPlex 5070 weighs 5.26kg – relatively neat, convenient for arranging workspace. Another very popular advantage is that this product line is manufactured with at least 39% recycled plastic, is user friendly and keeps up with the current environmental protection trend.
With full of smart communication ports like USB 3.1 Gen 2 faster; HDMI 2.0b, DP and USB Type-C meet the needs of connecting with almost any peripheral device. With the optional system of intelligent management Dell Client Command Suite and VMware Workspace ONE solution, it will help the system to be managed efficiently, intelligently and avoid the intrusion and attack of viruses.
The device is also designed to be simple, the back cover can be easily removed, making it easy for users to upgrade the SSD via M.2 slot (NVMe SSD support), depending on the needs. .
Warranty
All new OptiPlex products are backed by Pro Support 24/7, with hardware and software support for 3 years. Pro Support provides 24/7 access to technology professionals, ready to answer, fix when the machine matters, reputation and save time.
Dell Optiplex products are now being distributed in large quantities by ADG National Investment and Technology Development Joint Stock Company. You can refer to the product information here:
Website: https://adg.vn/
Email: adg@adg.vn
Headquarters address: Số 42-44 Nguy Như Kon Tum, Q.Thanh Xuân, Hà Nội – Hotline: (+ 84-24) 6277,9777
Source : Genk