Decoding the success of TikTok – an emerging force that is rewriting the rules of the social media industry in Vietnam?
" How TikTok is rewriting the world " is the title of an analysis article in The New York Times about the Chinese tech phenomenon. Not only rewriting the world, TikTok is also rewriting the advertising industry, social media in its own way.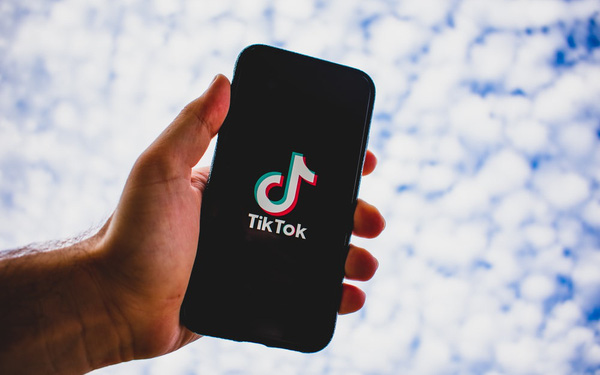 The Vietnamese media and advertising industry is also gradually catching up with the game in the world of TikTok. Why is this app so powerful?
Imitate, innovate and create
TikTok is named Douyin, owned by ByteDance, China. It is estimated that by February 2021, this application will reach 1.1 billion users. According to Sensor Tower data, as of December 2020, there were 2.6 billion downloads – a huge number.
As of June 2020, teenagers make up 32% of TikTok's active user accounts. Nearly 50% of TikTok's global users are under the age of 34. 26% of total TikTok users are between the ages of 18 and 24. The platform serves 75 languages ​​and is available in 150 countries and territories worldwide.
The first factor that makes TikTok so popular is that it offers an enjoyable experience when combining many of the functions of other popular applications such as Instagram, Facebook, YouTube, Twitter and Vine. Although it is said to imitate from different applications, TikTok does one thing best is to create user-friendly combinations.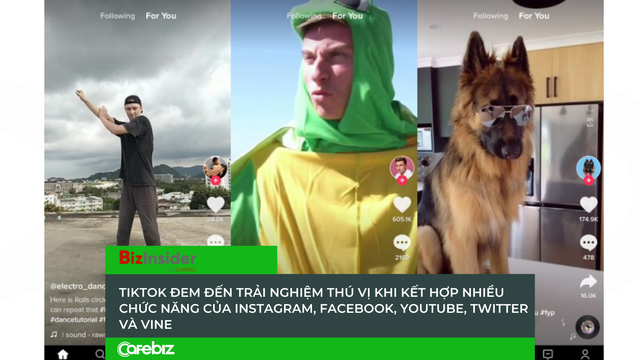 TikTok allows users to watch and produce video clips, similar to YouTube. Compared to square videos of YouTube, Instagram and Snapchat, TikTok videos allow users to watch live in full screen mode. TikTok users can simply scroll down on their smartphones to play and switch between videos without having to choose what to watch next.
This application also learns from Instagram and improves in that it makes it easier for users to control with one hand or one finger than the selectable touch or swipe mode. In addition, TikTok provides many resources for users to make videos, this is the reference from photo editing applications like Vine.
More than just a video app, TikTok is also a social networking app. It encourages users to follow and message each other, just like on other social networks. TikTok also has a team of influencers (KOLs) even built by the brand itself.
Release to control
Technology is the property of TikTok. The platform uses AI-based algorithms to free users from having to choose from multiple video selections and deliver exactly the videos they love. Accordingly, TikTok determines the appropriate information distribution to each user based on the content analysis of each video they interact with. TikTok lives up to its philosophy by providing people with personalized, relevant content through constantly recommending similar content that can be shared and replicated. In short, this app takes control of your entertainment menu by interacting with past videos.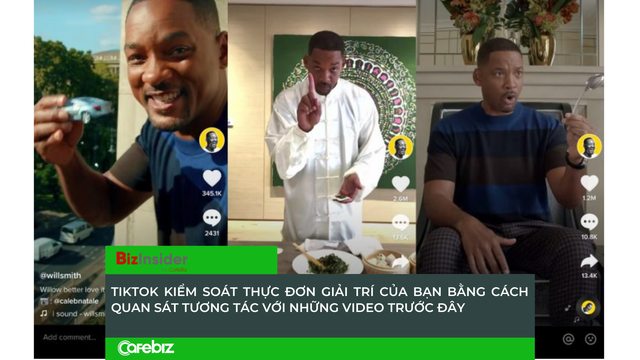 Not only understanding each user, TikTok also focuses on researching and capturing the viewing trends of each geographic region, updating local news and interesting topics created by people living in the same city. city ​​or country. For example, this app clearly understands that Korean and Japanese users are more interested in cool dancers or cute girls, while Indian users tend to prefer classy acrobatics. And European users are interested in the demonstration of fitness techniques and extreme sports.
This is further sophisticated through localized content from local stars and celebrities from that country. From there, TikTok spread quickly in many markets.
The game cannot be denied
By turning Smartphone into a mobile Studio, Tiktok satisfies the most and most easily anyone's need to express themselves. This application becomes extremely potential, interesting to the crowd especially young people.
According to data from TikTok, more than 50% of creators have participated in at least one hashtag challenge. The average engagement for the TikTok influencer branded hashtag challenge is 8.5%. With 1.1 billion users, it's a terrible TikTok marketing opportunity.
If you own a business, TikTok marketing can be a great channel for brands. This application does not directly promote sales but quickly shows the personality and story of the business.
In Vietnam, although Facebook is still the dominant social network, for people of Gen Z, the new generation that many Marketers will approach in the future, this is an extremely suitable platform and has a lot of potential. to carry out media campaigns. Specifically, TikTok is ranked 3rd in Vietnam in terms of downloads on both iOS and Android platforms. 12 million monthly users after 1 year of testing as reported by carriers.
According to the latest statistics from TikTok, when it comes to the concept of a short-form video platform, 4 out of 5 people surveyed choose TikTok to serve their needs from entertainment to creativity. 96% of users surveyed said they saw an ad on TikTok, and 9 in 10 of these people would take a further action after seeing the ad. In addition, 75% of TikTok users have jobs and income. In which, 50% of users are parents. This is also the segment many brands target with stable demand and purchasing power.
Many big brands in Vietnam quickly caught up with the game, such as Vinfast, Sendo, Colgate, Bobby, Vinamilk, etc. An example is the case of PUBG Mobile Vietnam game with the running challenge campaign. on the spot with hashtags and singers popular with young people: Jack. The best videos can win a bunch of cool prizes including exclusive PUBG Mobile x Jack merchandise (phone cases or t-shirts) signed by Jack himself. In just 6 days, this campaign had 40,000 followers, generated 229 million video views, 14.4 million interactions. These are huge numbers that are hard to achieve with other platforms.
In just 6 days, this campaign had 40,000 followers, generated 229 million video views, 14.4 million interactions.
Of course, there are also advertising campaigns on TikTok that do not meet their goals as expected. So in order not to lose, brands should not forget the most basic rule of TikTok: the majority of TikTok users are young people who tend to express themselves. According to an advertising media agency in Vietnam, they are people with the following basic characteristics:
– Most are under 30, mostly GenZ.
– Catch the trend fast.
– Use a variety of social networks.
– I like to express myself.
– Mobile is the dominant device.
– Likes to travel, fashion, beauty, eat, love animals.
– Pay attention to social and environmental issues of CSR.
Source : Genk